Planning a bathroom with a roof pitch
If you have an attic, you are at some point likely to ask yourself the question: shall I convert it or just leave it as it is? The decision should not be made over hastily, but has to be thought through and weighed up. Those who are courageous enough to take the step will enter new spheres of homeliness and will gain some extra space.
Dwindling size
The idea sounds attractive: transform the attic space into a bedroom with bathroom – a bathing landscape under gables from which you can look out at the stars through a large skylight.
But there is one thing you must not forget when planning a bathroom with a roof pitch: what looks spacious on the floor plan, tends to shrink considerably in reality. This is usually due to low ceilings and the roof pitch, which both drastically reduce the effective usable area. And that makes the positioning of the sanitary installations challenging.
A question of planning
In order to get the best out of a bathroom under the roof, you need a good layout from the outset. Do you want the whole assortment with toilet, washplace, shower and bathtub? Are you looking for a single or double washbasin? Interested in a floor-even shower or a bathtub?
Depending on the circumstances, there could well be additional challenges to be mastered in the attic. You could well have an angled floor plan, a sloping wall or a low ceiling.
There are some criteria that simply cannot be negotiated with a small bathroom with a roof pitch: the mirror cabinet over the washbasin needs a certain height and can't be fitted on a sloping wall. That is not the case for the toilet, though, as it could well be perfect for a wall with a pitch depending on the ceiling height. The same applies to a bathtub which is meant for lying down and not for standing in. However, it is not just the space the individual products need that has to be taken into consideration, but your own height. After all, nobody wants to bump their head in the bathroom.
Spacious furnishings
Now, all you need for the desired effect of the bathroom are the right furnishings. Continuous tiles that extend into the floor-even shower might be the right place to start. Light colours tend to be best because natural light under the roof is usually scarce.
You inevitably end up with niches in an attic bathroom. But that is precisely what makes such an undertaking charming. So why not use the niches sensibly?
Six things that have to be considered when planning a bathroom with a pitch:
1. Ensure you are fully informed: Permission may have to be obtained from the authorities for conversion work in the attic. The load capacity of the floor, the statics and the insulation have to be checked and verified.
2. Calculate the space in the attic: When planning, it is important to know the exact details of the available space. You cannot afford to go by the floor plan alone; you also have to cater for the roof pitch.
3. Determine your budget: A bathroom in the attic usually comes with a high price tag because you tend to need special furniture or a special design. Depending on the circumstances, you could well be missing supply and drainage systems, insulation or light sources.
4. List exactly what you need in terms of bathroom equipment: What is a necessity – and what can you do without (because there is not enough space)? A list of all requirements and wishes will help you keep track of everything.
5. Knowing your own needs: Nobody wants to bump their head while taking a shower or be annoyed on the lower floors about poorly insulated water pipes. Attractive or cheap products are worthless if they are not practical.
6. Investigate the wide range of products and installation options: You can draw deliberate attention to the roof pitch. Take inspiration from a whole range of ideas for designing bathrooms with a roof pitch and be advised by the experts.
Added value to you Get inspiration for your new bathroom
Inspiration tool

Discover ideas and functions in the modern bathroom and choose what you like and what is important to you. In just a few steps, you can bring together the elements of your dream bathroom.
Contact us

If you have any questions, simply fill out the contact form.
3D bathroom planner

Plan your bathroom online using the 3D view and choose between various options. You can also request a quote to turn your dream into a reality.
Newsletter

Our newsletter will provide you with insights and tips on how your bathroom can simplify your day-to-day life.
Always staying up to date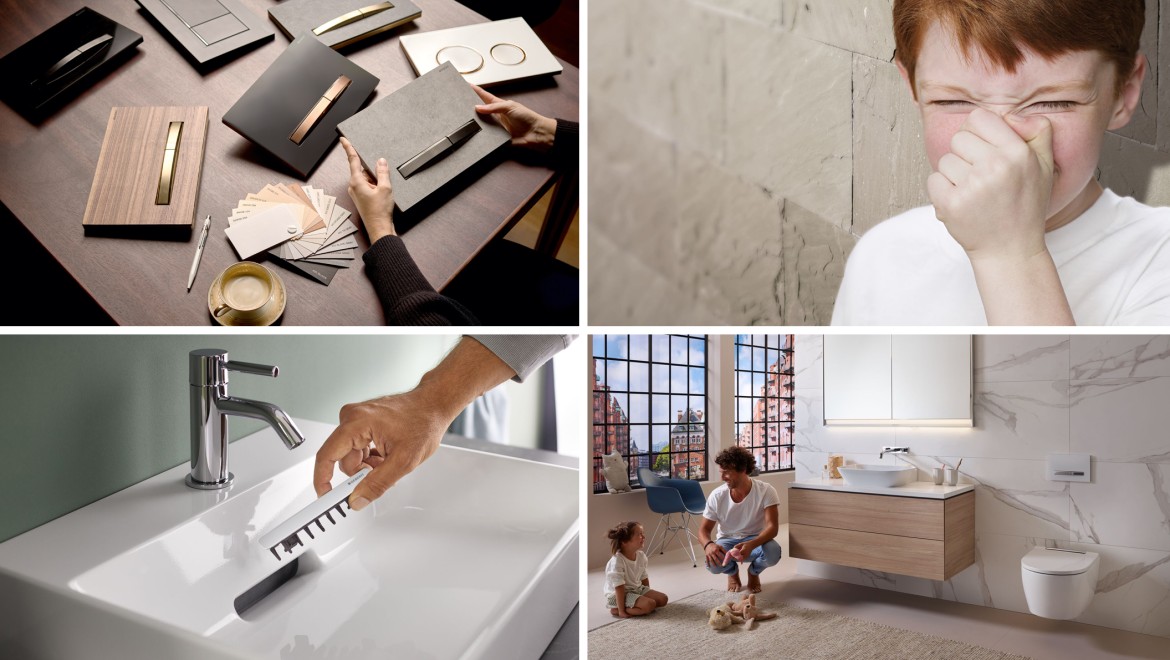 Subscribe to our newsletter and don't miss out on any news, events or tips for the bathroom. Stay up to date with the latest products, important dates for your calendar and more information on cleanliness, optimisation of space, comfort, design, user-friendliness and accessibility in the bathroom.
Which bathroom is the right one for you?