New poll shows children anxious About using school toilets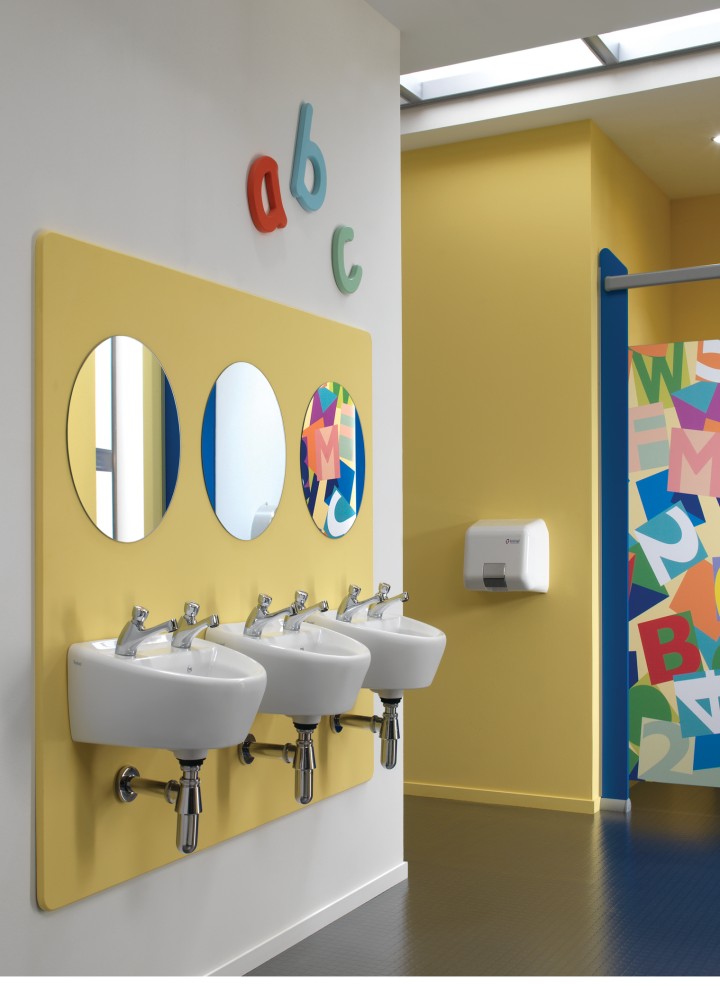 June 2021
A YouGov poll by bathroom commissioned by Geberit in March found that an alarming number of children are experiencing anxiety about using school toilets – something that could be affecting their wellbeing and learning according to a leading expert.
The findings of 1,000 parents across the UK, revealed that almost half (46%) report that their children have experienced some form of anxiety about using toilet facilities in school. Meanwhile a third of parents also have concerns about standards of hygiene at their child's school.

The most common sources of anxiety among children were general standards of hygiene in the bathroom space (19%), followed by lack of privacy (16%). Parents also report children's concerns regarding touchpoints and surfaces in school bathrooms, such as taps, handles and flushes (14%) as well as a general anxiety about using toilets outside the home (14%).
Special educational needs expert and writer, Gemma Corby, said: "There is much to consider when running a school, so student toilets often get overlooked. The result is often dilapidated, unhygienic facilities that many pupils avoid.
"The wellbeing of students should be at the heart of every school. If forced to 'hold on', pupils may end up with medical complications which will impact attendance. It also has a psychological impact - if a student is bursting to use the toilet, then concentrating on lessons is going to be near impossible. And if this isn't bad enough, the problem is often compounded by pupils not drinking when at school, which isn't good for their health or ability to learn.
"Hygienic toilet facilities are paramount, now more than ever. The fewer contact points there are, the better. This technology is available and often seen in shops and offices, so why not schools? Relationships are reciprocal, so if a school is giving the message that they do not care about the wellbeing of their students, it makes sense that students will not care about school which is not the outcome anyone wants."
Meanwhile, Geberit's own snap poll of 100 schools across the UK showed that school bathrooms were not at the top of the list of planning refurbishments for many schools, with external school grounds (41%) the most popular project and only 16% of schools surveyed intending to refurbish toilets within the next 12 months. This comes after the announcement last summer of the Government's £1bn school rebuilding programme as well as £560 million for refurbishing existing school buildings.
Mark Larden, managing director of Geberit, said: "These findings really underline the significance of the bathroom or washroom in a school setting and it's never been more important to offer pupils a space that they feel is safe, hygienic, private and comfortable. We've since spoken to parents who have given us examples of instances, such as children refraining from drinking during the school day, to avoid using the toilets."
"It's surprising that only a small number of schools intend to address their washroom facilities. A lot of this comes down to basic hygienic and ensuring the space is clean but a great deal also can be mitigated through good design and no longer viewing the school bathroom as a purely functional space."
Twyford, part of Geberit Group, has been leading the way in washroom innovation for over 150 years and provides a range of affordable sanitaryware solutions across the education sector – from hygienically-optimised rimless pan for schools to space-saving wall-hung frames.
To view the product range visit www.twyfordbathrooms.com
Download our Everything Education brochure here

Press enquiries
WAA Chosen
Wrens Court
58 Victoria Road
Sutton Coldfield
West Midlands
B72 1SY
Email: geberit@waachosen.co.uk
Tel: 0121 321 1411
For urgent press enquiries only please contact:
Jo Medlicott: 07890 037651