Go wall-hung with Geberit
Enhancing washrooms with wall-hung technology
The trend for using wall-hung (or wall-mounted) technology to enhance bathroom appeal is becoming increasingly popular. As buyers seek out washrooms that are not only functional but inspirational, it's never been more important for developers to add real value to new projects. In this article, we discuss how Geberit's wall-hung solutions and the technology involved can enhance washroom design and accessibility for any sized project.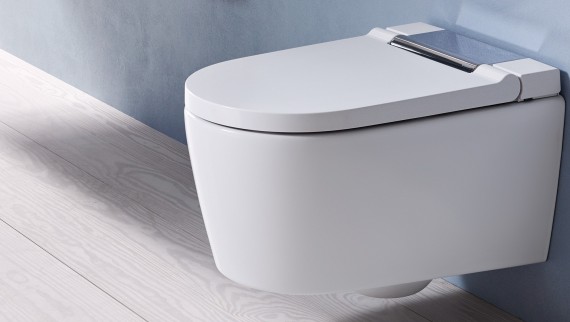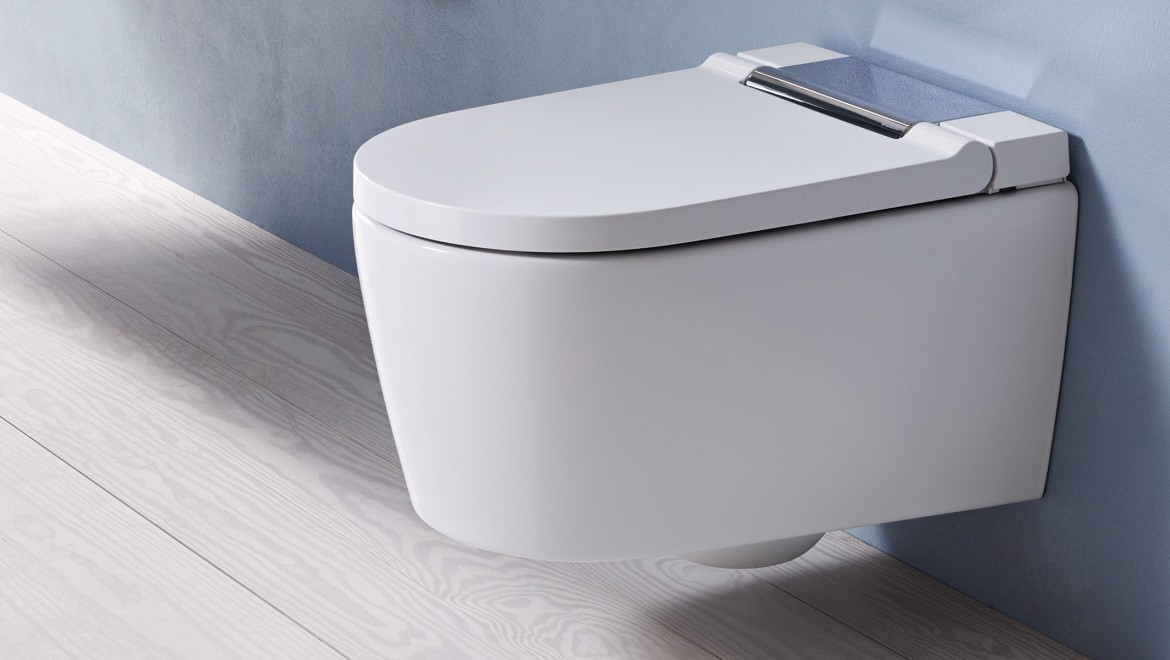 Why opt for wall-hung?
Wall-hung technology is an ingenious solution and one that is out of sight but very much front of mind for a growing number of UK developers. Offering a space-saving alternative to traditional close coupled toilets, wall-hung toilets maximise the bathroom space whilst offering a sleek, streamlined design.
Whether you're new to the Geberit brand or an existing partner, we understand the importance of meeting the ever-changing business requirements across our sectors. Our bathroom collections provide housebuilders with a wealth of opportunities to offer a host of added-value specification packages and upgrades.
Optimum space and elegant design
For example, not only is a wall-hung WC visually appealing as it hovers several inches off the floor (enabling easy cleaning both around and underneath it) but it creates a liberating sense of space as they are affixed securely to Geberit Duofix frames which are neatly hidden behind the wall.
Where space is at a premium in the washroom, the use of a wall-hung WC option can become an effective solution for the homeowner. Freed from the bulky constraints of having a visible cistern sitting on the pan, they take up significantly less space, enabling them to be fitted closer to furniture, shower enclosures or other ceramics. For instance, our world-class Geberit AquaClean shower toilets such as the Mera, Sela and Tuma are all available as wall-hung WC solutions – enabling all homeowners with the benefit of both space and design.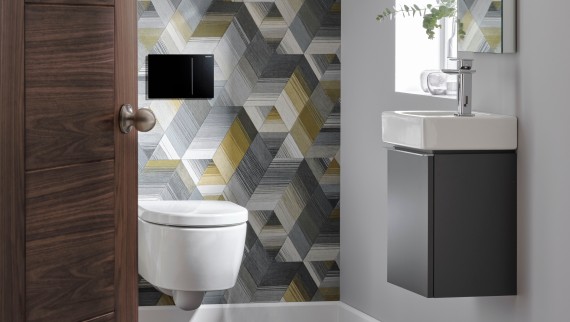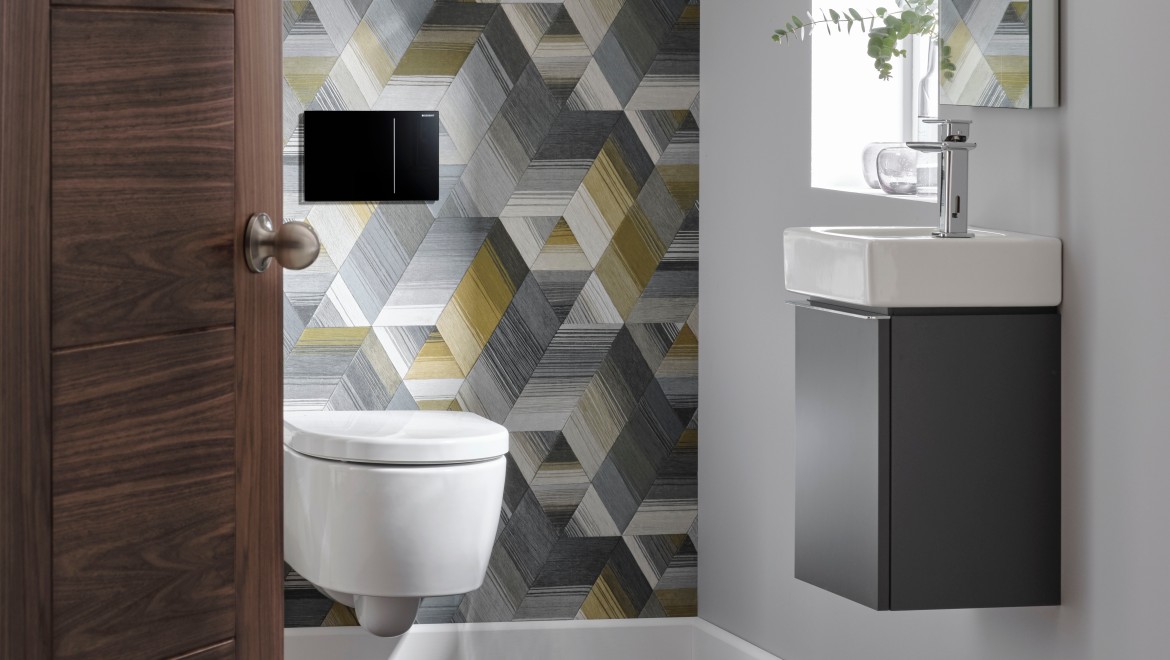 At Geberit, our team of designers have created a large range of wall-hung solutions which can optimise any bathroom project without compromising on style or design. Take our Geberit Citterio bathroom series for example. This designer range combines unusual shapes with special materials, resulting in unmistakable design language. Or our Geberit Selnova Compact bathroom series which provides the perfect solution for smaller en-suites or cloakrooms and features Rimfree® technology (which eliminates the rim, giving germs nowhere to hide).
Moreover, wall-hung WC solutions expose a greater cleanable surface area as there is no pedestal, cistern or exposed pipework leaving little space for germs or dust to accumulate. This makes them the ideal choice for homeowners as they become an easy cleaning washroom solution.
The smart way to sleek design
Homeowners and housebuilders may wonder how wall-hung WC's are installed into bathroom projects and how they can seamlessly elevate off the ground to create a 'floating illusion'. This is all down to our Geberit Duofix frame systems which provide a smart and efficient way to install our sleek and modern wall-hung toilets. They're the perfect solution for every style, shape and space – from standard installations to under a window or sloping ceiling.

Strong, secure and flexible, our Duofix frame systems sit within pre or dry wall installations, bolted to the floor, supporting the sanitaryware and keeping it firmly in place. With Geberit Duofix, it's easy to create a great contemporary look in any bathroom or cloakroom as there is a Geberit frame for every application. Going wall-hung with Geberit also allows house builders with the advantage of incorporating our odour extraction technology and touchless flush plates, which can provide the end-user with an innovative, technology driven bathroom. Ultimately, opting for wall-hung in your washroom projects can enable you with the opportunity to create an innovative, design-led solution. And, with millions of Geberit concealed installations around the world, you can guarantee we have just the right product for your project.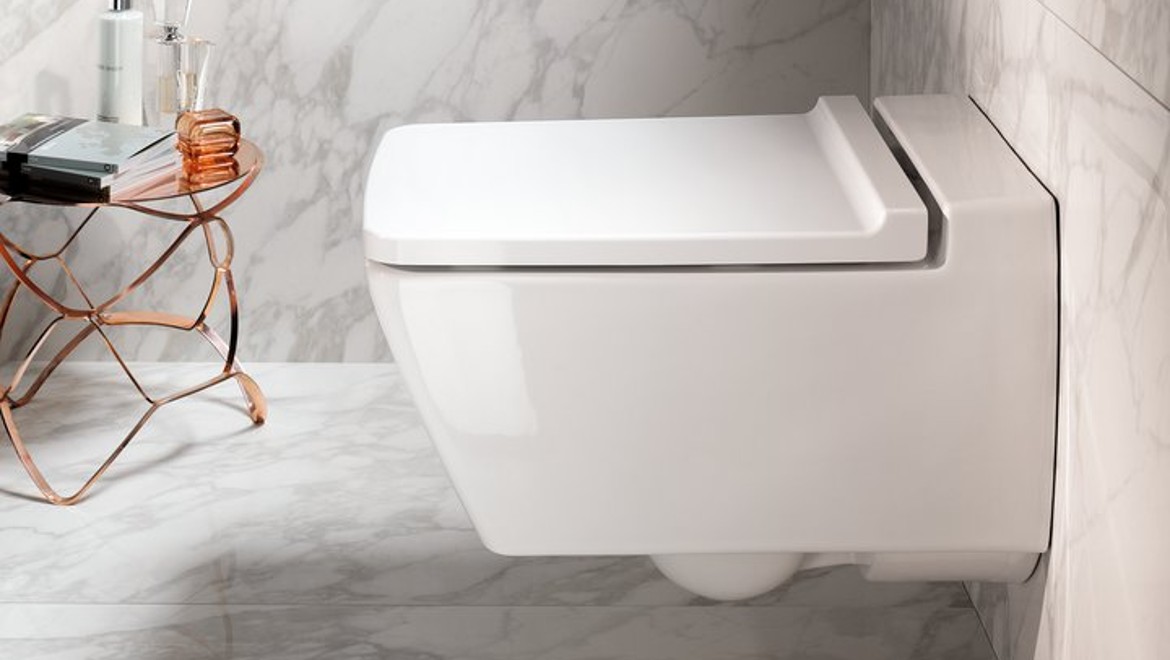 Greater accessibility and easier to clean solutions
Geberit wall-hung WC's also offer greater design freedom than conventional back-to-wall designs, because the pan is suspended above the floor, creating a contemporary look that is sleek, modern, easy-to-clean and perfect for today's busy lifestyles.
This can provide many benefits to homeowners. Firstly, our wall-hung WC's can maximise hygiene in the washroom. Secondly, they have superior acoustic properties as unwanted flushing noises are reduced. In addition to this, the ceramics are reliably strong and durable as they have been strength- tested to support a weight of up to 63 stone and finally, they provide advanced sustainability as a standard WC flush is 6/4 litres whereas Geberit wall-hung solutions can be set to flush on 4/2.6 litres.
A Geberit wall-hung bathroom means that developers can create a space that will stand the test of time. To find out more about our wall-hung solutions and how they can enhance your washroom project, download our latest white paper today.
Get in touch with us today to find out more about the importance of wall-hung technology in your washroom project