Small bathroom renovation Before and after
It is possible to meet a lot of needs in a small amount of space. Even a few square metres can feel spacious and cosy with a good design. Two renovation examples from Finland and Denmark demonstrate this.
Before and after: tiny bathroom makeover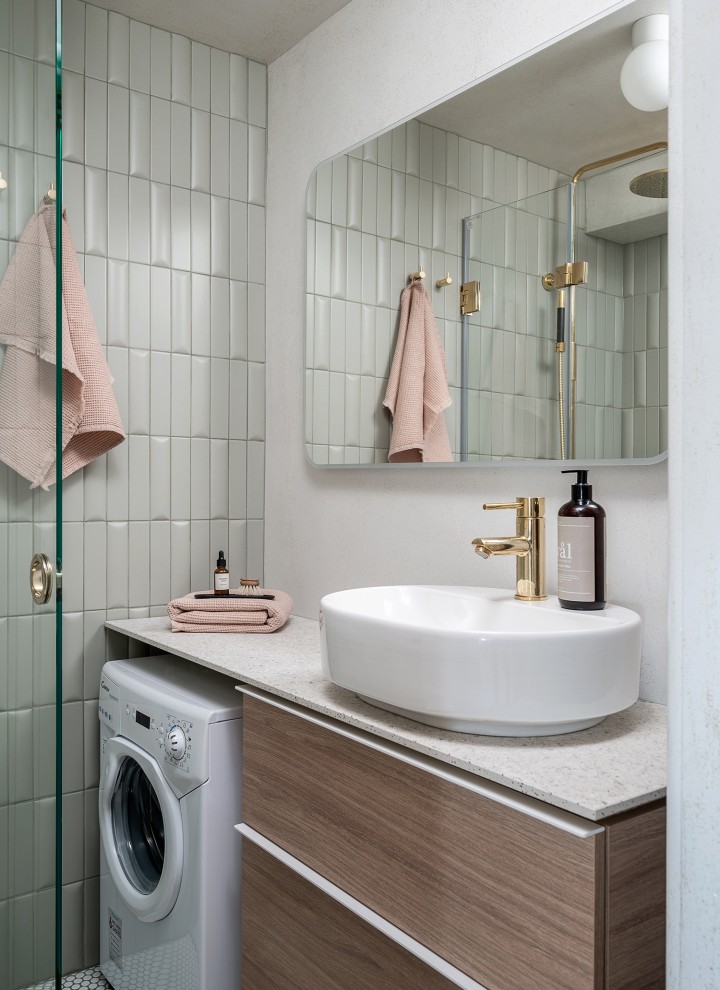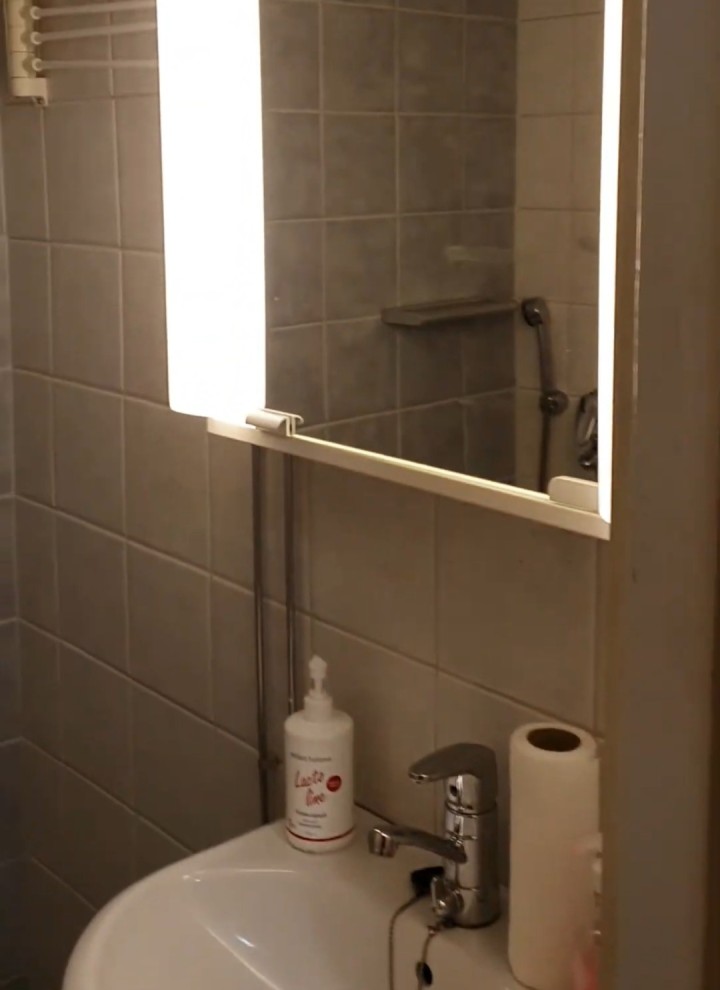 Tight, stuffy and lacking in luxury - that's what the two-square-metre bathroom of a two-room flat in Finland was before the renovation.
Interior designer Meja Hynynen was commissioned to redesign the bathroom in a way that still fits in with the era of the apartment building, which was built in the 1950s.
Because the room and door are narrow and leave little room for flexibility, compact models from the Geberit product range specially designed for tiny bathrooms were used.
The Geberit iCon bathroom series with wall-hung WC with SoftClose lid and the oak-wood-look bathroom furniture was selected. The oval washbasin from the Geberit VariForm bathroom series was also chosen to match the shape of the toilet seat.
To add that touch of luxury, a heated mirror with integrated lighting to prevent misting after showering was also added. Combined with the gold-coloured taps, towel rails and remote control toilet button, the renovation transformed the small bathroom into a sleek, cosy and impressive space.
Before and after: small bathroom shower renovation
Both shower and design piece: Various shower solutions make this possible, even in just a few square metres. The before picture of the two-square-metre Finnish bathroom featuring a narrow room consumed by a bulky shower cubicle.
The new floor-even shower with folding glass doors and golden hinges creates space and makes the room feel bigger. The golden rain shower adds colour, elegance and modernity.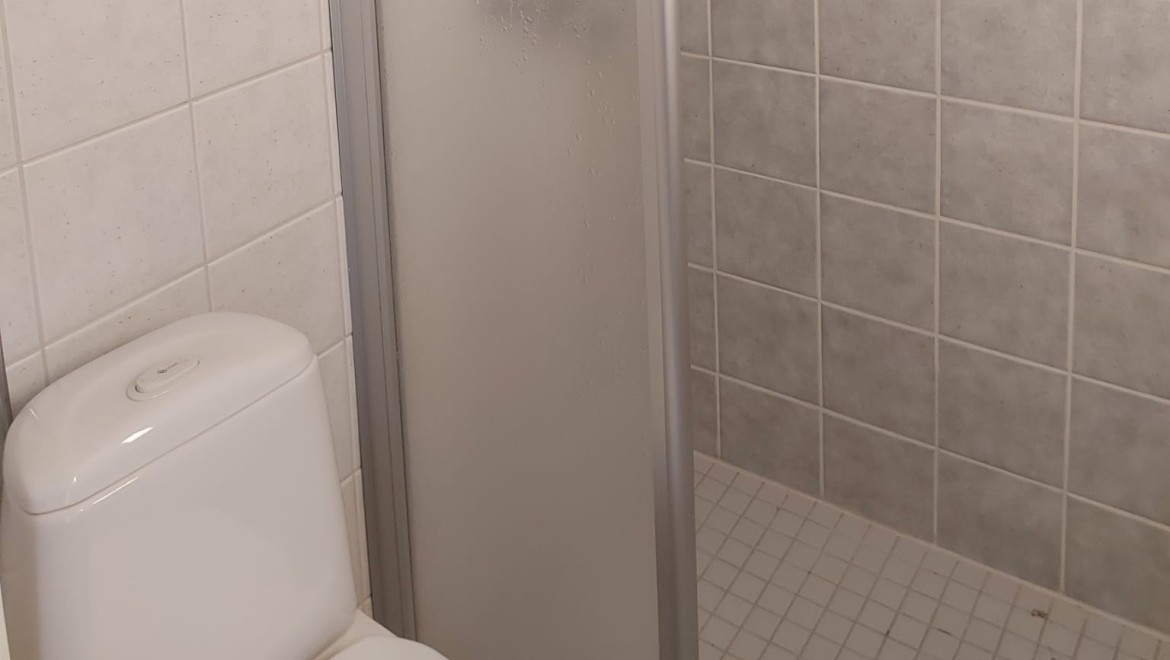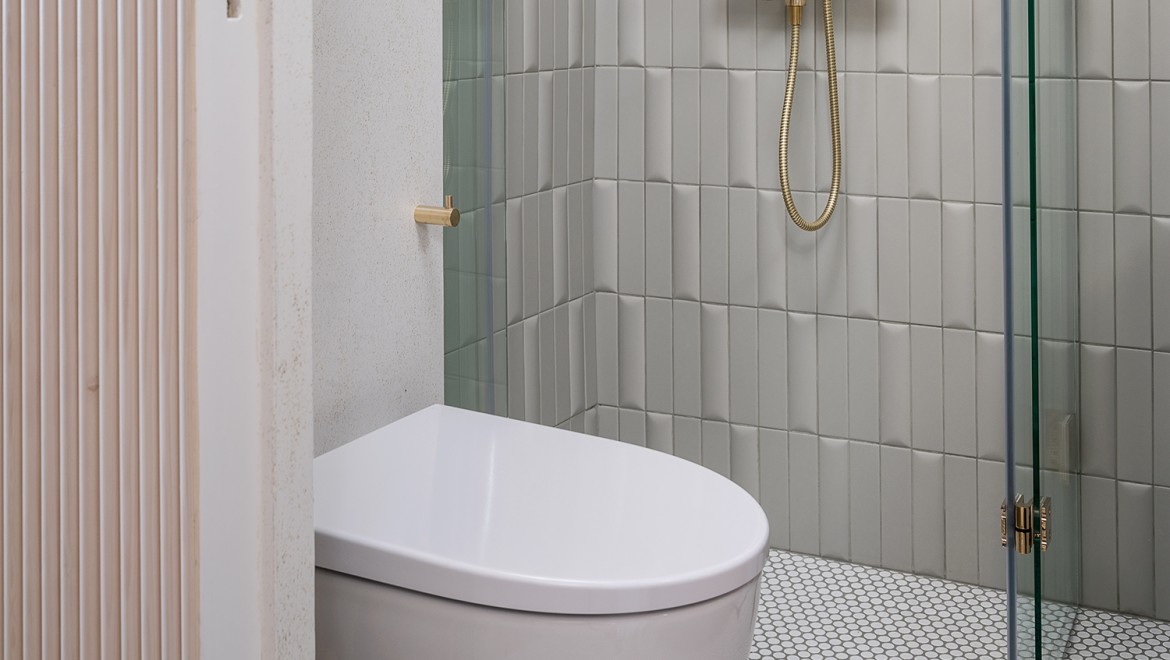 Before and after: bathroom with roof pitch
The conditions were similarly challenging in Trine Rasmussen's holiday home in Blåvand, Denmark. The goal was to split an old bathroom with sauna and roof pitch into two separate bathrooms.
Optimising the space was the main focus. A WC, washbasin and shower cubicle were being installed in the three-square-metre bathroom with sloping walls.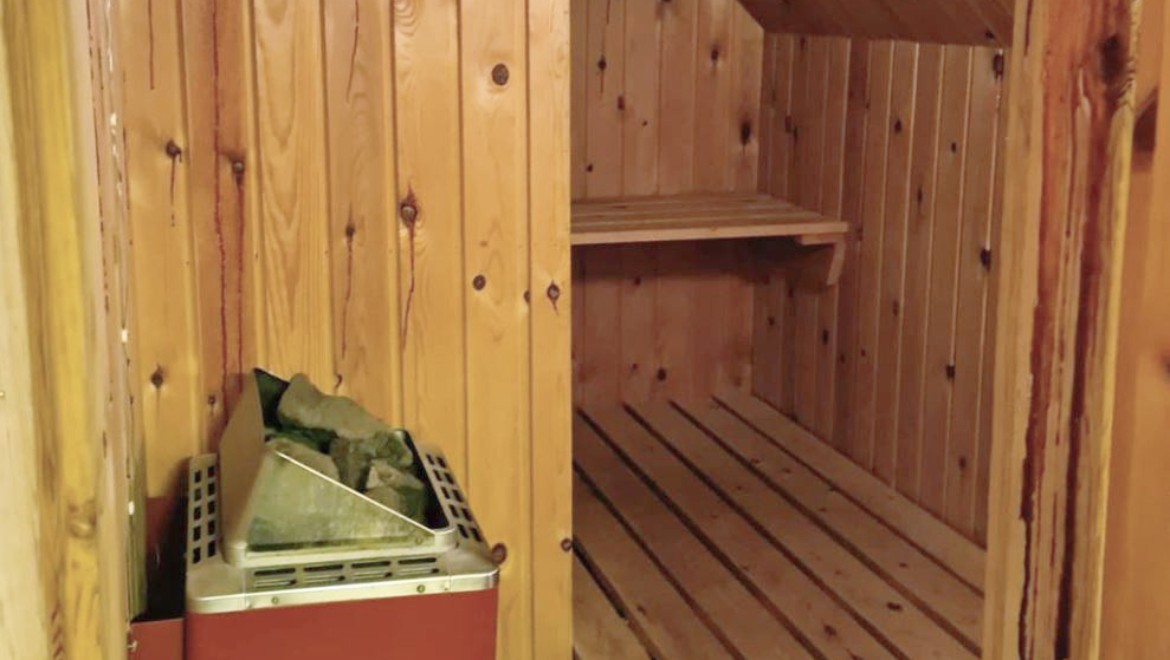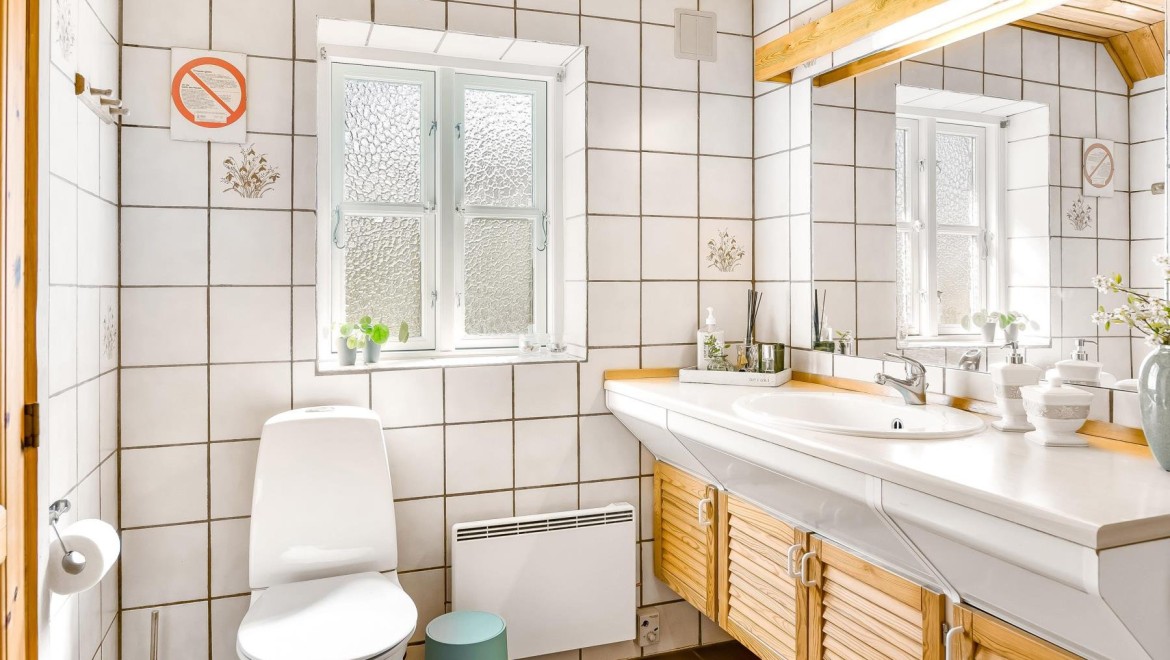 Making a small bathroom feel big
Geberit products proved to be the optimal solution in the tight space. The Rimfree wall-hung WC from the Geberit Acanto bathroom series and Geberit VariForm bathroom furniture with round washbasin make the small bathroom with a pitched roof feel light and open.
Inspired by the Geberit Bathroom Magazine, Trine Rasmussen also opted for a large mirror from the Geberit Xeno² series with integrated lighting. "It's a good tip to make a room look bigger," she explains.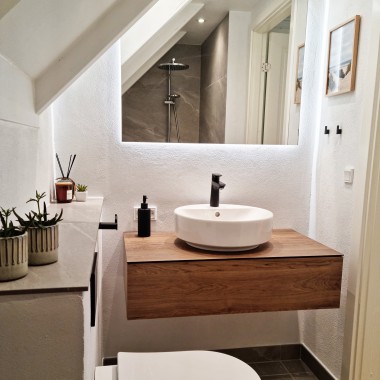 The small bathroom with roof pitch after the renovation.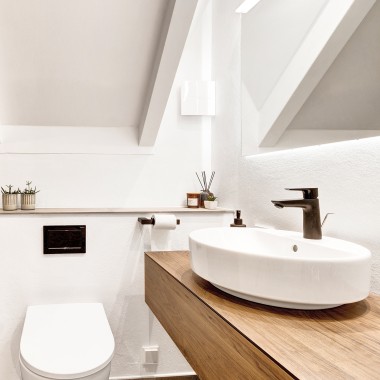 The Rimfree wall-hung WC from the Geberit Acanto bathroom series and Geberit VariForm bathroom furniture bring a light design to the small bathroom.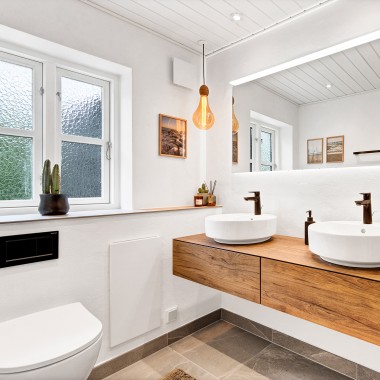 A mirror with integrated lighting from the Geberit Xeno² bathroom series now hangs in the larger bathroom.
Small bathroom renovation: the most important considerations
Bathroom furniture and sanitary facilities: what works best in a small bathroom?
Small rooms need design ideas that don't take up much space. Furniture and washbasins with a low projection that are specially designed for guest bathrooms are ideal. Warm colours, large tiles, good lighting and a minimalist design help make a room look bigger.
Wall-hung WCs and floor-even showers are good solutions for sanitary appliances in these spaces. Wall-hung WCs make cleaning the floor easier. The double wall that conceals the technology can also offer additional storage space and be designed with special tiles or actuator plates. Washbasin traps and mirror cabinets built into the wall also provide more space.
Can a small bathroom be made barrier-free?
How should I plan a small bathroom?
Geberit solutions for tiny bathrooms
Thanks to innovative Geberit products, which can be installed behind the wall, even tiny bathrooms can be optimised. It is worth taking a look at the comprehensive product range.
Space-saving washbasins
Geberit offers a variety of space-saving washbasins with a projection of 20 to 25 centimetres. These include, for example, washbasins from the following Geberit bathroom series: Xeno², iCon and Smyle
Compact showers
Inspiration for a renovation can also be found in the shower solutions from Geberit.
Added value to you Get inspiration for your new bathroom
Inspiration tool

Discover ideas and functions in the modern bathroom and choose what you like and what is important to you. In just a few steps, you can bring together the elements of your dream bathroom.
Contact us

If you have any questions, simply fill out the contact form.
3D bathroom planner

Plan your bathroom online using the 3D view and choose between various options. You can also request a quote to turn your dream into a reality.
Newsletter

Our newsletter will provide you with insights and tips on how your bathroom can simplify your day-to-day life.