Innovative design of shower toilets
What do shower toilets and design have in common? Not a lot, you think? We'll prove the opposite. Because if you think a shower toilet is something bulky and ugly, you can't possibly have seen the modern, attractive shower toilets.
A toilet in transition
The first shower toilet was invented in the late 1950s by Hans Maurer from Switzerland. His "Closomat" was to revolutionise hygiene in Swiss bathrooms and make gentle cleaning with water a habit. The focus was on the technology and the function. But the original models were bulky and shapeless to look at.
Today, the bulky shapes and the visible technical connections are history. The shower toilet has become a modern object of well-being and has found its way into design bathrooms all over the world. There is a suitable WC model for every need and living situation: whether as a WC complete solution, wall-hung or floor-standing, or only as a flexible WC enhancement solution.
Technology and design combined
What they all have in common is the durable product concept and timeless design. Today's shower toilet models are compelling thanks to their elegant appearance. You can still enjoy the technology, but it is no longer visible. The connections for water and electricity are integrated so the shower toilet loses nothing of its appeal.
There is still a number of innovative functions. It is also possible to equip the Geberit AquaClean individually to suit your own personal preferences: these include the TurboFlush flush, the WC seat heating, the orientation light, the warm air dryer and the odour extraction unit. Cleaning with water is practical and completely automatic with the remote control or via the remote control app.
The shower toilet promises not only more cleanliness but also unique comfort and convenience. It is easy to clean in spite of the integrated technology. And it certainly doesn't give the impression of being a medical device. And so it comes as no surprise that shower toilets are now also enjoying increasing popularity in Europe because of their simple, elegant design.
Three attractive Geberit shower toilets
Mera Comfort: The AquaClean Mera Comfort has a slim-line, attractive appearance. As with all Geberit AquaClean models, the technology is invisible, but perceptible. It includes an orientation light that switches on when you enter the bathroom and the quiet TurboFlush flush technology. The shower toilet is bright chrome-plated at the rear and bottom. This reflects the bathroom world the Mera is installed in, allowing the shower toilet to blend harmoniously into its environment.
Sela: The AquaClean Sela is striking with its puristic elegance and top-quality materials. Just like the Mera Comfort and Classic, it comes in white alpine and bright chrome-plated. This AquaClean model offers extremely simple functions that are intuitive to operate and is perfect for virtually any bathroom, without it actually standing out as a shower toilet.
Tuma Comfort: Thanks to its clean lines, the AquaClean Tuma Comfort fits into virtually any bathroom concept. The WC model comes in four different colours. In combination with the AquaClean design panel or the Geberit Monolith, it is an ideal solution for rented flats not only visually but also in terms of technology because the ceramic appliance is easy to remove and install somewhere else if residents decide to move.
Added value to you Get inspiration for your new bathroom
Inspiration tool

Discover ideas and functions in the modern bathroom and choose what you like and what is important to you. In just a few steps, you can bring together the elements of your dream bathroom.
Contact us

If you have any questions, simply fill out the contact form.
3D bathroom planner

Plan your bathroom online using the 3D view and choose between various options. You can also request a quote to turn your dream into a reality.
Newsletter

Our newsletter will provide you with insights and tips on how your bathroom can simplify your day-to-day life.
Always staying up to date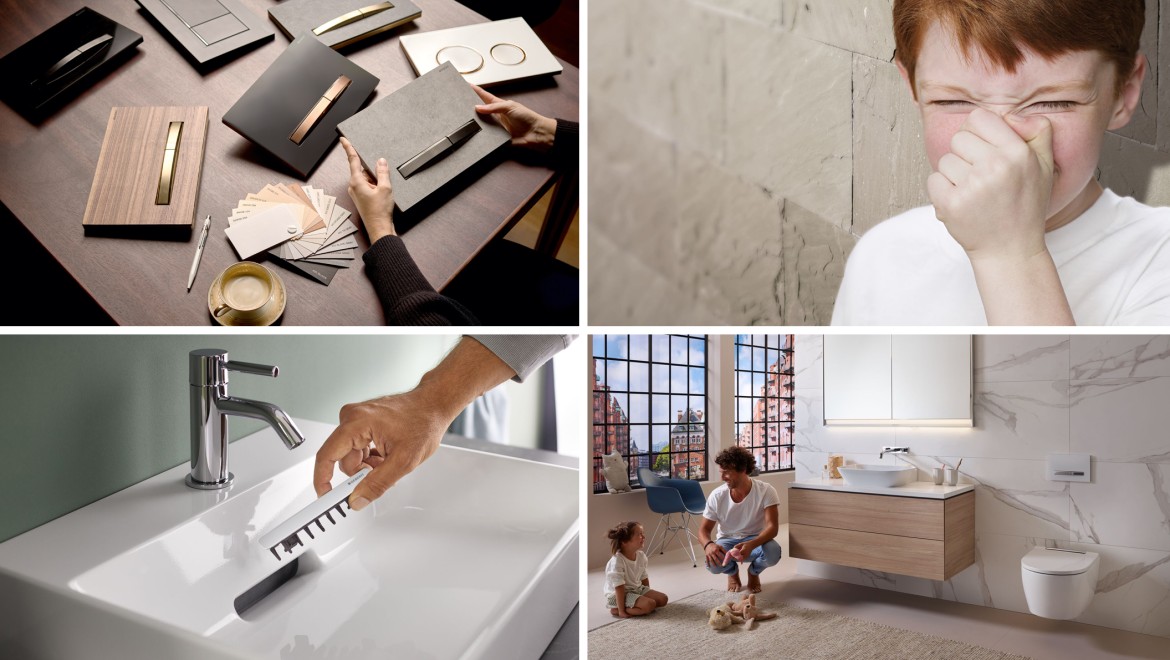 Subscribe to our newsletter and don't miss out on any news, events or tips for the bathroom. Stay up to date with the latest products, important dates for your calendar and more information on cleanliness, optimisation of space, comfort, design, user-friendliness and accessibility in the bathroom.
Which bathroom is the right one for you?