Bathroom renovation pays off
From a dusty, beige, 80s vibe to an elegant bathroom with modern fittings and plenty of comfort. The main requests from the family of three were to transform the bathtub, which had been unused for years, into a spacious, floor-even andbarrier-free shower complete with floor drain, and to replace the trusty shower toilet with a contemporary model.
Timeless and modern dream bathroom
The aim was to achieve a completely new look with modern bathroom equipment. The old beige, partly patterned tiles were stripped away in favour of large stone tiles in greige. These lend a natural and spacious feel to the bathroom. The timeless colour scheme with shades of beige, brown and grey throughout the room creates a sophisticated ambience. Towels in muted red introduce a subtle splash of colour while also picking up on the coral red in the fibreglass wallpaper. And on the subject of fibreglass wallpaper, this really is the star of the show in the new bathroom and makes a perfect material alternative to tiles in damp areas. These wallpapers are durable and the ideal backdrop for natural motifs on the wall, for example. A welcome side effect is that the motif is also reflected in the glass grey-brown front cladding of the washbasin cabinet. This gives the washbasin cabinet an exciting touch depending on the lighting situation.
Striking bathroom fittings with smart functions
A great deal of attention was paid to the washbasin as the focal point in every bathroom. The entire washbasin including all fittings was renewed and replaced. The beautiful shape of the asymmetrical lay-on washbasin complete with a practical shelf surface now really catches the eye. What's more, the matching bathroom furniture with individually partitionable organisation systems offers intelligent storage space. Another visual highlight is the interior mirror surface with light strip and wood-textured melamine that matches the bathroom furniture perfectly. And for that extra touch of luxury and a real burst of freshness, there is even an exclusive new shower toilet.
The professional bathroom conversion is definitely an impressive sight to see. A completely new family bathroom has been brought to life complete with a stylish yet timeless atmosphere.
Citterio mirror cabinet, washbasin and bathroom furniture
Geberit AquaClean Mera shower toilet
Floor-even shower with CleanLine drainage channel
Added value to you Get inspiration for your new bathroom
Inspiration tool

Discover ideas and functions in the modern bathroom and choose what you like and what is important to you. In just a few steps, you can bring together the elements of your dream bathroom.
Contact us

If you have any questions, simply fill out the contact form.
3D bathroom planner

Plan your bathroom online using the 3D view and choose between various options. You can also request a quote to turn your dream into a reality.
Newsletter

Our newsletter will provide you with insights and tips on how your bathroom can simplify your day-to-day life.
Always staying up to date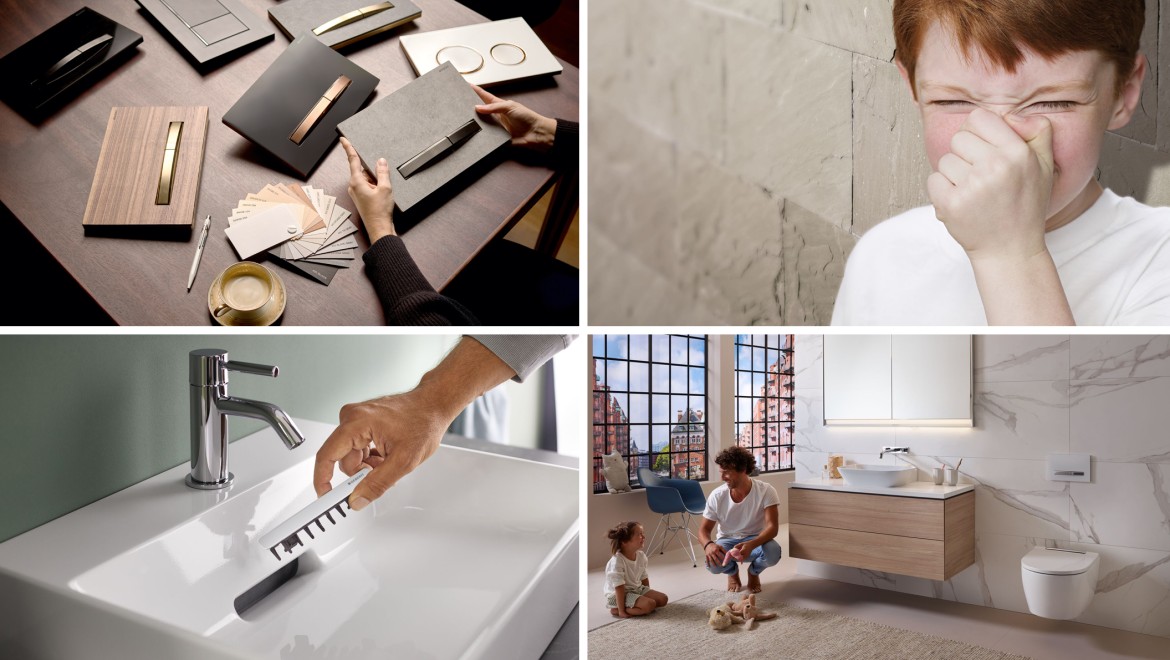 Subscribe to our newsletter and don't miss out on any news, events or tips for the bathroom. Stay up to date with the latest products, important dates for your calendar and more information on cleanliness, optimisation of space, comfort, design, user-friendliness and accessibility in the bathroom.
Which bathroom is the right one for you?