Reduced dimensions, added space Using space to its full potential
The washbasin area normally stands in the centre of the bathroom and is one of the first things you notice. If the area is tidy, it has a positive impact on the space. By integrating various components behind the wall, Geberit ONE boasts an array of storage spaces – even in places you would not expect.
Added space in the washbasin cabinet
As the washbasin trap is positioned in the prewall, Geberit ONE washbasin cabinets offer an impressive range of storage space, even though their dimensions are compact. The drawers can be used to their full extent without having to create recesses.
Optimisation of space in the shower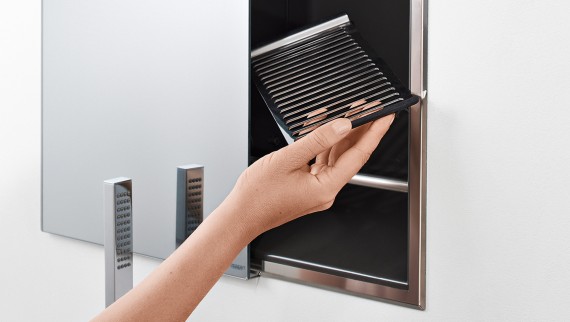 Geberit fulfils a whole host of wishes in the shower area – one of these is optimising how the space available is used. The Geberit niche storage box, which is integrated into the prewall, provides additional shelf surfaces and has an optional mirrored sliding door that can be opened to the left or right.
A landscape tile-bearing model without the sliding door is also available.
Added value to you Get inspiration for your new bathroom
Inspiration tool

Discover ideas and functions in the modern bathroom and choose what you like and what is important to you. In just a few steps, you can bring together the elements of your dream bathroom.
Contact us

If you have any questions, simply fill out the contact form.
3D bathroom planner

Plan your bathroom online using the 3D view and choose between various options. You can also request a quote to turn your dream into a reality.
Newsletter

Our newsletter will provide you with insights and tips on how your bathroom can simplify your day-to-day life.