High-quality bathroom furniture
Moisture in bathrooms can have a serious impact on bathroom furniture, as it can cause the wood to swell. As a result, the bathroom furniture can look unattractive and drawers and doors will no longer open and close smoothly. A few quality features ensure that your bathroom furniture brings you joy for a long time to come. The key to happiness consists of moisture-resistant board materials and a solid surface.
Bathroom furniture units are exposed to moisture every single day. "Don't skimp on quality" is therefore definitely a motto to stick to when choosing the material for bathroom furniture. With cheaper bathroom furniture, the three-layer chipboard is often unfinished or not sufficiently protected against moisture. It can absorb the moisture in the bathroom and swell, resulting in unattractive, cracked surfaces as well as doors and drawers that can no longer be closed flush.
The solution: bathroom furniture made of moisture-resistant board material. Tests conducted in the Geberit test laboratory show a clear difference in quality. That is why Geberit uses moisture-resistant wood-based materials which are not affected by splashes of water and moisture.
Smooth and scratchproof surfaces
Resistant surfaces are also crucial – many cheap bathroom furniture units are covered with a thin and cheap foil, which is sensitive to daily routines in the bathroom. Geberit uses high-quality, thick foils that can match up to melamine surfaces. However, bathroom furniture units with resistant melamine surfaces are always a good choice. Melamine is a paper pressed with synthetic resin, which is extremely scratchproof and waterproof. But high-quality varnishes also have the benefit of completely enrobing the furniture units, bonding permanently with the material, and high-gloss varnishes in particular provide an illusion of depth through reflections. If these aspects are taken into account, bathroom furniture can enhance both your bathroom and your quality of life.
Added value to you Get inspiration for your new bathroom
Inspiration tool

Discover ideas and functions in the modern bathroom and choose what you like and what is important to you. In just a few steps, you can bring together the elements of your dream bathroom.
Contact us

If you have any questions, simply fill out the contact form.
Newsletter

Our newsletter will provide you with insights and tips on how your bathroom can simplify your day-to-day life.
Always staying up to date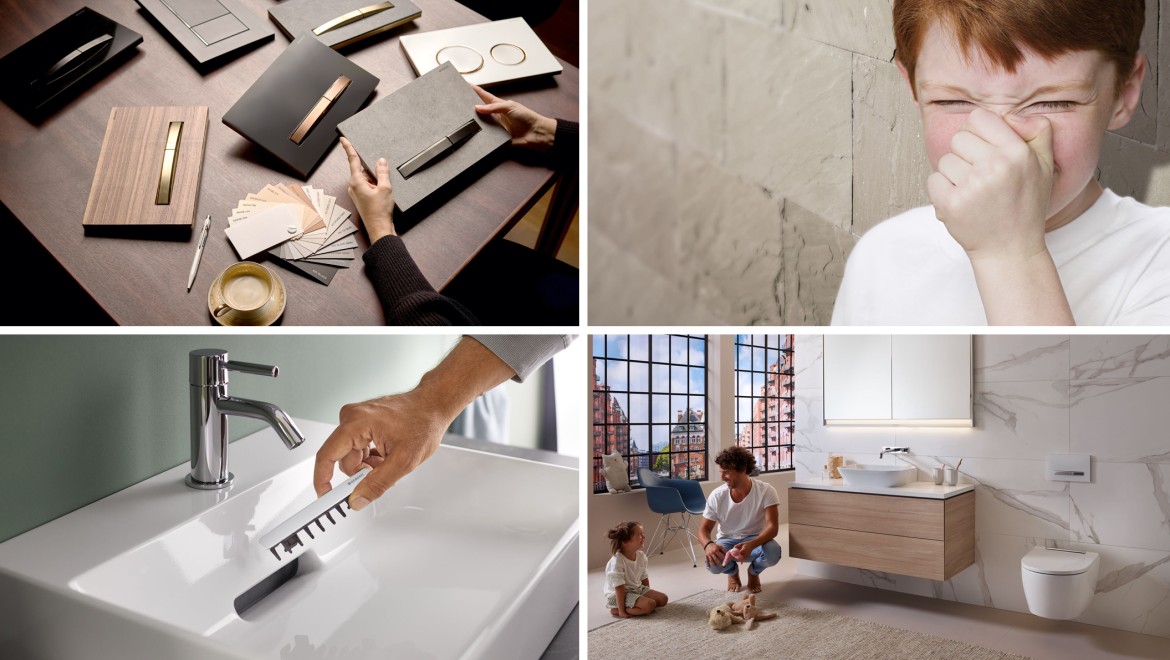 Subscribe to our newsletter and don't miss out on any news, events or tips for the bathroom. Stay up to date with the latest products, important dates for your calendar and more information on cleanliness, optimisation of space, comfort, design, user-friendliness and accessibility in the bathroom.
Which bathroom is the right one for you?