Elisabeth Mills Apartment And Houses
Project information
Location: Reddish, South Manchester
Contractor: Engle UK Contacts
Project Completion: TBC
Geberit Know-How
Problem: Conversion of existing textile mill in conservation area
Solution: Geberit Silent-PP drainage and Twyford Ceramics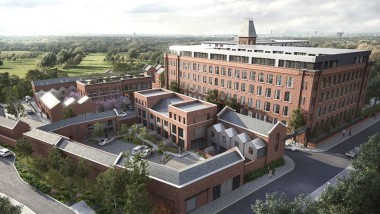 Project overview
Elisabeth Mills is a new residential development that will see the conversion of an existing textile mill building into 163 apartments and 63 houses. Purchased by the owners over twenty years ago, the site will provide contemporary residential and communal space in the Houldsworth conservation area of Reddish, South Manchester.
Once complete, the new homes will showcase an example of adept restoration and protection of an historical building, helping preserve the character of its industrial heritage.
Central to the vision of the development is the creation of a vibrant community, centered around shared living and communal environments.
DELIVERING THE SOLUTION
By using Geberit for their behind-the-wall pipework solution, as well as Twyford for their ceramics specification, contractor, Engie UK, had one simple and reliable point of contact for all advice and support on products. This minimised disruption, streamlined the assembly process and helped prevent any unnecessary project delays.
Discussing the product and installation efficiencies, John Grundy from Engie UK said: "Central to the project was creating not just a stylish, communal space, but also one that offers peace and harmony to residents. As such, Geberit Silent-PP proved the ideal specification for the building's pipework with its sound optimisation properties. Twyford also offered the perfect fit for ceramics with its modern yet minimal design.