Midlands Water Treatment Works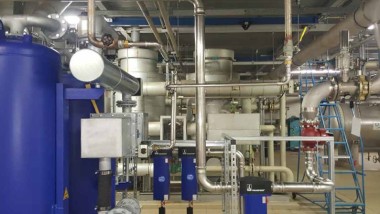 Project Overview
A water treatment works in the Midlands required pipework repair for the compressed air ozone system injected into the plant's drinking water supplies.
Two oil-free compressors were linked to two 3,000 litre galvanised air receivers and then back to refrigerant dryers and desiccant dryers. This resulted in clean air that was injected in mains water.
The compressed air pipework was constructed using Geberit Mapress stainless steel 88.9mm, using a variety of bends, tees, flanges and couplings.The equipment also needed to be cooled via chilled water; this system was also constructed out of Geberit Mapress stainless steel, this time at 54mm.