Golden Eagle Oil Rig
Project Information
Building: Golden Eagle Oil Rig
Location: North Sea
Client: Sembmarine SLP
Geberit Know-How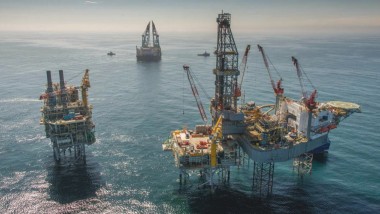 Project Overview
A £2bn Nexen project, production began in 2014 at a rate of 18,000 barrels a day with a total of 140 million barrels expected to be recovered over 18 years of operation.
Constructed by Semberine SLP in May 2014, the PUQ (a six-level structure home to 140 permanent on-site workers) has been designed to meet exacting weight specifications, fully integrated into the topside of the platform. The platform also houses a medical suite, offices, lift, switch rooms and a main control room incorporating a HVAC system throughout, with Geberit Mapress Copper used at 108mm and 76mm for the domestic booster cold water systems on risers.
The well-equipped living quarters have a 25 year design life and incorporate a blast and fire rating. This includes a Deck Integrated Fire Fighting System (DIFFS), a revolutionary solution featuring multiple nozzles installed flush to the deck which automatically extend and spray pressurised seawater evenly in case of a fire, ensuring safe and comfortable offshore accommodation for Nexen's operations.