Bentley House, Signature Care Homes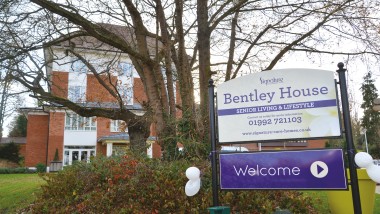 Project overview
Bentley House is the newest development for Signature Senior Lifestyle, which provides exceptional care for the elderly, in high quality, luxury properties. Residents can choose from a variety of spacious studios and one bedroomed apartments, complemented with cafés, superb dining facilities, activity areas, spa and therapy rooms, cinemas and gardens.
Opened in January 2016, Bentley House won the Hertfordshire Building Futures Award for 'Retrofit of the future', described as an 'extraordinary transformation'. Bentley House offers 24 hour assisted living to individuals and couples, with a choice of 67 sizeable studies and one bedroom apartments, each including its own wet room. In addition, Bentley House includes 18 suites specifically for residents with dementia.
In the bathrooms, it was particularly important that the products chosen met the needs of the residents, while also looking attractive. Geberit's Duofix frames sit behind Omega and Sigma flush plates. The flush plates have been chosen for their simple yet stylish appearance and clearly visible buttons ideal for elderly users.