Why washrooms matter in the workplace…
For many people, the bathroom represents a sanctuary or a brief escape from today's hectic world.
As such, whether it's at home or in a hotel, the bathroom gives architects and designers the perfect opportunity to deliver functional solutions that provide an antidote to our 'always-on' society, as well as a shot in the arm for our health and wellbeing – and the very same is applicable for office environments.
Office washrooms are all too often seen for their functional benefits however it's important to understand that these spaces are much more – whether it's taking a break from sitting at a desk or simply washing your hands, evidence has shown that a high-quality work environments can improve overall productivity of the workforce, reduce absenteeism, enhance recruitment packages and also give external visitors a positive lasting impression of an organization.
The Multisensory Experience
Typically, the main areas of focus within washroom design include materials, textures, colours and patterns. However, the market is evolving and there are other aspects that also warrant consideration. For example, at Geberit we know that the potential for wellbeing is at its highest when the design of spaces is informed and enriched by the four senses – sight, sound, touch and scent.
Auditory
Designers should plan their project with acoustics in mind, respecting the different room types from washrooms to offices to meeting rooms – careful consideration should be made to reduce the transfer of noise from a critical room (where noise is a minor disturbance) into an uncritical room (where noise is a major disturbance). In close-quarter environments, the need to minimise noise is particularly important. To meet this need, advancements have been made, including decoupled prewall installation systems with integrated cisterns and acoustically optimised pipework, such as Geberit Silent-PP.
Visual
In Western culture the colour white denotes cleanliness and is therefore a popular choice for Architects and Designers when creating the ideal office washroom space. However, the lighter the colour the more the dirt that is present will show. Focus should be given to materials and finishes that are less likely to show dirt or are easier to clean such as The Geberit Bathroom Collection where the Ceramics are finished with Keratect glaze.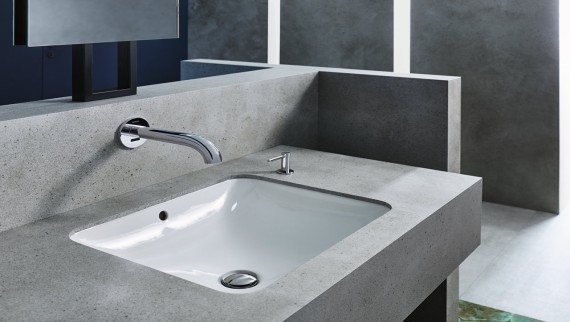 Kinaesthetic
Touch is becoming an increasingly important part of our everyday life, especially where technology is concerned. Office washrooms are high traffic areas, which places a premium on hygiene. Automated, touch-free experiences, with sensing technology in taps, lids and flushes, not only minimises the spread of germs but also makes the entire space quicker and easier to clean. Facility Managers seeking the very best in hygienic, sanitary technology for their employees should look no further than a no-touch flush.
Olfactory
Aromas have long been used to lift spirit and restore feelings of wellbeing. Unfortunately, in washrooms, the opposite is often the case, and traditionally, odours are masked with overpowering chemical sprays. However, Geberit's latest DuoFresh technology handles things differently. The air in the space is effectively cleaned by passing unwanted odours through a replaceable carbon filter. The DuoFresh technology is discreetly tucked inside the cistern and can be turned on by the touch of a button by the user.
Feeling at home at work
Workplace washrooms are moving away from the dull white-collar way of life and are being transitioned into a new era which draws on design influences from the hospitality and retail sectors to respond to user preference for a sensory experience.
If the goal is to enhance employee wellbeing, organisations have the desire to make their staff members feel comfortable and confident using onsite washroom facilities. The addition of elements such as full floor to ceiling partitions, furnishing that is reflective of those they would see in a residential setting as well as homely necessities such as full-length mirrors and hand creams all contribute to creating a restful environment.
Ultimately, the design of the washroom is a strong platform for communicating the organisations brand and values whilst also meeting the arising functional and psychological needs of those using the space.
Find out more
To find out more about how you can enhance the design and functionalist of your next public bathroom space, take a look at our range of RIBA approved CPD's