The senses in room design
PLANNING FOR WELLNESS
Modern life is a noisy, busy and fast-paced existence from which we often find it difficult to disconnect. Today's technology means that we are constantly connected leaving little rest bite for sensory overload. Even when we are alone, the rise of portable technologies means that we are never really disconnected from the constant stream of information vying for our attention. It's this battle with relentless stimulation, distraction and disruption that leaves little to no time to 'switch off'.
But how is this relevant to the bathroom space? In a study conducted by Geberit, 43% of participants agreed that the bathroom represents a sanctuary. Whether it's at home, in a hotel or in an office environment - by understanding and taking into consideration the pressures around information overload architects and designers can meaningfully take this information and deliver effective bathroom solutions that provide the antidote for our 'always on world' and place priority on wellness.

THE SENSES THAT MATTER
Creating a sensory environment is more than creating a warm and cosy ambience with the help of candles. Understanding the sensory experience is an exacting science.
Auditory
This sense is one that is constantly in operation. Even when we are asleep our ears and brain work collectively to process and detect sound. Although in many instances this can be highly beneficial, sometimes we also need to escape from noise. Managing the acoustic properties of a bathroom is essential with regards to creating an environment of tranquillity. There are many ways that acoustic isolation can be achieved in this environment such as decoupled pre-wall, acoustically optimised pipework as well as opting for wall hung ceramics.
Visual
Often lighting is an area that is neglected when considering the bathroom environment, however, this is truly an aspect that feeds into the functionality needs of the space. Exposure to harsh light sources, especially in the middle of the night can negatively impact our sleeping patterns making it difficult for some to fall back to sleep. A key solution is opting for automatic orientation lighting – a common feature on shower toilets and mirror fittings that cast a soft glow as opposed to glaring brightness.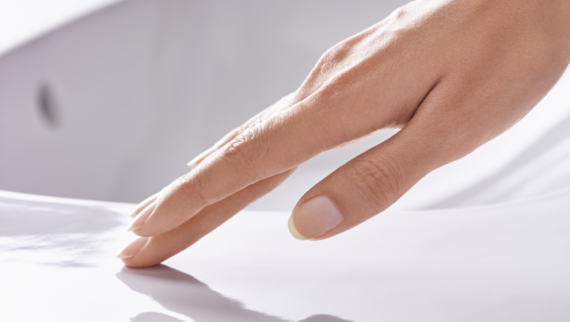 Kinesthetic
A thorough understanding of this sense as a tool to navigate the way we interact with spaces has allowed bathroom designers to embrace and apply materials technology to this space. From specialist glazing on ceramics, heated toilet seats to touchless bathroom technologies such as infrared taps – through the thorough consideration of touch, the bathrooms of today have become more user-friendly than ever before.
Olfactory
The scents we encounter on a daily basis are often overlooked, however as they play a critical role in the memories we hold, its important that scent is given equal consideration in the bathroom environment. Generally, lavatory odours are dealt with by masking with harsh chemical sprays or perfumes. The latest in odour extraction innovations takes a more active approach to diminish unpleasant scents through filtering the surrounding air.
TAKING A HOLISTIC APPROACH
Overall, it's the cumulative consideration for all the senses that is the key to delivering a truly tranquil and calming bathroom environment that delivers rest bite away from the busy world outside. At Geberit, our range of product innovations positions us at the forefront of the 'well-being through design' movement, helping architects and designers uncover the many ways that the science behind designing bathroom environments can enhance our lives.
Discover more in Geberit's Science Behind the Sensory Space White Paper report.