Hotels and the Experience economy…
Enhancing the guest economy
Consumers are choosing to spend more on doing rather than buying
Figures show us that that consumers are choosing to spend less on buying things and focus more on experience more.

As the trend for selling experiences and creating escapism continues – what does this mean for hotel owners and designers?
Welcome to the Experience economy
The experience economy is the idea that products and services can be outcompeted by creating experiences that deliver greater consumer utility. Applying this notion in a hotel setting would mean that traditional indicators of quality such as room price, star rating and amenities are now seen on par with gauges such as the hotels social media popularity, unique aesthetic appeal and architecture as well as how well the spaces connote feelings of escapism and wellness from the constantly 'on' world.
Guest satisfaction vs. Guest delight
A clean room, a comfortable bed and a restful night's sleep. Above and beyond these basic requirements – Designers are constantly faced with the challenge of creating a positive experience in spaces to delight hotel guests. A positive hotel experience builds stronger memories and keeps guests coming back for more. Fundamentally, hotel owners can benefit from customer retention and recommendation when creating these unique spaces for their patrons.
Enhancing the hotel washroom space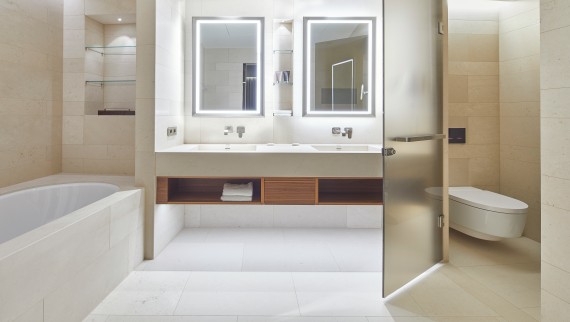 Increasingly seen as part of the hotel experience, prestigious hotel bathrooms offer a place of sanctuary where guests can unwind and relax away from the stresses of everyday life. Taking inspiration from the world's most luxurious health spas, hotel designers are using high-end materials and state of-the-art technology to create sensory spaces in which people can restore the natural balance of their senses and achieve mindfulness. With research showing that up to 85% of people in the UK experience regularly, this is more important than ever. From these spa-like bathroom spaces to insta-ready washrooms to open-plan bedroom-bathroom layouts. This shift in positioning the bathroom as part of the overall hotel experience places a far greater emphasis on the way the guestroom space is designed.
Find out more about the latest hotel washroom trends and solutions in the new white paper from Geberit.