Reliable planning with Geberit…
What actually is BIM?
Throughout the entire life cycle of a building, processes need to be kept consistent and information needs to flow smoothly in order to make planning more reliable and keep construction efficient. More and more projects are being developed on the basis of BIM (Building Information Modelling) for this reason.
BIM at a glance
Despite some efforts towards standardisation, the world of BIM remains a mish-mash of software systems, data formats, data standards, web platforms and all kinds of different concepts. That's the theory – but things often work quite differently in practice. Manufacturer data might be incomplete, obsolete or even incorrect, and hardware or software systems can be pushed to their limits all too soon due to excessively large volumes of data – particularly in major projects.
This is one of the biggest obstacles faced by digital planning. In many cases, users also have to manually amend and improve BIM objects to ensure that they will actually function in the planning process.
Now, there's a solution: the Geberit BIM Catalogue.
The importance of BIM?
Taking the internationally active Geberit Group as an example, the product variety in conjunction with around 50 local markets and over 30 languages poses a complex problem that is hugely multiplied when static models are used. A model not only has to be prepared for all the different versions of every single planning-relevant product, but also for local variations in the respective languages as well. And that's not all – one also has to take into account that not every product is available in every country, to say nothing about the varying local building regulations and standards, which may then in turn lead to local sub-versions of the versions being required.
Depending on who you talk to, the level of detail (LOD) in a BIM model can range from extremely simple to highly detailed. MEP planners are usually satisfied with a very simple geometry that is limited to the most important product features. Depending on whether they also want to use the data for visualisation purposes, architects may require a higher LOD in certain circumstances. However, BIM models with a higher level of detail – particularly in larger-scale projects – will eventually lead to the overall model pushing the computer and software to their limits.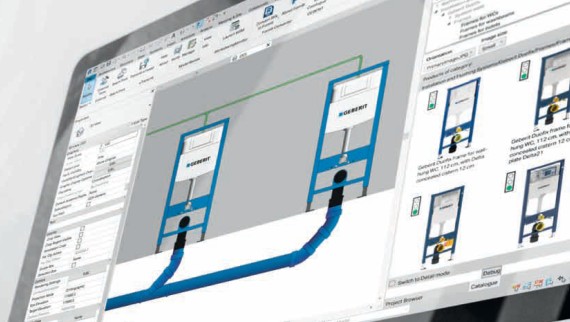 Geberit BIM data for your project
Geberit relies on highly simplified, parametric geometries with all meta information that is relevant for planning in the background. This avoids overloading CAD systems and allows for efficient planning. The BIM objects for Autodesk® Revit® are provided in the form of Revit families, not as Revit project files. In the case of Geberit piping systems, for example, all pipe dimensions and fittings that are relevant to the pipe routing are loaded simply by double-clicking in the Geberit BIM Catalogue.
That means everything that is required for efficient planning, but without redundant information. If special fittings are required, they can be selected individually from the BIM catalogue. Sanitary elements are also structured on the basis of parameters as far as possible, providing huge added value in the planning process as all settings can be adjusted for the sanitary element in question. This means that the frame height or connection bend angle can be adjusted in the properties, alongside other parameters. In order to use as many ceramic models in the planning as possible, the connection width of the fastening screws can also be adjusted.
Meet your Geberit BIM expert
Neelam Bala, our experienced CAD technician is here to support you with strategic planning and BIM data for your next project.
For more information regarding Geberit BIM Data and to learn about how your project can benefit, get in touch with Neelam today.