Lifting the lid on sensory design…
How sensory design can impact your washroom space
Awareness of mental and physical wellbeing has never been greater, yet many of us are spending more time than ever online – and it's taking its toll. Here, Sophie Weston, channel marketing manager at Geberit, lifts the lid on the role that the bathroom has to play in helping us escape from our 'always-on' world and examines the importance of considering each of our senses in creating the perfect sanctuary.

These last few months have had a huge impact on our wellbeing levels. The Office for National Statistics reported that, rather unsurprisingly, over a third (37.4%) of adults said that the pandemic had affected their wellbeing. The same report found that the number of people reporting high levels of anxiety rose sharply during April and May.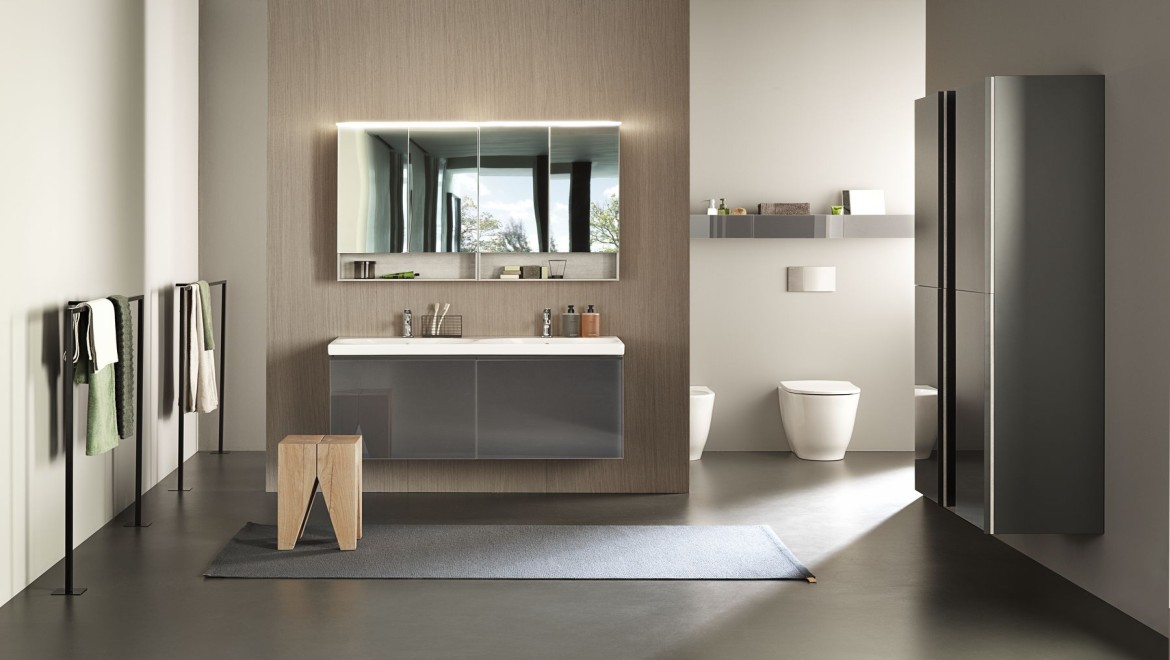 Yet, even before the pandemic took hold, it seems that many of us were affected in some way by the stresses of modern life. We carried out a YouGov survey in 2018 on the impact of our 'always-on' mentality and discovered that nearly three quarters of us were struggling to find the time to relax, with an alarming amount of adults (7 out of 10) also telling us that they struggled to switch off from technology. Indeed, he survey found that the average adult checked their phone 56.2 times each day – over 20,500 times a year or over 1.3 million times in a lifetime. A damning snapshot of modern lives consumed by technology and our 'always on' mentality.
To put this dependence on technology in the context of today's heightened and unusual times, let's look again at how the pandemic has affected our behaviour. In April, Britain's internet users spent an average of four hours and two minutes online each day - 37 minutes more when compared to January and the average time spent on social media increased by 36%. So now, it seems, we are more plugged in than ever before. And in need of respite.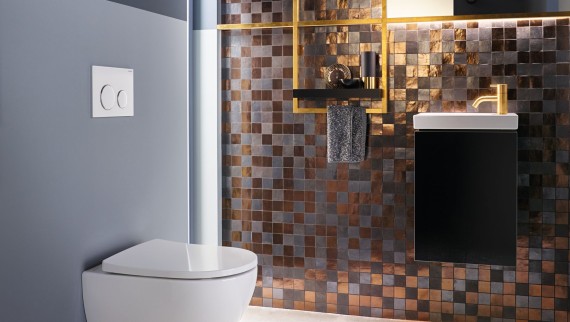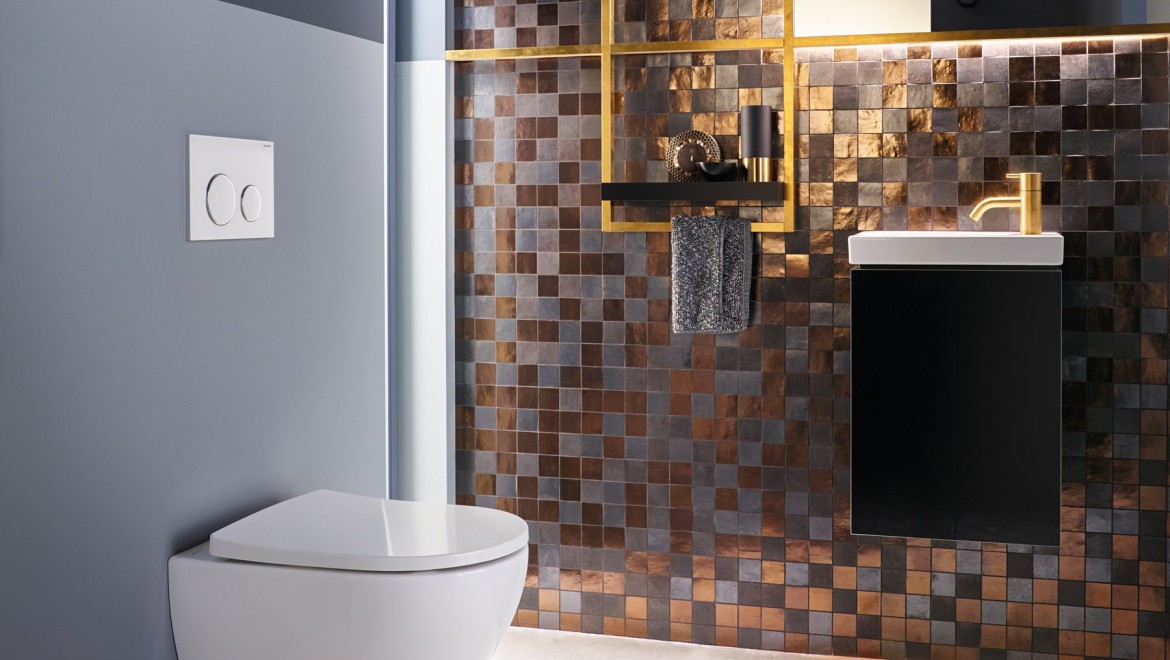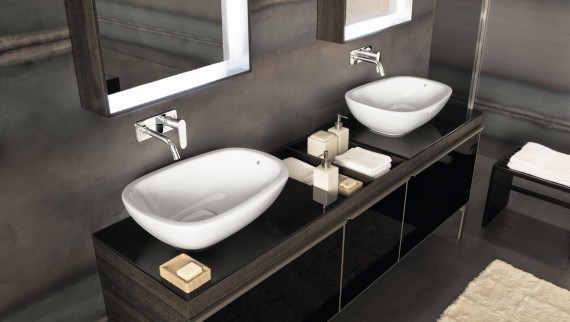 Sanctuary Space
Our 2018 respondents told us that the bathroom (43%) was the most popular place of escape from the pressures of modern life, followed by the bedroom (38%) and the living room (25%). The role of the bathroom is, clearly, of enormous significance in our lives and can provide many of us with some much-needed respite. Yet, bathrooms can often be harsh and sterile places with poor acoustics and cold surfaces. Considering how we can improve both mental and physical wellbeing through a multi-sensory approach can help transform the humble bathroom into a modern day sanctuary.
Key to this approach is biophilic design, which encompasses everything from surfaces and design choices, to air quality, ventilation, acoustics and lighting. With this in mind, finding the formula for a well-considered bathroom space at home, at work or in hospitality could be the key to unlocking better lives.
To do this, we must understand the four key senses of auditory (sound), visual (sight), kinesthetic (touch) and olfactory (smell) and the impact they have on our wellbeing, before then applying this understanding to specify the bathroom technologies and innovations that can help reduce the impact of each.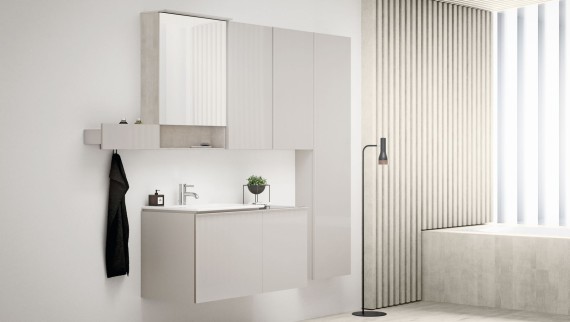 Sound of silence
Let's start with auditory. Our ears work even when we're asleep - and when we are awake, we need to consider the impact those seemingly mundane sounds could have on our mental wellbeing. Think about the affect that a dripping tap, for example, can have upon your mood.
In fact, as we discovered in our 2020 White Paper on the importance of acoustic design in the home, these seemingly innocuous noises are indeed affecting us. We found that one in four adults (28%) were regularly disturbed by bathroom sounds at night or when trying to relax, and one in five (19%) were regularly disturbed by flushing toilets, running taps or pipe and drains.
Managing the acoustics within a bathroom is, therefore, key and there are several ways to ensure noise is contained within a space, both inside the room and behind the scenes. Geberit's Silent-db20 can reduce noise transfer from flushing water, washbasins or showers; likewise, wall-hung toilets with concealed cisterns and pre-wall frames such as Geberit Duofix decouple from the construction, preventing noise from travelling down the wall and through the floor.
The eyes have it
There is no denying that lighting can also affect our mood. According to the Illuminating Engineering Society, the direction of a light source can transform a space and affect how a room might make us feel. The society advises, for instance, that lighting positioned above eye level can create a feeling of restraint, creating a more formal atmosphere. On the other side, lighting positioned below eye level can invoke a feeling of individual importance and help establish a more informal setting. Meanwhile, exposure to harsh light sources, especially in the middle of the night can shock us and stimulate our sense of alertness, disturbing our natural sleeping patterns. Opting for automatic lights or orientation lighting can help preserve the sanctuary of sleep and prevent overstimulation of the visual sense.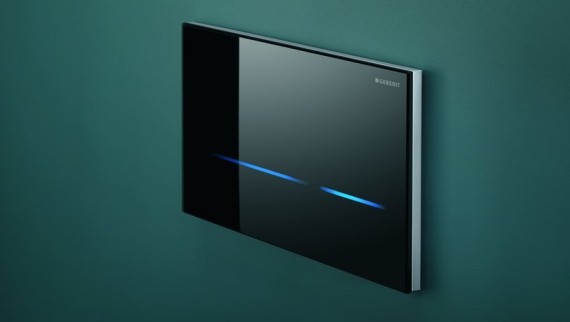 Touch and scent
A deep understanding of the importance of touch has allowed bathroom designers and manufacturers to adapt and embrace the ways in which we interact with our spaces and the technology within them. In the bathroom, hygienic, presence-detecting no-touch taps, such as Geberit's infra-red Brenta and Piave wall-mounted taps, can make the space more user-friendly and tactile. Geberit's Sigma80 and Sigma10 touchless WC flush controls incorporate a sensor that allows the unit to flush as soon as the toilet has been used. The kinesthetic sense can also be awakened by incorporating textures into bathroom design, and this can be achieved by opting for materials such as rustic wood or slate for surfaces and flush plates.
Often overlooked, scent has a strong effect on our experiences because it's processed in the olfactory cortex of the brain's limbic system. Of course, it goes without saying that this can sometimes have a negative effect in the washroom. Lavatory odours are generally dealt with by masking the unpleasant smell with a scented spray. The latest thinking in odour extraction technology by manufacturers takes a more innovative approach. The new Geberit odour extraction unit can be installed in all concealed cisterns from the Sigma range and filters the air within the room to neutralise any unwanted odours.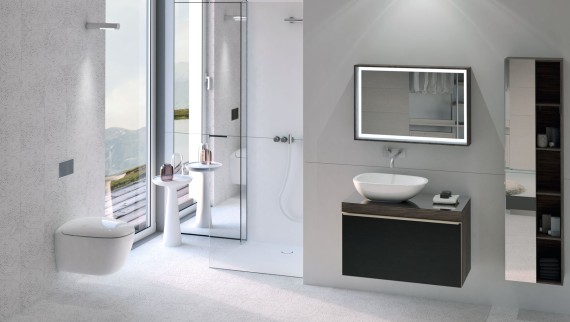 A complete sanctuary
Taken together, the potential for wellbeing is at its highest when the design of spaces is informed and uniquely enriched by all four of these senses. We are entering an exciting new design paradigm, where we shift from creating just 'bathrooms', to thinking about how the design process itself can elevate this space by considering the potential for wellbeing. And, as we acknowledge just how crucial the bathroom space could be in relation to our wellbeing, it could be more important now than ever before for designers to consider how they can take wellbeing to the next level in bathroom design.
Get in touch with us today to find out more about the importance of sensory design in your washroom project