The Geberit Bathroom Design Challenge…
Designing a small bathroom in an appealing, functional and space-optimised manner is no easy task. That's why Geberit has launched the Geberit Bathroom Design Challenge in partnership with Architecture Today to create conversations around small bathroom design.

White Red Architects, Nimtim Architects, and Office S&M Architects have submitted a family bathroom designs using Geberit's sanitary products and systems. The three designs focused on three different key objectives design and functionality, wellness and water usage. It was after a close fought battle, the jury declared Nimtim Architects the winner.

NimTim's design will now be representing Great Britain in an international competition run by Geberit Group. At this stage six designers from six countries – Denmark, Germany, France, Great Britain, Switzerland and the Czech Republic/ Slovakia – will compete to design the best small space which will see end consumers voting for their favourite design.
Why a 6m2 space?
When designing bathrooms, clever floor plans and selecting suitable products, materials and colours are crucial. This is the only way to turn the bathroom into an oasis of well-being that meets the needs of users. When it comes to requirements for modern bathrooms, different people want different things. For some, sufficient storage space is very important. Meanwhile, others appreciate easy cleaning, while others want modern comfort functions. 6m2 was chosen as this room size is common in urban environments yet still allows for different layouts. Our goal of providing inspiration with bathrooms should take centre stage when working on your designs.
Loo of a Lifetime Nimtim Architects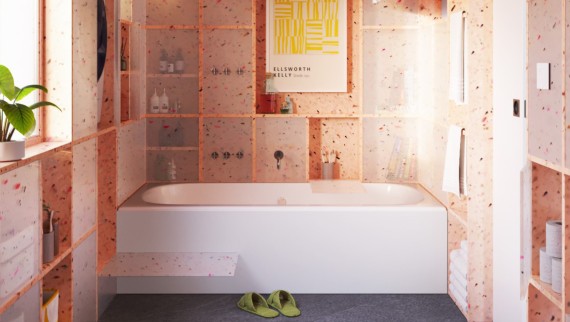 For Nimtim Architects, the bathroom of the future is the one that can last a lifetime – or several lifetimes. They believe we need to start creating spaces that are adaptable, flexible, resilient and enduring, especially given the carbon and materials costs associated with construction.
Bathroom needs and expectations change enormously over a lifetime. Therefore, bathrooms need to be safe but stimulating when we are babies and toddlers, calming and reassuring as we enter adolescence and adulthood, and accessible and easy-to-use as we reach old age.
NimTim wanted to create a bathroom that could meet all these needs, while remaining a space that is thoughtfully and elegantly designed; a space you would want to spend time in, where practical requirements do not compromise aesthetic or atmospheric qualities. Their bathroom design is for everyone at every stage of their lives, and intended for multigenerational living, which is a growing trend in the UK.
Creating a bathroom for a lifetime means choosing materials and products that are simple, strong and long lasting. Therefore, they considered the carbon footprint and sustainability of all the materials and equipment used, as well as their longevity and reliability.
The flooring is a naturally riven UK stone, which is tough and durable, as well as naturally slip- and water-resistant. Built around this is a highly articulated and flexible system of storage and adaptable features, designed to support different age groups using the space. These items are constructed from recycled plastic board – turning waste plastic into a high-performance material that is robust and resistant to moisture and damp.
Conceived as objects within a hardworking environment, the sanitaryware supports adaptable joinery and cabinetry. The latter can be folded away to open-up the space or employed to add articulation and definition to the various user functions taking place. The bold joinery elements are warm and tactile, contrasting with the simple white sanitaryware. A neutral material palette to complement the users' other belongings.
Overall, their bathroom is designed to be interactive; to serve a range of users and their individual needs throughout their lives. The design concept revolves around flexibility rather than limitation, enabling the family and/or individual to take ownership.
The bathroom for Every Body Office S&M Architects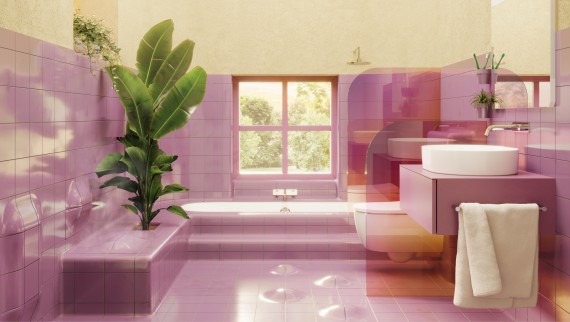 Office S&M Architects' proposal is designed with well-being at its heart. It is intended to create a space at the centre of the home, which is a joy to use for each member of the family – female and male, young and old. To achieve this, they selected innovative products from Geberit that promote well-being. From touchless flush plates to baths that hug the shape of the body, they have used products that are accessible, easy to use, and pleasurable. This creates a bathroom that is designed for every type of body.
To complement these products, Office S&M have designed a bathroom that promotes well-being through innovative and practical means. Undulating massaging tiles, warm circadian lighting, and air-cleaning paint deliver wellbeing benefits, while the curved Geberit sanitaryware creates a welcoming space, that helps wake you up in the morning and unwind after a long day.
They have also used a calming palette of functional colours. The warm buttery yellow ceiling and the lilac tiled plinth make the space appear larger due to complimentary colours visually pushing apart. This spaciousness is accentuated by the curved edges to the sides of the room, which mean our eyes do not see corners. The curved edges also hide soil pipes and ventilation runs, making the space easier to clean. Overall, this ensures that the bathroom feels both spatially and functionally generous.
Curved D-Tiles create a soft but durable interior space. They are raised across the floor, providing a foot massage as you walk to the bath. There is also tile-clad bench to rest on or sit while bathing children. The tiles are warmed by underfloor heating, with hooks to dry towels on. The versatility of the tiles is further demonstrated by their ability to create book rests for reading, storage space and plant pots.
The upper wall finishes reduce mould by employing natural plaster. This is coupled with a high-quality ventilation system, as well as carbon filters to tackle particle matter, and a UV system to deal with airborne bacteria.
Warm dimmable LED lighting supports our circadian rhythm, creates a relaxing atmosphere, and removes the need for candles, which can release carcinogenic toxins and soot when burnt. Using red wavelength LED light instead of traditional white light at night has been proven to improve sleep, melatonin level, and performance the following day.
The benefits of indoor plants have been scientifically shown to improve air quality and mood, while reducing stress levels, blood pressure and fatigue. They can also remove VOCs, and we have included a range of plants, including common ivy, Boston fern, banana and aloe vera, which all enjoy the warm moist atmosphere of bathrooms.
The Water-Usage Closet White Red Architects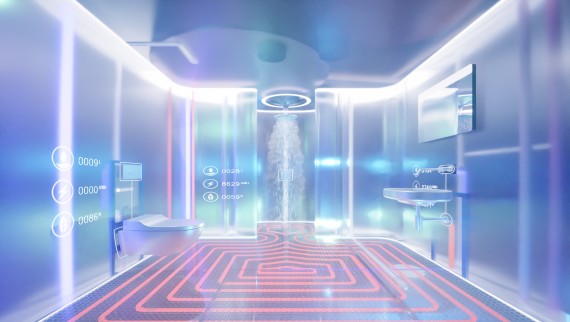 White Red Architects believe that design can provide solutions to the everyday problems we face and that is what informed their approach to this competition.
Most people do not appreciate the inner workings, usage and wastage concealed within the walls of today's bathrooms. In the UK, a typical person uses 142 litres of water per day, much of which ends up at an external treatment plant. But there is no need for this to continue. By introducing a rainwater harvesting and water recycling system, water can be reused throughout the bathroom with reliance on mains water practically eliminated.
This led to an important question: if users are more aware of their wastage, could this amount be reduced? The solution is the Water-Usage Closet, a prefabricated eco-resin pod that celebrates the inner workings and usages involved in the everyday bathroom. The six square-metre enclosure provides all the necessary sanitary appliances required by the average person, but in a completely unique way. It is aimed at the single person or family who is making a conscious effort to reduce waste and lead a more sustainable life.
The bathroom contains a wall-mounted toilet with a concealed cistern and actuator plate, a wall-mounted basin with a stainless-steel trap, an illuminated mirror, a wall-mounted stainless-steel tap, and an overhead rainfall shower.
Water usage and wastage is ever present in the Water-Usage Closet. The pipes connecting the storage tanks to the bathroom appliances begin to glow when they are in use, highlighting processes that would usually go unnoticed. This is achieved by using motion- activated OLED lights set within the recycled plastic pipes. The system allows the movement of water and waste to be seen without revealing the contents of the pipes themselves.
The pipes and appliances within the pod are also linked to digital screens that sit flush within the translucent pod walls and display key data relating to the usage and wastage produced by the bathroom. By ensuring these devices are prominently displayed, the user will be constantly reminded of their usage and of the continuous cycle that's occurring within the bathroom and its servicing pipes and tanks.
The materials that have been used to create the Water-Usage Closet have a strong connection to circularity and sustainability, much like the pod itself. These support the design intent and ambitions we have set out, underlining the need to reuse and recycle wherever possible in day-to-day life.
The Water-Usage Closet also presents the perfect backdrop for our selected Geberit products. These were chosen for their minimal aesthetic and clean lines, placing an even greater emphasis on the complexities going on 'behind the scenes'.
Our designers:
Office S&M
Office S&M elevate the everyday. We are an architecture practice that works with a 50:50 split of public clients and private clients on individual homes, new build housing, workspace retrofit and public realm projects.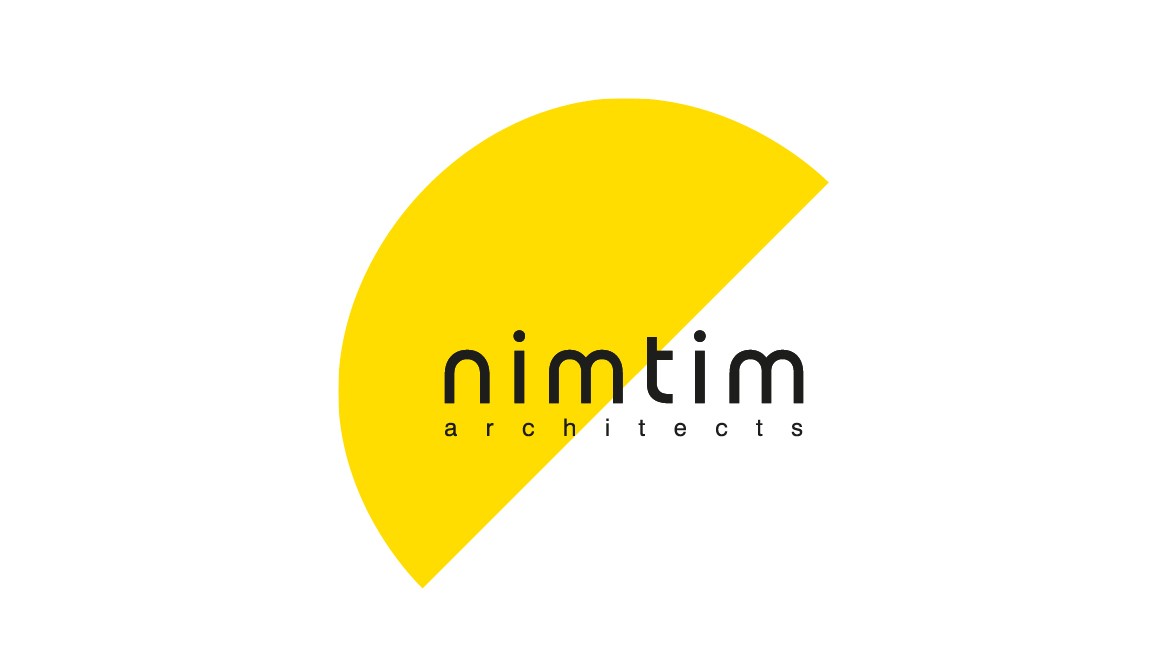 NimTim
We are a practice who want to make and talk about architecture in a different way. Our work is about people and the stories and ideas they bring to the projects we make together. We create buildings that reflect the personalities and values of the people and communities that will live, work or play in them. We want to tell stories that resonate with everyone. To bring people inside the extraordinary process of making and reimagining buildings and landscapes.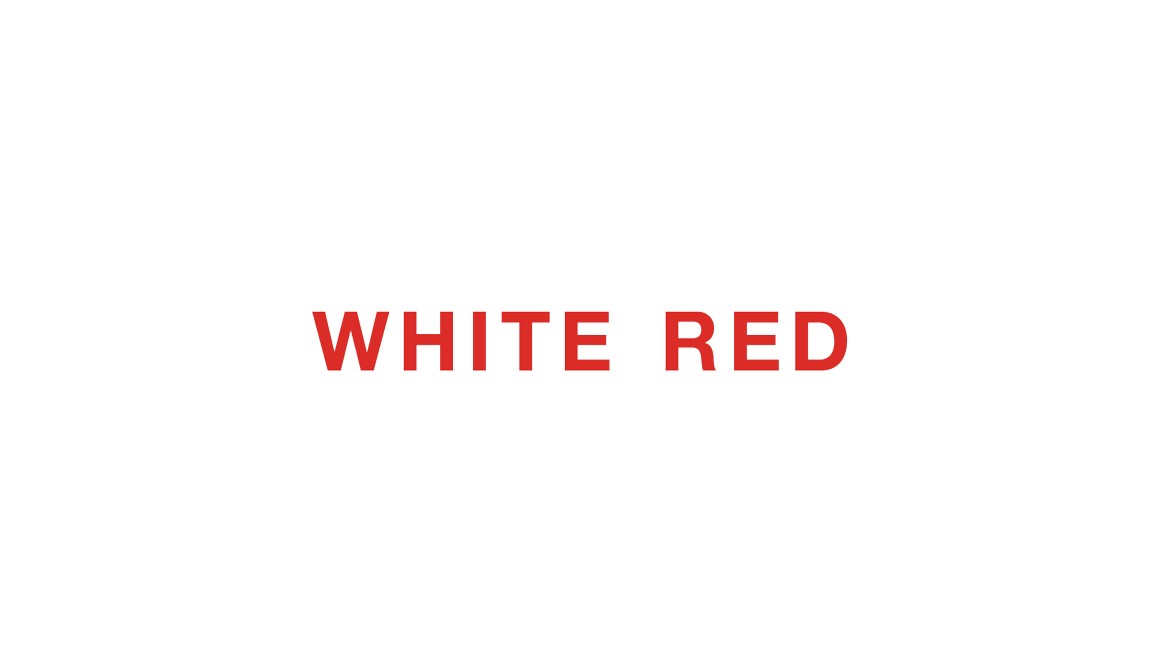 White Red
We are a Shoreditch based architecture and design studio. Our process is informed by a variety of scales, sectors and climates which gives our work its distinctive feel. Innovation is key. We produce original works that reflect the drive and ambition shared by our collaborators who believe design can change the world.
Our expert judging panel: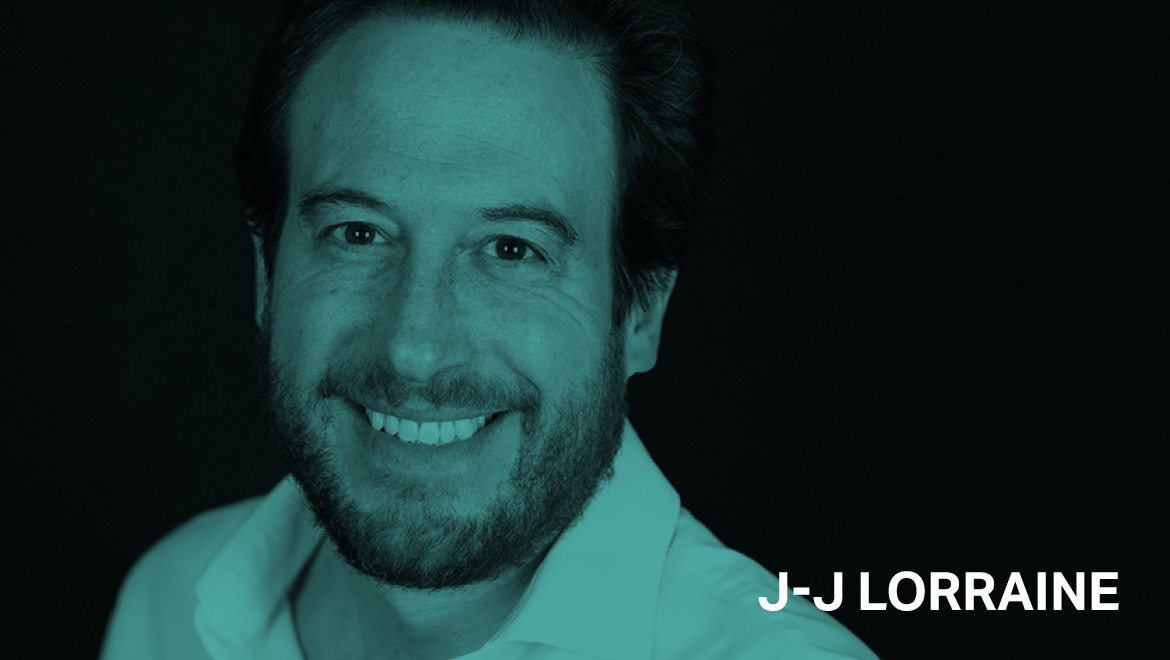 J-J Lorraine, MA (Hons) DipArch RIBA ARB, Director at Morrow + Lorraine
J-J recognises the responsibility architects have, to help clients and occupants make the most of built spaces; he believes that can be achieved by integrating wellbeing, biodiversity, and sustainability practices, as well the natural environment, in design. J-J is always looking for new opportunities to partner with clients and collaborators who share in the practice's ambitions. He takes a leadership role in the early stages of projects, including driving the design direction and overseeing feasibility studies and planning applications. As a strong believer in the importance of supporting and encouraging talent, J-J also ensures his hand-picked team have a say in shaping the future of the practice.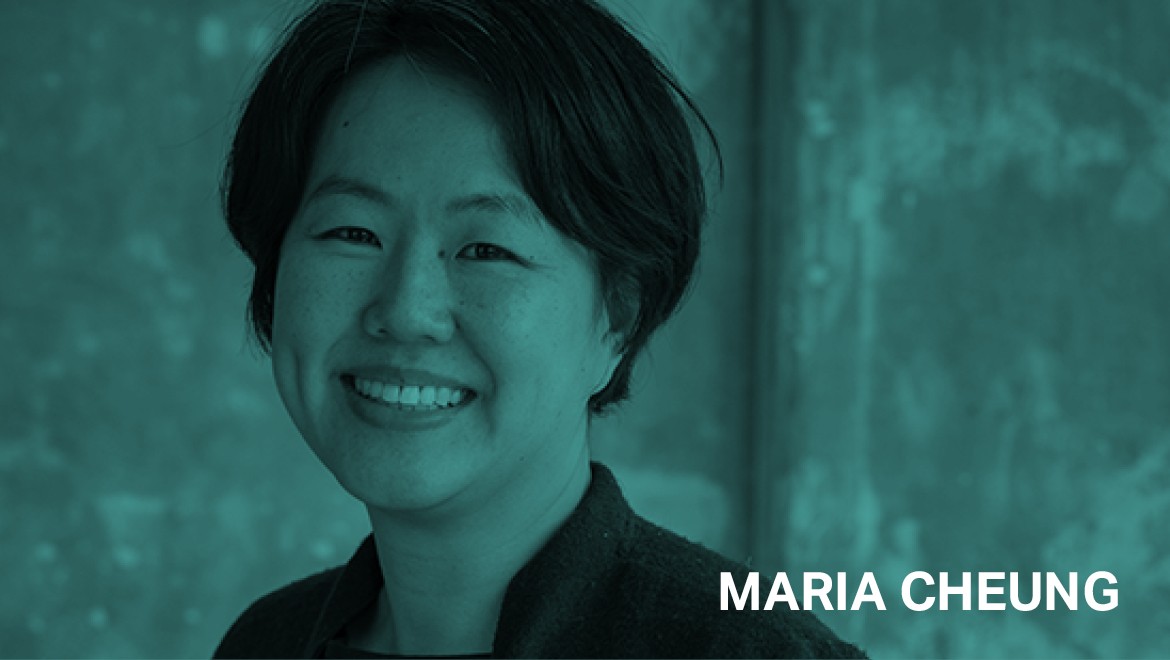 Maria Cheung, Director and Head of Interior Design, Squire & Partners
Maria Cheung is a Director and Head of Interior Design at award-winning architecture and design practice Squire & Partners. Maria's experience spans workspace, residential and hotel developments and extends to bespoke installations and products, retail displays and exhibition design. Design is a passion for Maria, who strives to create beautiful spaces that transcend their functional requirements to surprise and enhance the user's experience.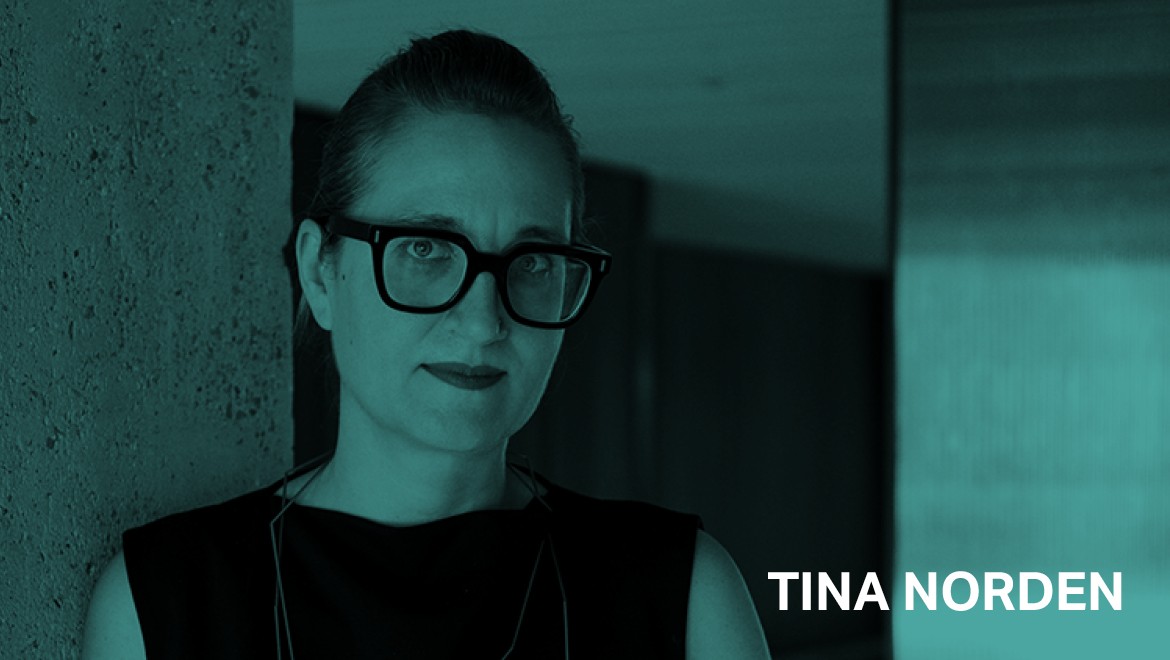 Tina Norden, Interior designer, architect & partner, Conran and Partners
Tina is an Interior Designer and Architect with a diverse portfolio stretching across many contexts and continents, from hotel and restaurant design to high-end residential and boutique retail projects. She is passionate about travel and loves designing spaces that enhance the enjoyment of life. Tina leads design teams in both the UK and Hong Kong and was instrumental in building the team in Asia.
Lynne Clapham-Carter, Specification Manager at Geberit
Lynne Clapham-Carter is one of two dedicated Specification Managers working for Geberit across the UK. Lynne provides approved RIBA training, design and technical specification advice to Architects and Interior Designers. With more than two decades of experience in the field of specification management, Lynne has specialised in several product areas over the year enjoying a varied career path, starting out as a professional classical ballet dancer, retraining into architecture and then working in private practice, before moving into her current field. Her architectural background, in particular, enables her to engage with the needs of her customer base at a highly technical level, as well as from an aesthetical perspective.