Geberit.
Beautifully designed flush plates
Designing the perfect bathroom for a cilent means ensuring that individual details are perfectly coordinated. With the new premium flush plate finishes from Geberit you can offer consumers an even wider choice of on-trend designs and individual style options for their bathroom.
The new fashionable metal colours are the perfect match for the latest trends in taps, while plates made of glass, concrete-effect or natural Mustang slate and black walnut blend harmoniously into almost any décor style.
For that finishing touch
If you are working towards a specific theme, perhaps an industrial inspired design for example, the perfect choice is the new concrete finish. Or if the breif is for a more natural, tranquil theme, the walnut is the perfect touch in either the Sigma21 and Sigma50 models.
Whatever feel the cilent is after, both ranges have been expanded to offer even more choice as they are also available with a choice of sleek brass, red gold and black chrome for that stylish finishing touch.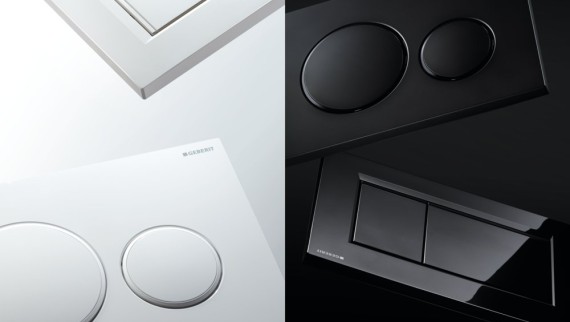 The Sigma20 and Sigma30 flush plate collection has also been expanded to include sleek matt black and matt white finishes.
The new options join seven existing colourways; white gloss chrome, white matt chrome, white gold plated, black gloss chrome, matt chrome, gloss chrome and brushed stainless steel, allowing your imagination to work wonders.
THE PERFECT PARTNER TO ANY GEBERIT DUOFIX FRAME
Used in combination with the matching concealed cistern, Geberit flush plates cover a wide variety of applications and comfort functions.
The Geberit flushing system offers tool-free final installation and guaranteed spare parts availability for 25 years.
This allows you to choose from a wide selection of both Geberit flush plates and reliable Geberit installation elements for installation behind the wall and find the solution to any design needs.