Added space in small bathrooms Thanks to space-saving products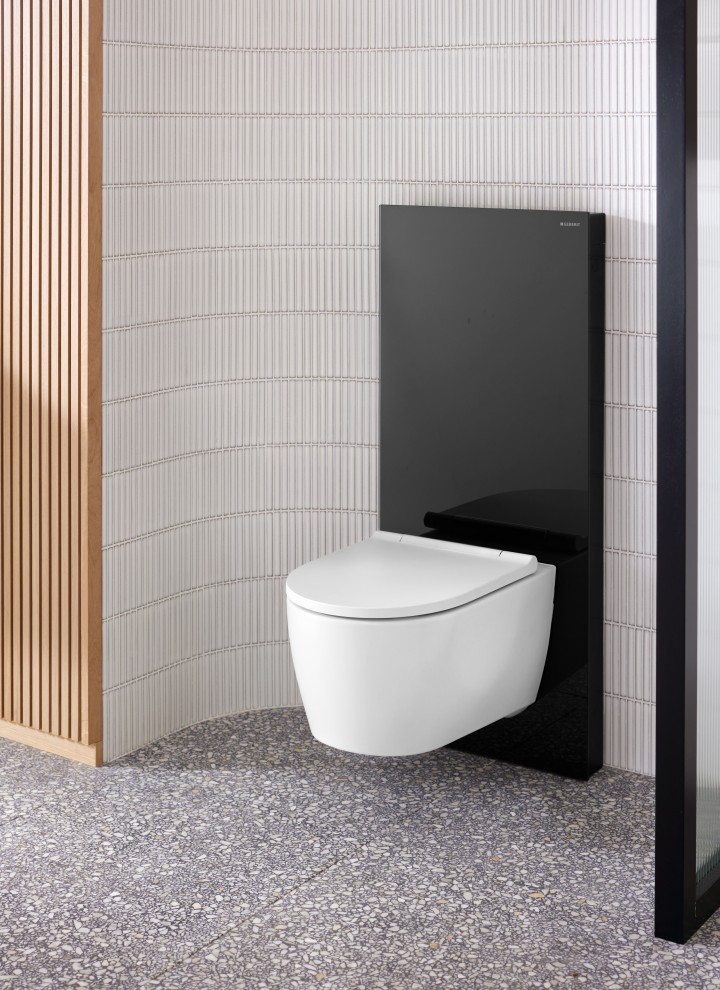 Geberit Monolith sanitary module for WCs
The Geberit Monolith sanitary module for WCs is proving a big hit. On one hand, it is celebrated as a design element that adds a modern touch to the bathroom and, on the other hand, also impresses thanks to its clever functions. Installation takes place without the need for opening up walls or other structural measures. All the sanitary technology – including the cistern, dual flush and trap – is concealed in the elegant, streamlined module. As a result, the room appears more spacious, tidier and more modern. This space-saving solution is not only suitable for renovations, but also in new buildings as well. The Geberit Monolith sanitary module is available with front claddings in different colours, which can be combined with different side claddings.
Washbasins for all bathroom sizes
Slim dimensions are not only important on the toilet, but also on washbasins used in small guest bathrooms. Geberit offers the perfect washbasin for any floor plan and matching bathroom furniture with an impressive amount of storage space.
Bathroom renovation with Geberit Monolith
Added value to you Get inspiration for your new bathroom
Inspiration tool

Discover ideas and functions in the modern bathroom and choose what you like and what is important to you. In just a few steps, you can bring together the elements of your dream bathroom.
Contact us

If you have any questions, simply fill out the contact form.
3D bathroom planner

Plan your bathroom online using the 3D view and choose between various options. You can also request a quote to turn your dream into a reality.
Newsletter

Our newsletter will provide you with insights and tips on how your bathroom can simplify your day-to-day life.