Employee Testimonials Crina Nitura, business development manager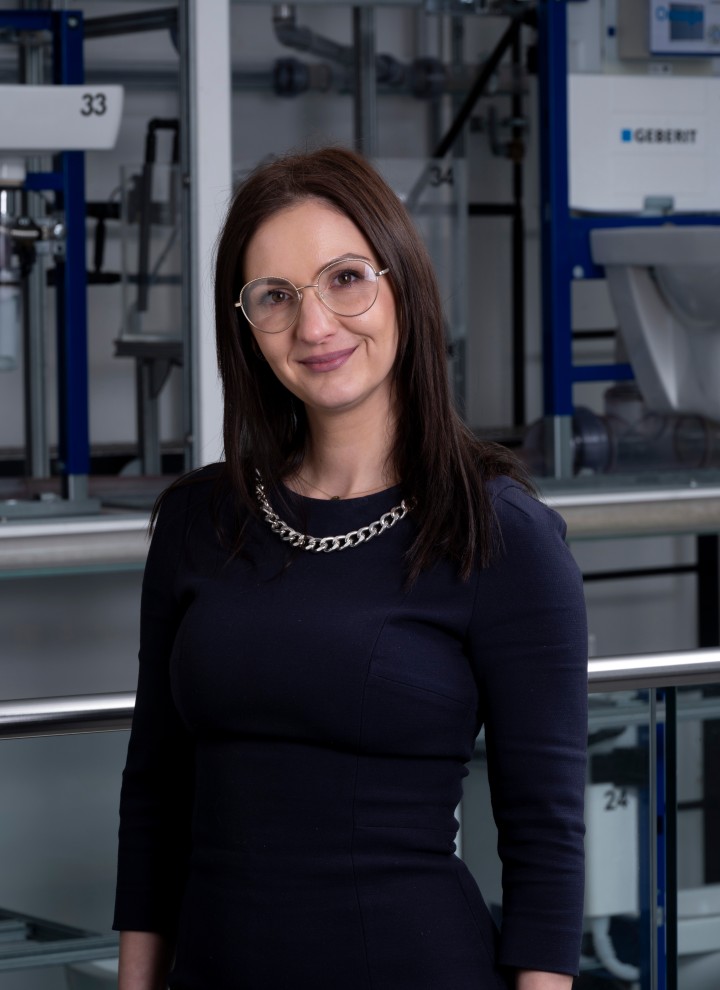 What was your path to Geberit?
My career path to Geberit was one full of excitement. Since I started the role I've been told that I joined at a really good time. At first I wasn't sure what management was referring to, but towards the end of 2021 big changes within the team had happened. Change can only mean good things when you embrace it, which is what I did, and I have enjoyed working here since the moment I started. New management, new teams and new ways of improving our performance and productivity. We are now a big team with a clear goal. I clearly see that I am on the right path.
What are the roles you've held at Geberit?
As mentioned before, I like embracing challenges and changes as it can strengthen my experience and knowledge. I started as an Area Sales Manager in the Retail team, but in January 2022 I took a new opportunity and joined the Trade team as Business Development Manager. Since then I am taking part in a complete new level of negotiations and meetings, which I enjoy every minute.
What's your team dynamic like?
Empowered - that's how I would describe it. We like to encourage each other, but most importantly leadership is giving us the freedom to make strategic decisions every day. This enables great sales skills and sales performance. I've always been encouraged to find new opportunities that I could bring to the table, no matter the size.
How would you describe your time here so far?
My time at Geberit has been exciting. I wake up every morning and I am looking forward to starting my day, to see what the day will bring, to meet new people and strengthen my relationships with existing contacts. When you work for a company that has a fully engaged group of workers that together aim to accomplish the company's goal, you're on the path to success. It feels like a united team that value each other's skills and knowledge. Of course, the road has bumps along the way, but this makes us stronger and more connected.
What do you enjoy most about your role here?
Building new relationships. Collaboration is the key to a successful career. I've been told that this role can make you feel alone sometimes, as you don't have your colleagues next to you for 8 hours or more to chat with; however, direct customer contact and contact with your team is an important source of communication that you never feel alone. They are a source of new ideas, solutions and work inspiration that I enjoy listening to.
What's the best thing you have achieved here?
I think the best thing I've achieved here, apart from extraordinary sales opportunities, is that I've developed new friendships. These relationships have shaped my career here at Geberit and I have only appreciation for all my colleagues that have contributed.
What are the big opportunities ahead for you and your team?
We want to be the best team within Geberit UK, or the A-Team as we like to call it. We have recently had a new line manager which means fresh ideas, new relationships and improved strategies.
What lessons have you learned along the way?
To ask for help! I faced some challenges and I asked for help in the last minute. From now on, I know exactly the moment when I need to ask for help and when I can deal with different situations myself.
What would you say to someone who's not sure if they should apply to Geberit?
If you want to embrace new challenges, renew yourself and be part of a collaborative team, Geberit is the answer!
What's the one piece of advice you could offer to job seekers looking to join your team?
We are a mix of characters here at Geberit, and each one of us aims to share new ideas and help new starters. We are a new team ourselves and this has made us more united. We work and plan our day differently, but overall there is only healthy competition between us.