Pressing Matters: The Benefits of Shifting Technology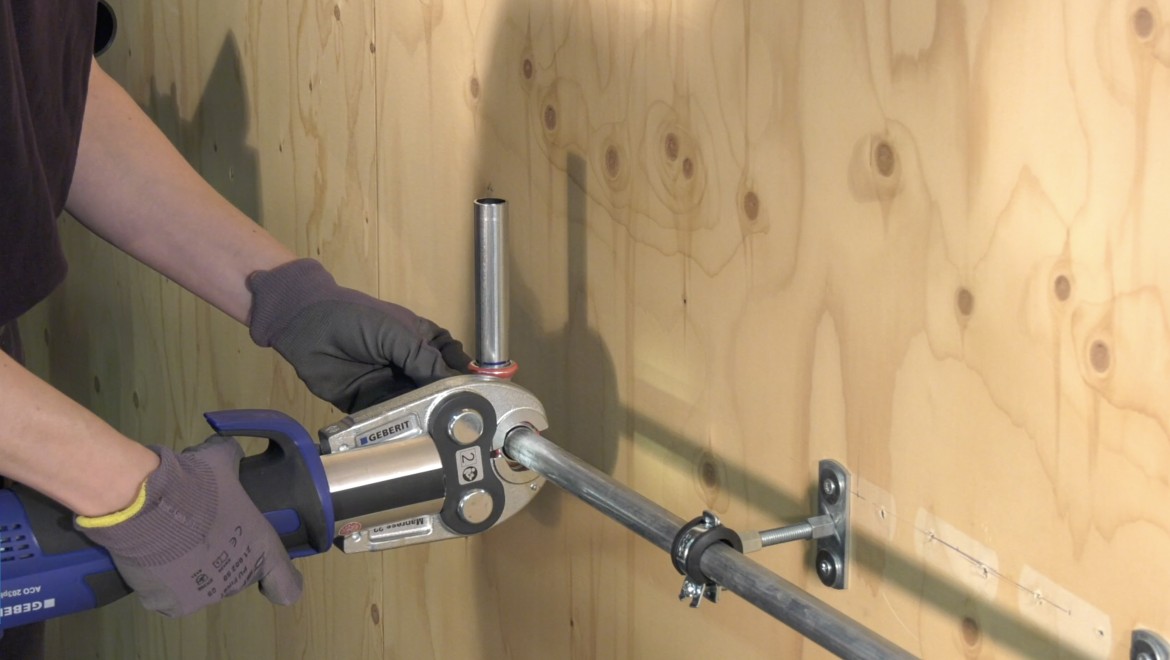 With increased pressure on budgets and timescales, it has never been more important for installers to work smarter, easier and more quickly. Purdie Proudman, channel marketing manager at Geberit, at Geberit, explores the potential of press fit piping systems and the installation benefits these systems can offer.
There have been many instances over the years where new ways of working have helped improve installation quality and cut time for installers. Pipe fitting is a good example, more specifically the shift from traditional jointing methods such as soldering and screwed pipe towards press fit, where joints and connecting pipes are 'pressed' using a dedicated pressing tool.
Pressed for time? Choose press fit
Press fitting is not a new technology and has in fact been available to installers for over five decades, but it has traditionally been used more for commercial jobs. With more domestic tradespeople keen to streamline their jobs and work smarter, it has become an increasingly popular choice for domestic jobs too, including solar installations and potable water.
The benefits are clear. Press fit systems deliver a more cost-effective and time-efficient job whilst also improving safety. With no hot works there is no need for cooling down periods and it is suitable even on jobs where traditional methods might otherwise be too cumbersome or impractical, or where safety regulations make soldering an impossibility.
Available in copper, stainless steel, carbon steel and CuNiFe, press fit systems like Geberit Mapress have been proven to take less time to install than their traditional counterparts.
Complete peace of mind in the job
Another benefit of press fit is the reliability of connections. The simple process involves cutting the pipe to size, deburring the inside and outside, marking the socket insertion depth on the pipe and then pushing the pipe into the socket of the fitting up to the marked line, before pressing the joint.
Coloured pressing indicators are present around the fitting ends which offer easy identification of both the material and any unpressed joints during the installation process. There is no need for lubrication and the joints will leak until pressed to show incomplete pressing during pressure testing.
Guaranteeing quality through tool choice
One of the most important considerations any installer can make when press fitting is the choice of pressing tools. At Geberit we believe getting the right tools for the job is a key part of any successful installation - the missing piece in guaranteeing quality and conformity.
Geberit is a manufacturer that offers tooling, pipes and fittings under the same brand, providing complete confidence in compatibility. Our maintenance-free pressing jaws are optimised to deliver the best possible results when installing Geberit systems. It means a better connection and more reliable results first time, for enhanced conformity, testing and a guarantee of quality.
By choosing a trusted brand, backed by comprehensive training and technical support throughout the design and installation process, installers can have complete confidence in their job – all whilst saving time and improving quality too. It's no wonder so many have turned their back on conventional jointing methods and turned to press fit.
Tips for finding the best fit
Always keep an open mind to new ways of working and same goes, too, for cost of materials. It's important to consider the project cost – and to get your customers to think the same. With press fit there are fewer additional materials, you can get the job done quicker so it saves on labour and it's also a cleaner, tidier, less disruptive job. In virtually all cases the overall job cost benefits will outweigh the material and even tool costs.
Choose the right tooling for the pipes. We all recognise the importance of using compatible, branded tools across all aspects of life. Whether it's an Apple charger for your iPhone or a Samsung remote for your Samsung TV, the expectation is that using the manufacturer's own accessories will optimise performance. The same applies in the trade too.
Educate yourself. Despite the relative simplicity of press fitting, it is important to get the right training to fully understand the nuances of this method and deliver the best possible results. Leading manufacturers like Geberit offer training programmes which combine best practice methods with the specific product knowledge required to maximise the quality, speed and integrity of every installation. Many courses will also cover tooling, including the maintenance and calibration requirements to make sure those tools remain fit for purpose.
Click here to read the article in Heating and Plumbing Monthly
Click here to find out more about Geberit tooling
Press enquiries
WAA Chosen
Wrens Court
58 Victoria Road
Sutton Coldfield
West Midlands
B72 1SY
Email: geberit@waachosen.co.uk
Tel: 0121 321 1411
For urgent press enquiries only please contact:
Jo Medlicott: 07890 037651