Press fit: The Direct Route to Saving Time and Money May 2021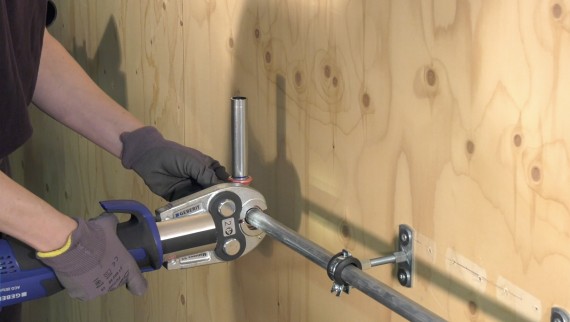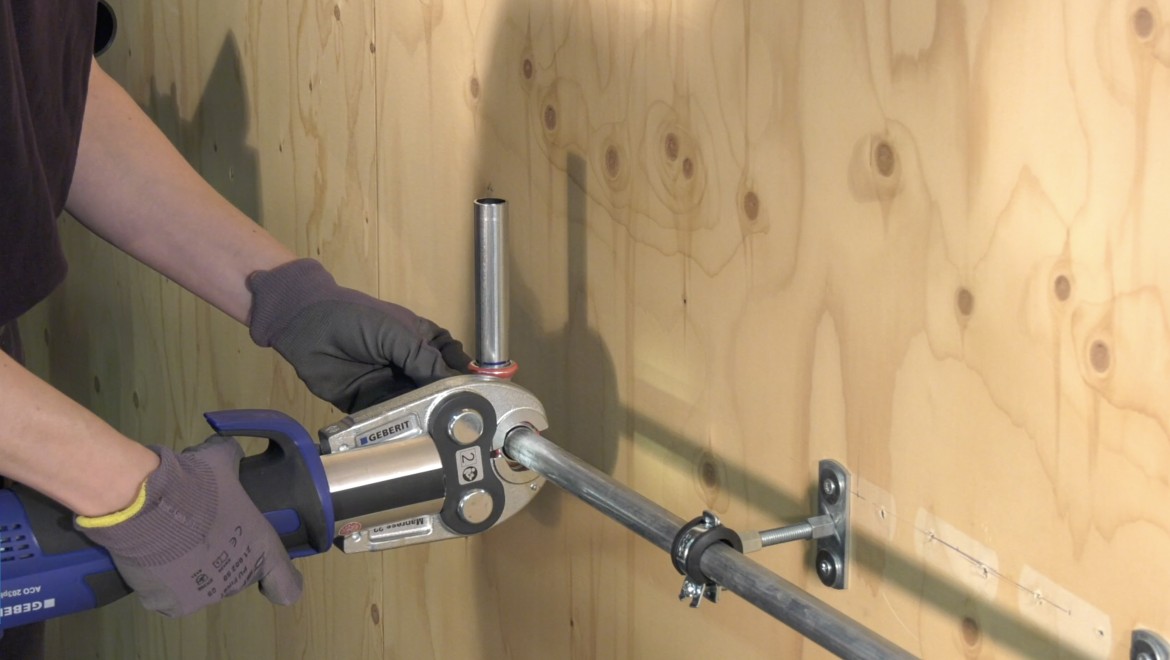 It's never been more important for installers to work smarter, easier and more quickly – and that means embracing new ways of working and looking at industry innovations.
Antony Corbett, Product Applications Engineer at Geberit, takes a look at press fit piping systems and the installation benefits these systems can offer.

Our working lives have all been affected in some way over the last twelve months, with many plumbers and heating installers forced to adapt their working practices as a result. And while some of these changes have naturally been inevitable, such as masks or social distancing, others may be more strategic as tradespeople look to adopt leaner processes and protect their revenues.
Take, for instance, pipe fitting - one area in which installers have been given the opportunity to make time and cost savings through continued product development. Traditional jointing methods such as soldering and screwed pipe can be cumbersome and sometimes impractical for the job at hand. Site conditions and safety regulations sometimes make soldering an impossibility, even before you consider the cooling down period required for hot works – clearly not conducive with more efficient working practices in competitive markets. Press fitting, on the other hand, can help deliver a more cost-effective and time-efficient job whilst also improving safety. These systems have been around for over 50 years, but in the past have been used more for commercial applications. However, as more tradespeople become keen to streamline their jobs and work smarter, press fitting is now becoming an increasingly popular choice for installers.
Ease of installation
The jointing process is simple. Plumbers or heating installers simply need to cut the pipe to size, debur the inside and outside, mark the socket insertion depth on the pipe, push the pipe into the socket of the fitting, then press the joint and connecting pipe using the pressing tool. Coloured pressing indicators cover each end of the fittings, offering easy identification of both the material and any unpressed joints during the installation process. The fitting should only be pressed once the pipe has been inserted to the required insertion depth, giving a visual check which ensures a safe, dependable and long-lasting connection. The fittings will leak unless pressed to show unfinished joints during inspection and pressure testing. There is no requirement to drain the system to complete these joints, as it can be fixed wet.
Time efficiencies
The biggest time saving when compared with soldering is that there is no requirement for a cooling down period. This clearly makes it a quicker and safer job, but there are a host of other time-saving benefits too. By its very nature, the simple jointing method removes the most time-consuming process of traditional methods such as threading, soldering or welding. Components can also be pre-fabricated on or off-site before installation, particularly useful when working at height. Press fitting also does not require any consumable items like sealants, cleaning fluid or tapes.
Surge in growth
When we consider just what press fit systems have to offer, it's not surprising that they are seeing a surge in growth. The benefits of being clean, reliable and easy to use – this technology can really improve efficiency and productivity for installers. With product development constantly evolving, any forward-thinking installers should always be on the lookout for more cost-effective ways of working.
Isn't it more expensive? How are we expected pass that cost onto customers?
It is important to consider the whole project cost – and to get your customers to do the same. With press fit there are fewer additional materials, so you can get the job done quicker – enabling you to save on labour and ensuring a cleaner, tidier, less disruptive job. In virtually all cases, the overall job cost benefits will outweigh the additional material costs and sometimes even the tools too.
What training is required?
Despite its simplicity, it is important to get the right training to fully understand the nuances of press fitting and deliver the best possible results. Geberit offers free training (both online sessions and at our Warwick and Dublin training centres) which combines best practice methods with the specific product knowledge required to maximise the quality, speed and integrity of every installation. Such courses also cover the tools required, as well as the maintenance and calibration requirements to make sure those tools remain fit for purpose.
What tools are required?
At Geberit we believe getting the right tools for the job is a key part of any successful installation. Geberit is the only manufacturer to offer tooling, pipes and fittings under the same brand, providing complete confidence in compatibility when installing a Mapress system. Geberit's pressing jaws, pressing collars and adaptors are easy to use, compact and lightweight.
Click here to view the PHAM News article
Press enquiries
WAA Chosen
Wrens Court
58 Victoria Road
Sutton Coldfield
West Midlands
B72 1SY
Email: geberit@waachosen.co.uk
Tel: 0121 321 1411
For urgent press enquiries only please contact:
Jo Medlicott: 07890 037651