Geberit teams up with Lisa Dawson to bring inspiration to the bathroom 22nd April 2021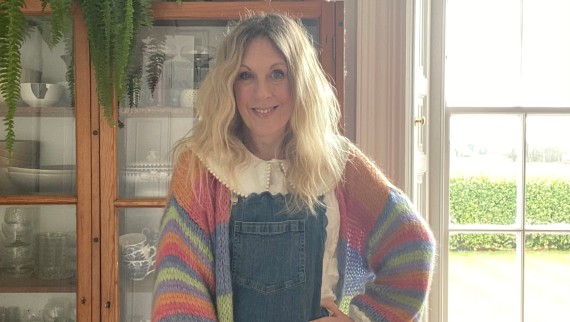 Geberit has teamed up with award-winning interior and lifestyle blogger, creator, writer, presenter and social media influencer Lisa Dawson, for an exciting bathroom design journey and styling transformation.
Author of the recently released Resourceful Living, a guide to getting creative when revamping your home, Lisa will be sprinkling her own signature style on a Geberit bathroom.
Featuring the brand's sleek and slim Renova Plan furniture in light hickory, the compact and versatile AquaClean Tuma shower toilet and luxury chrome flush plate, Lisa's design will incorporate a mix of natural, botanical and sustainable influences.
Documenting her journey through Instagram, Lisa will be sharing the entire design process from beginning to end, from the initial room sketches, mood boards and trends inspiration to product decisions, sneak peeks and finishing touches.
Lisa's followers are invited to join her every step of the way as she sets about creating a beautiful en-suite bathroom design. They will be encouraged to participate in the design journey, assisting in decisions on paint colours, patterns and accessories.
Sophie Weston, channel marketing manager at Geberit, said: "We're thrilled to be teaming up with Lisa Dawson over the next few months to showcase how to plan and style the perfect bathroom - that will stand the test of time.
"From deciphering the latest trends and how they can work for you, to planning and designing for the space you have, Lisa will be sharing all the top tips and tricks you need to create your own dream bathroom.
"Together, we want to prove that bathrooms shouldn't just be functional – they should be beautiful too, and we can't wait to see what Lisa chooses to do with the space!"
Lisa Dawson added: "I'm really excited to be partnering with Geberit once again to talk all things bathrooms. I can't wait to get stuck into the design process and will be turning to my audience to help make some of those all-important styling decisions!"
"I will be sharing every design tip and trick in the book to help guide people on how to get the very best out of any bathroom or shower room design, no matter how big or small the space they have is."

Press enquiries
WAA Chosen
Wrens Court
58 Victoria Road
Sutton Coldfield
West Midlands
B72 1SY
Email: geberit@waachosen.co.uk
Tel: 0121 321 1411
For urgent press enquiries only please contact:
Jo Medlicott: 07890 037651