Geberit launches a specialist report for housebuilders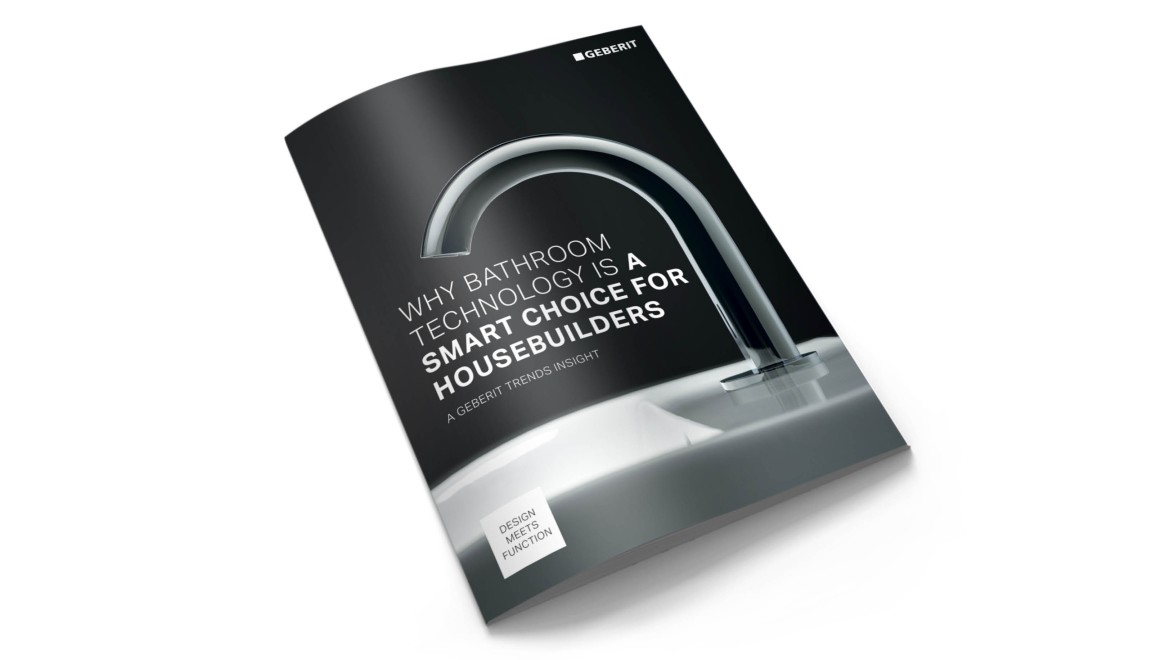 Geberit has launched a new specialist report for housebuilders that aims to shine a spotlight on the next period of possibility for technology in new homes.
In its new specialist report, 'Why Bathroom Technology Is A Smart Choice for Housebuilders', Geberit has partnered with Hamptons International director and realtor Grant Bates to look at the potential that technology can offer housebuilders across projects.
The report follows a YouGov poll commissioned by Geberit of more than 1,200 UK homeowners to find out how they use technology in the home and their willingness to invest more in homes with smart solutions. The findings revealed that more than a third (35%) would be willing to pay more for a new property incorporating smart innovation and technology, with four in ten of those polled believing that there could be more technology in new build homes.
When it came to the most popular spaces for smart innovations, the living room topped the list (70%), followed by the kitchen (34%) and home office (29%). Trailing behind at just 2% was the bathroom – something that Geberit believes is an untapped opportunity for developers looking to meet buyer demand by improving comfort and convenience for homebuyers
The report also looks at research undertaken by Geberit with individuals across the sector which found that the vast majority intend to enhance their specification offer in the coming years and plan to install bathroom innovations in future projects, something that Grant Bates believes will offer housebuilders a clear opportunity to improve saleability.
Grant Bates, realtor and contributor to the Report, said: "The hotelisation of the home has had an enormous impact on the residential property market in recent times. The pandemic has, of course, played its part, with homes transformed into multi-functional spaces that are part gym, office and sanctuary. The end result is a buyer whose main consideration is prioritising day-to-day enjoyment of life and one willing to pay what we describe in this report as a 'convenience premium'. The smartest homes will be the most desirable and will achieve the highest value.
"Bathrooms, in particular, are critical to selling a hew home. For housebuilders there is a clear opportunity to improved saleability through bathroom design, specification and technological integration. Technology is a fantastic way for housebuilders to add perceived value in the bathroom and, in doing so, improve the saleability of homes."
Sophie Weston, Marketing Manager at Geberit, said: "Our poll shows just how much UK homeowners are well and truly sold on the value that home automation adds and how they are willing to pay a 'convenience premium'. Our report looks at the growing role of technology in the home and how this might shape future new build projects. The bathroom, in particular, offers housebuilders a huge opportunity to add value with what tend to be generally fuss free and cost effective solutions from infra red, touchless technology to simple odour extraction flush plate units.
"By being open to changing attitudes and considering the long-term return on investment of such technologies, developers can tap into those benefits to help sell homes quicker and for a higher price."
Press Enquiries
WAA Chosen
Wrens Court
58 Victoria Road
Sutton Coldfield
West Midlands
B72 1SY
Email: geberit@waachosen.co.uk
Tel: 0121 321 1411
For urgent press enquiries only please contact
Jo Medlicott: 07890 037651