Geberit wins CRASH Patron of the Year Award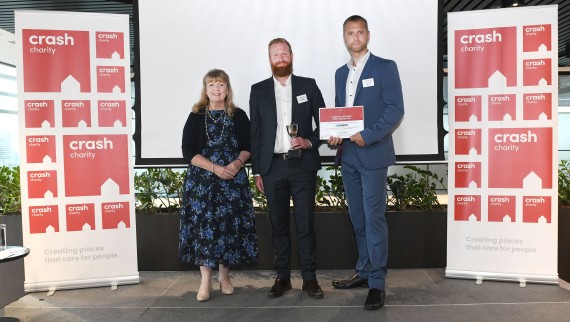 Geberit has been awarded CRASH Charity Patron of the Year for the third year running in the charity's Above and Beyond Awards 2022 for donating the most product to its homelessness and hospice projects across the country.
CRASH, which is Geberit's official charity partner, is an organisation which helps homeless charities and hospices deliver life changing building projects, by sourcing professional expertise, building materials and grants donated by the construction and property industry.
Thanks to Geberit's generous donations throughout the year, charities in the UK have been able to transform their buildings to create places that support people when they are at their most vulnerable.
Geberit's Kevin Higby and Steve Page were in attendance to accept the award on behalf of the company.
Sophie Weston, Channel Marketing Manager said: "We are delighted to be awarded the CRASH Charity Patron of the Year for our donation of Geberit bathroom products to projects across the country. CRASH is a charity which delivers vital work and makes an incredible difference to the lives of so many adults and children, and it is fantastic to be a part of each project and witness the transformation of the space.
"At Geberit, we are dedicated to supporting a variety of charities and we're honoured to be a Patron of CRASH Charity. We look forward to continuing our work with the organisation throughout the year."
For more information about CRASH visit http://www.crash.org.uk/.
Press Enquiries
WAA Chosen
Wrens Court
58 Victoria Road
Sutton Coldfield
West Midlands
B72 1SY
Email: geberit@waachosen.co.uk
Tel: 0121 321 1411
For urgent press enquiries only please contact:
Jo Medlicott: 07890 037651