Geberit unveils two new websites 26th March 2020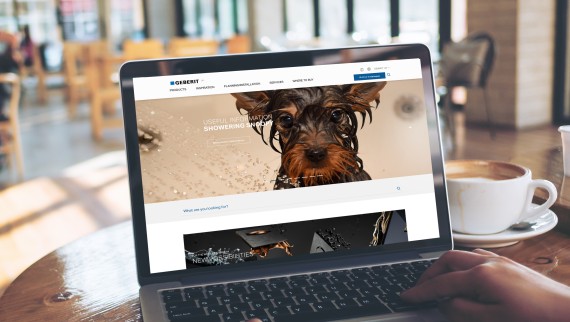 Geberit has unveiled two new-look websites for both geberit.co.uk and geberit-aquaclean.co.uk.
The new consumer facing Geberit.co.uk has been completely overhauled to elevate the user journey, and to help inspire and excite visitors who are thinking about a new bathroom.
At the heart of the new website is the Inspiration Tool, designed to help customers visualise their dream bathroom, by exploring the designs and functions that most appeal to them.
This new tool allows the user to test different ideas and configurations before generating a personal plan and wish list which can be shared with showroom and building contractors.
The planning and installation hub is the one-stop Geberit shop for tradespeople, featuring an product catalogue and information portal.
The website's inspiration hub holds a whole host of useful information, news and insight, created to help improve the bathroom experience, offering advice and tips for creating the perfect space.
The new Geberit-aquaclean.co.uk has seen a 60% uplift in visitors since its makeover, its fresh new look has been designed to help the user explore the benefits of the different AquaClean products available.
The website features many beautiful ideas and style combinations that complement the Geberit AquaClean, to help customers envisage what the product could look as part of their dream design.
Later this month the AquaClean website will introduce further support features including an automated Chatbot function, to help customers find answers to their bathroom dilemmas.
Holly Aspinall, consumer marketing manager at Geberit, said: "We are pleased to reveal our revamped websites. Both websites have been updated with the user journey front of mind – the sites are now more streamlined, easy to navigate and populated with lots of inspiration, tips and tricks for designing your dream bathroom and choosing the right products for you.
"It was important for us to invest in tools – like the Inspiration Tool – that help customers to experiment and visualise different bathroom designs, before making a decision. We know a lot of people are using the extra time right now to plan for future work on their homes, and this has been reflected by the significant uplift in visitor numbers we've seen to the websites in recent weeks.
"We look forward to introducing more features and additional inspiration for customers over the coming months."
Press enquiries
WAA Chosen
Wrens Court
58 Victoria Road
Sutton Coldfield
West Midlands
B72 1SY
Email: geberit@waachosen.co.uk
Tel: 0121 321 1411
For urgent press enquiries only please contact:
Jo Medlicott: 07890 037651