Geberit unveils biophilic en-suite with Lisa Dawson 27th July 2021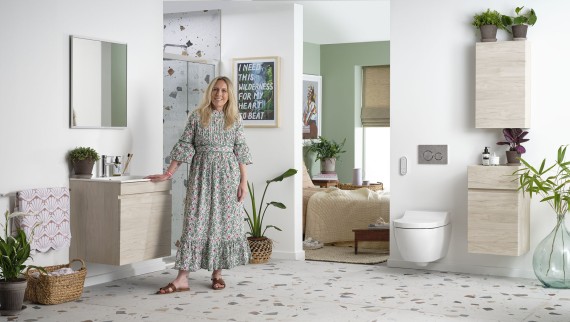 Geberit has unveiled its biophilic en-suite design, created in collaboration with award-winning interiors blogger, writer, workshop presenter and social media influencer Lisa Dawson.
Featuring Geberit's sleek and slim Renova Plan furniture in light hickory, the compact and versatile AquaClean Tuma shower toilet and luxury concrete and chrome flush plate, Lisa's design incorporates a mix of natural, botanical and sustainable influences.
Documenting her journey through Instagram, Lisa has shared the entire design process from beginning to end, from the initial room sketches, mood boards and trends inspiration to product decisions, sneak peeks and finishing touches.
Lisa's followers were invited to join her every step of the way and encouraged to participate in the design journey, assisting in decisions on colours, patterns, accessories and finishes.
Sophie Weston, channel marketing manager at Geberit, said: "We're thrilled to able to unveil the completed en-suite design we've been working on with Lisa over the past few months. Lisa has designed and planned a beautifully functional space, the result being a cool, calm room with lots of natural materials, subtle colour and plenty of plants to aid creativity and enhance wellbeing.
"Together, we wanted to prove that bathrooms shouldn't just be functional – they should be beautiful too, and we think Lisa's finished design proves just that!

"The final biophilic design incorporates our brand new Renova Plan range in light hickory, a new colourway we've added to complement the existing White high gloss coated and Lava matt coated. We've also incorporated some spa-like luxury to the room by featuring the surprisingly versatile and cutting-edge AquaClean Tuma shower toilet.
"Whether you're considering what colour palettes work best for the bathroom, are wondering how to incorporate technology, maximise storage or boost biophilia in your home – we hope the room Lisa has designed will give those in planning mode some inspiration they can take away and implement in their own homes.
Lisa Dawson added: "I'm delighted to have partnered with Geberit once again to talk all things bathrooms, and to set about my exciting mission to design an en-suite that not only works really hard but looks stunning and makes you feel good too – that's very important!
"The design process was great fun and I got my audience involved in some of those all-important styling decisions too and wow, did they do a great job! I'm thrilled with the finished result and hope the journey we embarked on together with help inspire others starting to plan their own bathroom spaces."
Press enquiries
WAA Chosen
Wrens Court
58 Victoria Road
Sutton Coldfield
West Midlands
B72 1SY
Email: geberit@waachosen.co.uk
Tel: 0121 321 1411
For urgent press enquiries only please contact:
Jo Medlicott: 07890 037651