Geberit continues focus on training as part of CIPHE membership June 2021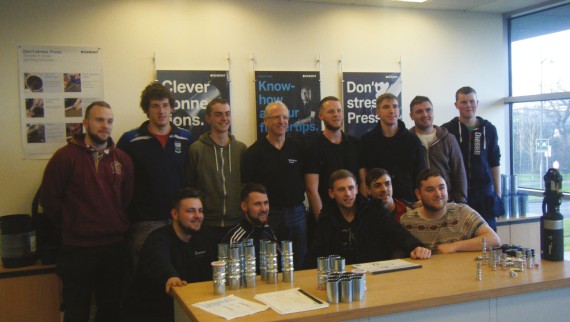 With the Chartered Institute of Plumbing & Heating Engineers' (CIPHE) 2021 manifesto well under way, Geberit is focusing on its training provision as it seeks to support the delivery of key industry objectives.
CIPHE is the professional body for the UK plumbing and heating industry, with a membership of over 7,000 individuals made up of practitioners, consultants, specifiers, designers, public health engineers, lecturers, trainers and trainees.
Building on the Institute's first manifesto in 2020, the 2021 document seeks to give parliament an insight into how the plumbing and heating industry underpins many key areas of government policy, such as health, housing, energy, environment and education.
Purdie Proudman, marketing manager merchant and contractor for Geberit, said: "Education is one of the key pillars of the CIPHE's 2021 manifesto and we are proud to be active members, doing our bit to support the continued development of those in the industry.
"Like CIPHE, we recognise the importance of progressive training to help maintain standards and we will continue to focus on our training academies to help maintain those standards."
Geberit runs free installer training at its purpose-built training academies in Warwick and Dublin, which have been recognised by the CIPHE as an Approved Training Centres (ATC) since 2018.
Free modules are dedicated to Geberit's piping systems and sanitary solutions, with installers receiving hands-on experience in a realistic work-like environment. Sanitary training incorporates methods for installing wall-hung sanitaryware, including the Geberit AquaClean shower toilet range, while supply and drainage systems modules focus on Geberit's piping solutions including Mapress press-fit.
The Warwick training facility also includes a two-storey hydraulic tower to demonstrate good and bad plumbing practice.
Purdie Proudman adds: "Our Mapress press-fit solution is a fantastic example of how we are working with the industry to deliver benefits and improve standards. We are regularly working with installers on training programmes to support the continued rollout of press-fit technology, which can improve quality, increase speed and cut costs for the industry."
CIPHE's manifesto sets out three aims and objectives under the banner of education; to advocate technical training programmes with colleges and the industry, to publish and sell technical guidance to support new and emerging technologies, and to encourage commitment to lifelong learning and continued professional development in a rapidly evolving environment. Other areas covered by the manifesto include public safety & health, research and membership.
Press enquiries
WAA Chosen
Wrens Court
58 Victoria Road
Sutton Coldfield
West Midlands
B72 1SY
Email: geberit@waachosen.co.uk
Tel: 0121 321 1411
For urgent press enquiries only please contact:
Jo Medlicott: 07890 037651