Geberit Brings Sensory Bathroom Inspiration to Clerkenwell Design Week 8th April 2019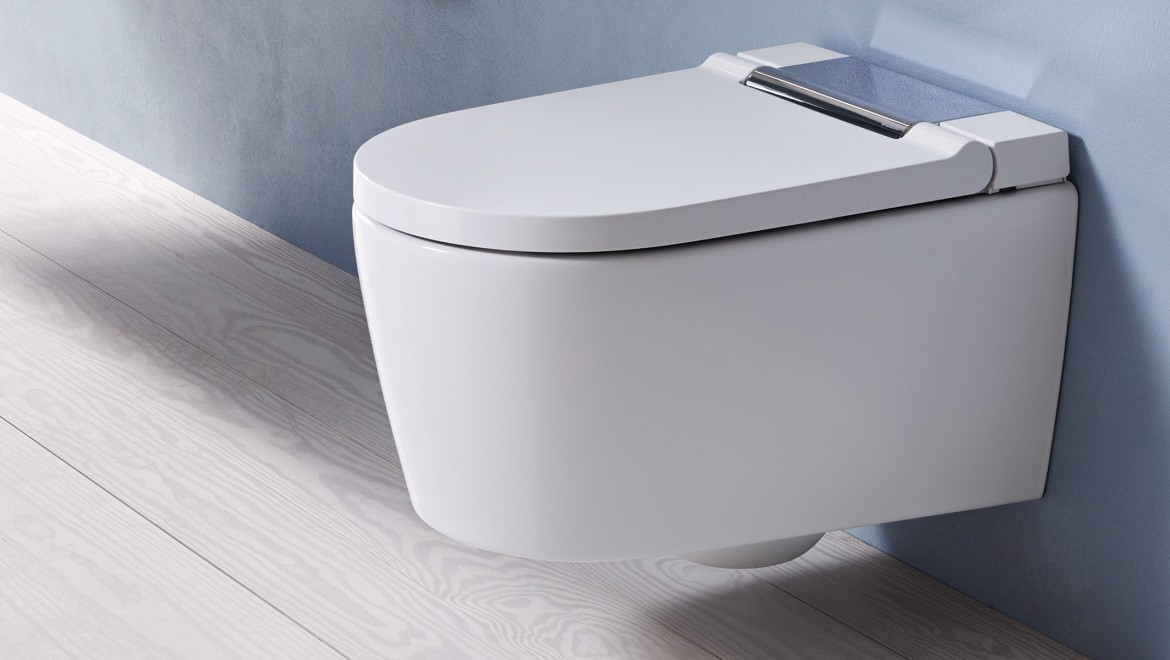 Luxury bathroom designer Geberit will be joining the industry at Clerkenwell Design Week 2019 (21 – 23 May) with a packed programme of activity to educate, inform and support those planning washroom spaces.
As well as launching five exciting new products, Geberit will be offering a wealth of learning opportunities to get architects and designers thinking about multi-sensory experiences in bathroom projects, including a guest talk, white paper and new CPD presentation.
New Product Launches
Join Geberit on stand DF33 in the Design Fields to see the latest in bathroom design, with inspiration on how to create a place of sanctuary in the washroom.


Visitors will be able to see the newAquaClean Sela shower toilet which will officially be launched at the show. Designed by the award-winning Christoph Behling, it offers the ultimate wellbeing experience in the bathroom. It will be shown alongside the award-winning AquaClean Mera shower toilet.
Explore the new Smyle bathroom range, offering subtle shapes and maximum function for family and guest bathrooms.
There will be a chance to see the new Sigma 50 flush plate, which features two new sophisticated finishes (Sand glass and Mustang Slate) and slimmer, streamlined flush buttons to complement the minimalist design. Alongside this, a new Matt Black flush platewill also be unveiled for the Sigma10, Sigma20 and Sigma30. Significantly, the new design has been coated with an easy clean lacquer, which reduces the visibility of finger prints on the plate.
Geberit will also be launching its new DuoFresh technology. The extraction unit eliminates the need for chemical sprays by ensuring that any unpleasant odours are extracted right at the source.
Finally, for projects where hygiene is paramount, Geberit will also be showcasing its infra-red Sigma80 flush plate, alongside its infra-red Brenta / Piave taps
Learning Opportunities
Panel Discussion with Global Experts Also, at this year's Design Week, Christoph Behling, a London-based architect and product designer at Geberit, will join industry experts in the 'Conversations at Clerkenwell' arena (22 May). The panel discussion, which will focus on technology in the bathroom, will also include Michael Phillips Moskowitz, founder of Moodrise, Charles Spence, Oxford University Professor and Hilda Burke an integrative psychotherapist and life coach. The panel will be discussing the importance of intuitive technology and how innovative solutions for bathroom design can help to improve quality of life for users.
NEW White Paper
Geberit will be continuing the theme of sensory washroom spaces with the launch of a newly updated white paper, The Science Behind the Sensory Space, which looks at the role of sensory integration when designing a calming, stress-relieving bathroom space in domestic and commercial applications.
The white paper has been updated for specific applications including hotels, high-end residential and offices, looking at the sensory aspects of the bathroom space within the wider context of issues such as workplace wellbeing and consumer demand.
New CPD
If that's not enough, there is also an opportunity to join Geberit at RIBA HQ for a new CPD presentation on the Science Behind the Sensory Space (23 May), which examines how the senses should be considered to create a place of sanctuary from our increasingly busy lives.
Spaces for the CPD are limited so contact cpd@geberit.com to book your place or to request an individual presentation at your architectural practice.
Press enquiries
WAA Chosen
Wrens Court
58 Victoria Road
Sutton Coldfield
West Midlands
B72 1SY
Email: geberit@waachosen.co.uk
Tel: 0121 321 1411
For urgent press enquiries only please contact:
Jo Medlicott: 07890 037651