Geberit unveils new floor standing shower toilet 1st May 2020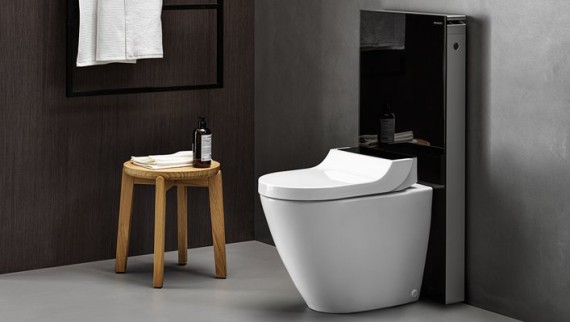 From the industry leaders in shower toilets, Geberit's revolutionary floor standing AquaClean Tuma provides a complete solution, offering consumers the best of both worlds.
The new all-round solution complements the existing series which features the wall-hung AquaClean Tuma and enhanced seat option.
Available in white glass, white alpine, black glass and brushed finishes, the latest addition to the Geberit AquaClean portfolio, is the only complete floor standing solution in the collection.
The new shower toilet combines a stylish floor standing design with Geberit's patented WhirlSpray technology and a host of cutting-edge smart toilet features, bringing the ultimate well-being experience to the bathroom.
This versatile offering, features all the key functions of a signature Geberit shower toilet, including its gentle, unique in the market, WhirlSpray shower technology and oscillating spray, in a complete solution.
The Tuma Comfort is further enhanced with a diverse range of additional comfort features including personal shower spray and temperature settings via the Geberit app.
Sarah Hillsdon, Category Manager, said: "We are pleased to introduce the floor standing AquaClean Tuma to our extensive range of shower toilets.
"This new offer will meet the needs of those customers who are looking for a floor standing toilet solution, with the added benefit of washing with water."
Press enquiries
WAA Chosen
Wrens Court
58 Victoria Road
Sutton Coldfield
West Midlands
B72 1SY
Email: geberit@waachosen.co.uk
Tel: 0121 321 1411
For urgent press enquiries only please contact:
Jo Medlicott: 07890 037651