When Pluvia saves football Stadiums around the world
The Pluvia roof drainage system is installed on numerous football stadiums. This makes sense for various reasons.
When it's pouring down, football is no fun - at least not when you're standing on the pitch. However, many football stadiums have a roofed spectator area; and on many of them the Geberit Pluvia roof drainage system is installed. As a result, the audience celebrates in the dry.
The system sucks the water from the roof via pot-like inlets using negative pressure. The pipes quickly fill completely with water. A closed, fast-flowing water column is created. The suction power generates a high drainage capacity, so relatively few inlets are needed on the roof. Thanks to this power, the water can run horizontally over longer distances to the downpipes.
Advantages for architecture and construction
According to Geberit Product Manager Andreas Mosebach, these points are a major advantage of the system in stadium construction. The roof rarely covers the entire stadium. The pitch remains open, walls are only on the outside. Downpipes can just be installed there, making longer horizontal pipes unavoidable. "Pluvia is therefore an ideal solution for stadium construction."
Added to this is the high litre capacity of the drain pots. "A stadium roof has a large surface area," says the product manager. "The Pluvia drainage system achieves a high output with little material. So an entire stadium roof can be drained with just a few downpipes," says Andreas Mosebach. This means that the system requires little space and offers great architectural freedom, which is an important factor in stadium construction. "Stadiums are usually architectural showpieces."
All over the world, Pluvia is in use on football stadiums. Here is a selection.
Allianz Arena, Munich, Germany
Designed by Basel architects Herzog & de Meuron and opened in 2006, the Allianz Arena in Munich is considered an icon of contemporary stadium construction. The outer shell swings into the roof surface, almost 2800 diamond-shaped air cushions adorn it. The roof loads are transferred outwards from 48 steel girders into the supports of the reinforced concrete structure. The Geberit Pluvia roof drainage system is installed on the roof vault. Bendable connection pipes were used for its connection to the downpipes. (Photo: Pixabay)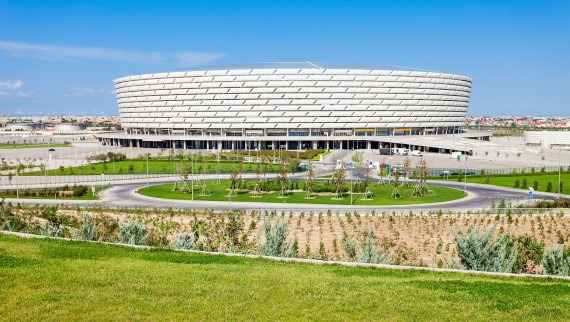 Baku Olimpiyat Stadyumu, Baku, Azerbaijan
Baku's national stadium holds just over 69,000 spectators. It is a football stadium and athletics arena in one. The panels attached to the façade shine in bright colours and are thus somewhat reminiscent of the Allianz Arena in Munich. The steel roof had to be specially calculated for the temporary loads such as wind, but also for deflections and stresses. On the roof surface of the stadium, Geberit Pluvia ensures perfect drainage. (Photo: Andrey Khrobostov / Alamy Stock Photo)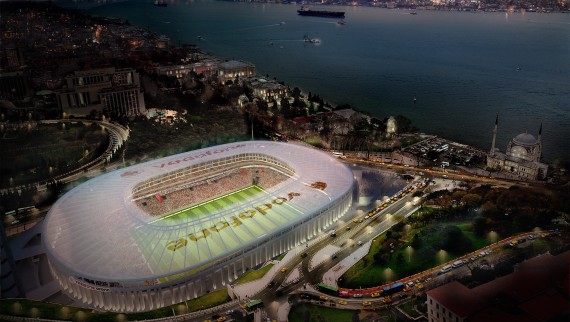 Vodafone Arena, Istanbul, Turkey
42 000 spectators can be seated in the new home of the Beşiktaş football club. The stadium is located on the European bank of the Bosphorus with a view of the Üsküdar district. Thanks to monument protection, part of the old stadium has been preserved with the south façade and the western main entrance gate. The architect succeeded in combining the old components with a modern concept. The roof of the stadium consists of a glass fibre membrane coated with silicone. Pluvia drains rainwater from the rather flat roof. (Photo: DB Architecture & Consulting)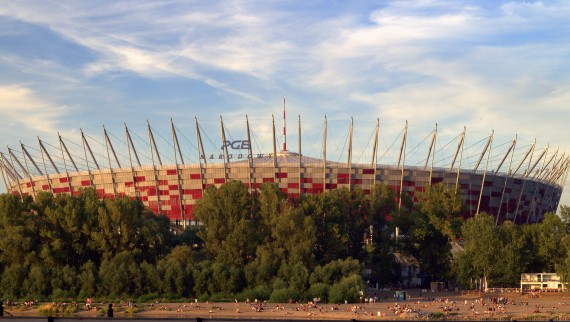 National Stadium Warsaw, Poland
The National Stadium in Warsaw was built for the 2012 European Championships. It was based on the existing but crumbling Dziesieciolecia Stadium, which was abandoned for sports purposes in 1988. The construction of the stadium was systematically divided into two parts. The grandstand consists of prefabricated concrete parts. Above it is a steel wire net roof with a textile membrane. The inner roof consists of a mobile membrane sail that folds up over the pitch. The Geberit Pluvia system ensures safe roof drainage. (Photo: Pixabay)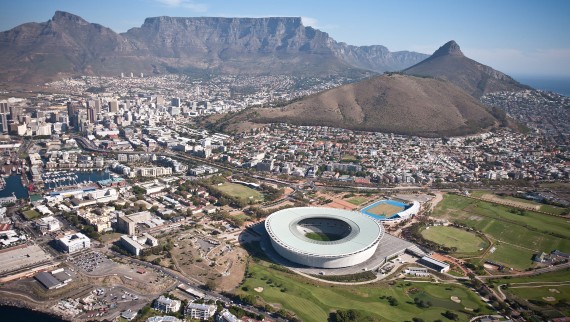 Cape Town Stadium, Cape Town, South Africa
Originally built with 64 000 seats, the South African World Cup stadium in Cape Town is located near the Atlantic coast, but also close to the city centre of Cape Town. The stadium is particularly characterised by its curved laminated glass roof. This is made of clear glass in the middle, with an enamelled ring on the outside to reduce heat and light intensity. The roof is drained via the Geberit Pluvia system. (Photo: Pixabay)