Blue Flame Associates Training Facility
Project information
Location: Blue Flame Associates, Newcastle-under-Lyme
Project Completion: February 2022
Geberit Know-How
Challenge: To showcase the potential of press fit technology
Solution: Geberit Mapress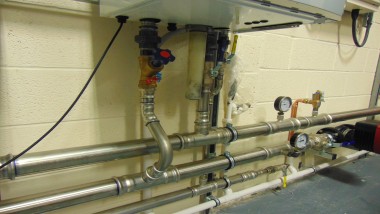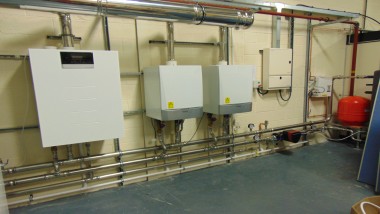 Project overview
Five commercial gas boilers have been installed in a Staffordshire training centre using Geberit Mapress press fit pipes and fittings, showcasing the potential of press fit technology for gas, heating and plumbing engineers.
The complex system was installed at Blue Flame Associates in Newcastle under-Lyme, which offers worldwide consultancy and training services for building services including gas and plumbing.
Five commercial boilers of varying inputs and configurations were installed onto a manifold using Geberit stainless steel pipes and fittings between 76mm and 22mm. The boilers were open flued, room sealed and condensing, each with inputs ranging from 80kW to 270kW.
The installation enables Blue Flame to showcase the practicality and aesthetics of the press fit system, which is quicker and cheaper to install than traditional jointing methods because it requires no hot works, no soldering and no threading.