Belfast City Hospital Tower
Project information
Location: Belfast City Hospital, Belfast
Project Completion: March 2023
Geberit Know-How
Challenge: To replace existing cast iron drainage system, which was no longer fit for purpose, with a reliable and low maintenance solution
Solution: Geberit HDPE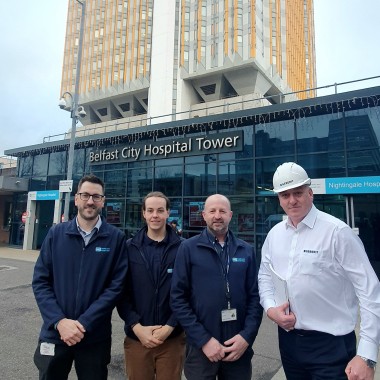 Overcoming Project Challenges
Project overview
A university teaching hospital with a capacity of up to 900 beds, Belfast City Hospital is not only a vital healthcare facility, but also a landmark structure on the Belfast skyline. Its distinctive yellow clad tower block is the fourth tallest storied building in Ireland, built in the1970s on Belfast's famous Lisburn Road.
Like many structures of its age, the tower block has been facing increasingly frequent maintenance issues. Blockages in waste pipes and soil stacks were becoming far more frequent in recent years, resulting in a significant maintenance burden with plumbers often attending multiple blockages each day.
The BCH maintenance team found that a thick layer of congealed waste was causing the majority of these issues by reducing the bore of the 4 inch soil stacks to just over an inch in some places. Sewer rods with a variety of cleaning attachments were used to clear blockages, however much of the congealed layer could not be removed easily. The cast iron pipes, now over 40 years old, were heavily corroded in places leaving a delicate pipe wall. The team knew that excessive mechanical cleaning could damage pipe walls and cause major flooding and escape of contaminated waste to clinical areas. A long-term solution was required.