Employee Testimonials Godwin Mgombane, Project Co-ordination & Estimating manager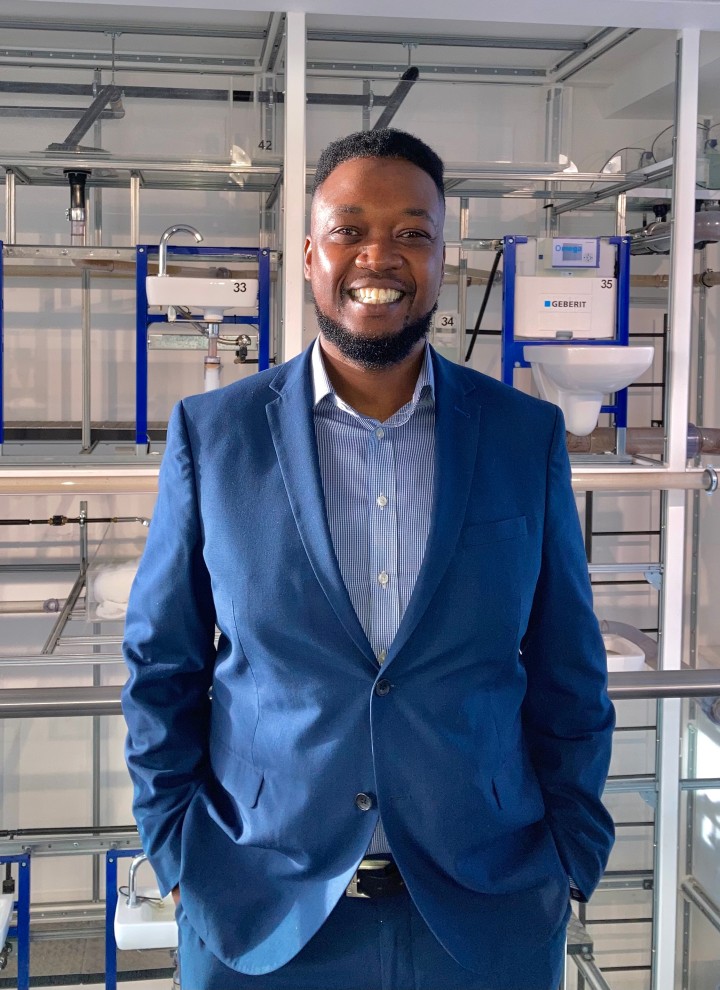 What was your path to Geberit?
I joined Geberit in April 2019 to head up the Project Tracking and CRM team after having previously worked for a national wholesaler for 12 years. I started my career off with a major national wholesaler, managing inventory for the logistics team. I then moved into estimating, managing one team, then multiple teams, on a national level.
What are the roles you've held at Geberit?
I joined as Project Tracking and CRM Manager, and then moved on to manage the Pre-Sales function (Estimating, Tracking, CRM and Technical Pre-Sales teams). I am also part of the Geberit Senior Management team as of the end of 2021.
What's your team dynamic like?
Vibrant and hardworking. We have a good mix of ages and diversity, all with a common goal – being successful and having fun with it.
How would you describe your time here so far?
My time at Geberit has been good. I have been lucky to work with good people, not only across the local organisation, but also getting involved with colleagues across Geberit Group and at our Swiss HQ. I feel like Geberit have invested in me and they make sure there is support in place for me to do my job.
What do you enjoy most about your role here?
The people I work with. They make the day and the work so much more enjoyable - even the difficult decisions I have to make. Also, the challenge that we went through with the global pandemic meant that I had to support my team through working from home and then transitioning back to the office. Seeing the team work through those challenges makes it worthwhile.
What's the best thing you have achieved here?
Rebuilding the team I now have, and growing it into what it needs to be. It gives me confidence that I now have a team that will focus on delivering good results in our area, as well as working through challenges collaboratively with our stakeholders.
What are the big opportunities ahead for you and your team?
We have now fully aligned ourselves to supporting our sales strategy and with the skills and knowledge within the team, and the growth of the team, the opportunities are endless. We are aiming to be the fulcrum of business development activity. Training and people development is another big opportunity for the team as this will help us to get to the next step to become an industry leading function.
What lessons have you learned along the way?
That people are our greatest asset, and to ensure I put a framework in place that allows the freedom to test ourselves and succeed without fear of failure - meaning we have the right people doing activities for the benefit of the company.
What would you say to someone who's not sure if they should apply to Geberit?
Do it! Geberit is a company that you can grow with, and you get back what you put in.
What's the one piece of advice you could offer to job seekers looking to join your team?
Again, do it! You will have the opportunity to learn, grow and make a difference within a good business.