RESPONDING TO CHANGE with mark larden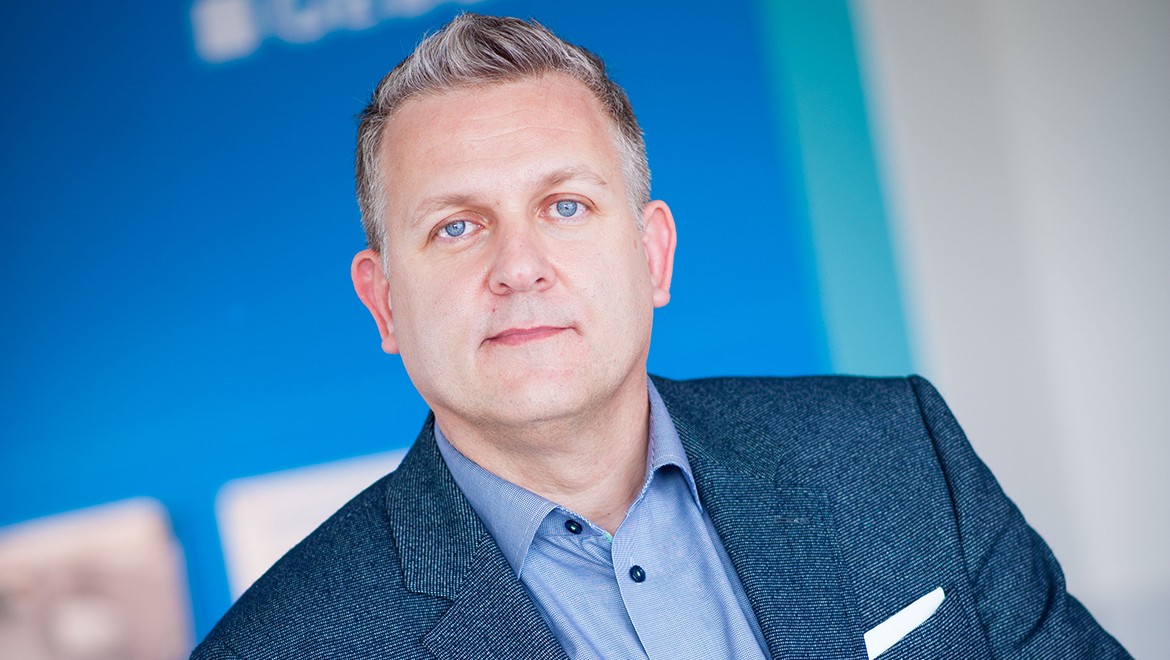 PHAM NEWS | DECEMBER/ JANUARY 2021
2020 has presented a number of unforeseen challenges to every business in the UK, but it has not stopped Geberit from extending its product range and responding to the needs of stockists and installers. MD Mark Larden talks to PHAM News about how the company has responded to the pandemic and the latest evolution of its products and services.
The economic repercussions of the Covid-19 pandemic may not be fully realised for a number of years, but there's no doubt that its immediate impact has been felt across the supply chain – manufacturers, merchants and installers, alike. Despite the challenges, Geberit – the manufacturer of bathroom products, sanitary solutions and pipework systems – has pressed on with plans to expand its product offering and has adapted its training and support services to ensure that it can continue to respond to customer needs.
2020 has obviously been a tough year for many manufacturers, but are you happy with how the business has responded?
ML Like many companies we had a very tough first half of the year, but then we had a third quarter which was very close to, if not slightly ahead, of the previous year. Everybody adapts differently to change, but I couldn't have asked any more of the UK staff. They have been incredibly flexible and enthusiastic and have been happy to do whatever was asked of them.
Making face-to-face contact with stockists and trade customers has clearly been a non-starter for a large part of the year. Has that proved to be a problem?
ML Not really, because with the greater use of the internet and social media, plus more communication going out via direct mail and email, our reach to customers has actually increased significantly. We are talking to a lot more installers because they are now exploring the internet and they are open to being reached by a manufacturer talking about new products and new ways of doing things. We're talking with many installers who we've never previously had a dialogue with, so there have definitely been some positives. Although we had planned to do it anyway, we've also upped our game on our website. There's now a lot of tools on there to help people decide and design their bathroom. It's full of tools for the professional, but also the homeowner, which allows them to put in measurements and see what products might look like in a home. Visits to the website this year are three times what they were last year and visitors are also staying on the site three times longer than before.
Would you say that UK installers are more open to new ideas and ways of enhancing their business?
ML I think many of them have had time to explore alternatives and we're finding people are being more inquisitive. It's clear that they are open to things, such as press-fitting or wall-hung sanitaryware, where perhaps in the past they would have just been head down, saying 'I'm comfortable with this, this is the way I install'. One of the other fundamental changes we've made is that we've adapted a lot of our training so that it can be presented online. We recently hosted a webinar on drainage to a load of design consultants. We had over 500 registered and I think around 300 took part. For one of our sales engineers to reach the same kind of number would probably have taken him 30 sessions. That said, our guys are still going out onsite to do training, typically on larger sites, if Covid restrictions allow. For example if there are some new installers using our press-fitting system for the first time, one of the things that we offer is for one of our technical engineers to go and hold an onsite training session during the first week of using the product. A lot of commercial sites have been operating in Covid safe environments, so our guys have been able to travel to site and deliver training when required.
The company has recently made a number of announcements regarding its sanitaryware collections. Can you run through some of the highlights?
ML The main launch that we're in the middle of at the moment is a range of products really targeted at the merchant showroom and trade counter. We're calling it Geberit Select. Although our Twyford brand has been strong in the commercial sector, it's never really been promoted heavily in merchant showrooms. So we're looking to fill that space with the Select Series under the Geberit brand. It's really a collection of all things Geberit, including wallhung products, lots of furniture available in various finishes, and we've also included the lower tier of shower toilets. So we've now got shower toilets in the merchant sector, when they have previously only really been seen in high-end retailers. Our AquaClean Tuma product is what we'd describe as 'entry level'. It's either sold in a seat format which can go on any toilet or it's sold with our own ceramic pan which is a shower toilet set – but it's priced closer to £1000 than £5000. The response to Select so far has been fantastic. We're really excited about being in a space that we've not been in before.
Recent years have seen Geberit invest significantly in promoting shower toilets to the UK consumer. With growing concerns about the need for better hygiene and cleanliness in the home, is that investment starting to pay off?
ML The increased emphasis on cleanliness and hygiene as a result of the pandemic has certainly led to an increase in demand. With our AquaClean system, though, it's also about wellness and wellbeing. There's not an obvious direct link from Covid and the need for an AquaClean, but it's all part of the same thinking – not least, of course, is how it reduces the demand for toilet roll! I'm a convert myself and have been for years. When you think about it, why hasn't everybody got one? Whenever we wash anything in life we use water – and then for probably the most sensitive, critical thing, we use a dry piece of paper! So the logic is absolutely clear. Four or five years ago there was probably only Geberit, and maybe one or two other companies, who were selling shower toilets in the UK market. Now I could put 30 different bathroom brochures on a table and they would all include a shower toilet product. It's not niche anymore. We've been talking about it for over 10 years, but I think the message is finally starting to break though. Our initial products were at the very top end, but the product range now includes entry level products that cost not much more than the purchase of a new shower. With hygiene front of mind for many consumers, we've also seen a big increase in demand for our infrared products. For obvious reasons, people are trying to avoid touching things, so touchless plates and taps are fast gaining attention.
What are some of the other key trends in the bathroom market that installers need to be aware of?
ML Storage in bathrooms is a big thing – you don't see that many pedestals being sold now with basins because people want a unit to store the myriad of bottles and potions. Furniture has helped to bring colour back into the bathroom too. Consumers are also looking to mix and match products from different bathroom ranges. The way our own showroom is laid out is designed to reflect much the way consumers buy things now. Gone are the days when we would just show a traditional bathroom suite. People are buying components. They still want to be inspired by those collections, but they're not adverse from picking pieces from different ranges. They buy a basin station from one suite and a toilet from another, whereas if we went back a few years, we sold bathroom suites as a complete collection, assuming consumers would buy that with that, and that with that.
Do you think you are helping to drive that trend or responding to it?
ML I think a bit of each. I think the more consumers use the internet, Pinterest and all those things, it influences the way they see things. Someone might present them with an image of a washbasin station, a toilet or a shower, and they start to build things up in their mind – it encourages them to be more adventurous, and it's our job to give them design ideas and inspirational tools. Our recently launched Geberit One suite, for example – which is part of the Aspire collection – is a great example of how we are designing bathrooms of the future. It's about clever use of space and really bringing behind the wall in tune with the front of the wall – it looks great too. With innovative design, hidden mirrors, frameless shower screens, concealed plumbing, wallmounted taps, concealed wastes, adjustable height toilet – we're talking pretty state of the art.
phamnews.co.uk/121/14

Click here to read the PHAM News article online
Click here to learn more about Geberit ceramics
Press enquiries
WAA Chosen
Wrens Court
58 Victoria Road
Sutton Coldfield
West Midlands
B72 1SY
Email: geberit@waachosen.co.uk
Tel: 0121 321 1411
For urgent press enquiries only please contact:
Jo Medlicott: 07890 037651