Geberit sponsors Warwick Town Bonfire - Saturday 6th November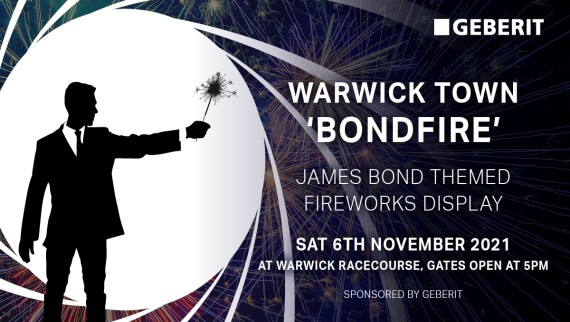 Thursday 14th October
With the new James Bond film "No Time to Die" smashing records in local cinemas, award winning Fantastic Fireworks have set this year's firework show to James Bond film themed.
Organisers Warwick Lions, Warwick Rotary Club and Warwick Racecourse are looking forward to a great turnout and encourage everyone to get their tickets on-line in advance in case numbers are limited. They are not available in local shops.
A range of hot foods and refreshments will be available across the site as usual with all bars open. You can reserve a table for a hot supper in the Kingmaker restaurant with a great view of the bonfire and firework show. Music will be provided by the popular Ukulele Band and there's a range of light sabres and bright swords to buy for an exciting evening.
The racecourse grandstands offer a great view of the Bonfire and Firework show across the track on the common. There will be a short 5-minute display at 6pm to keep the children entertained, with the main firework show after the fire is lit at 6.30pm.
Advance tickets
Adults and children over 15 - £8
Children under 15 - £2
Infants under 3yrs old - Free entry
Gates open at 5pm. Entry is at the main entrance off Bread & Meat Close, with free parking, access also off Hampton Road. No funfair this year for Covid safety.
Further information at www.warwicktownbonfire.org.uk
Local companies Geberit, Feldon Dunsmore, Bovis Homes, Tuckery, Warwick Kia, Godfrey Payton and Uniparts Logistics are supporting the event. Organisers are hoping for a good turnout to raise much needed funds for local charities and good causes.
Press enquiries
WAA Chosen
Wrens Court
58 Victoria Road
Sutton Coldfield
West Midlands
B72 1SY
Email: geberit@waachosen.co.uk
Tel: 0121 321 1411
For urgent press enquiries only please contact:
Jo Medlicott: 07890 037651