Mozart's Realm Opernhaus, Chemnitz (DE)
Built by Richard Möbius in 1909 and renovated extensively several times since then, Chemnitz Opera is considered to be one of Europe's most modern opera houses. To prepare for 2025, the year in which Chemnitz is German Capital of Culture, the venerable old theatre has been given completely new sanitary facilities including Geberit products.
With the Opera, König-Albert-Museum and Petrikirche, the Theaterplatz is one of its most attractive building ensembles in the German city of Chemnitz. A meeting place for culture lovers, the Opera can look back on a turbulent history.
Building with a long history behind it
Between the industrialisation era in the 19th century and the outbreak of the First World War, Chemnitz experienced a veritable construction boom, during which more than 100 public buildings saw the light of day. It was also during this period that the Opera was built. With its "Jugendstil" design, it was constructed in 1909 by local architect Richard Möbius. After sustaining severe damage in the Second World War, it was rebuilt between 1947 and 1951 and underwent extensive renovations in the 1990s.
New sanitary facilities
30 years later, the owners made use of the pandemic-induced closure to complete a full-scale overhaul of the sanitary facilities. A total of 15 sanitary rooms were fitted out with installation systems and ceramics from Geberit. Among other things, Geberit Rimfree toilets from the Acanto bathroom series were installed. They feature integrated odour extraction and quick-release hinges allowing the seats to be removed effortlessly to facilitate cleaning. As great importance was attached to products with touchless operation, contact-free Geberit washbasin taps, urinals and actuator plates were installed.
High visitor numbers
An institution such as Chemnitz Opera is dependent on having reliable sanitary installations with proven durability. After all, the listed heritage building, which holds an audience of up to 720 people, welcomes more than 70,000 guests each year. The Opera's programme features a wide range of performances appealing to all ages and audiences, from classic to modern opera and from ballets to musicals. Chemnitz has been named 2025 Capital of Culture. In that year, its cultural institutions are expecting to welcome guests from all over Europe.
Image gallery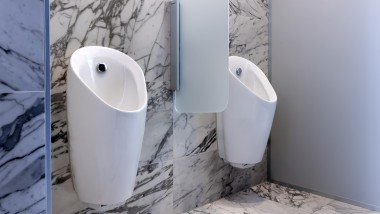 Carrara marble is used as a design element throughout the opera house, including in the sanitary rooms. The Preda urinals fit harmoniously into the concept.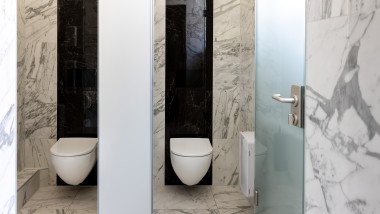 The elegant sanitary rooms house a whole range of Geberit products, including rimless WC ceramics from the Acanto bathroom series and the Sigma80 actuator plates.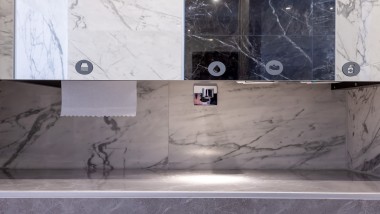 Sophisticated construction: Behind the large-format washbasin tile, the Geberit CleanLine20 shower channel ensures that the water drains away.
Subscribe to eView The Geberit newsletter for architects
Around the world, Geberit products and solutions are used in buildings of all kinds. You will find a selection of the most interesting objects on this page.
Periodically, "eView", the Geberit reference newsletter, takes up a current topic from the construction industry. In addition to spectacular project examples, "eView" offers interviews with architects, construction experts and designers as well as further background information.