Where is all this stuff going to go?
Where does the toothbrush go? How can I create a sense of order in the bathroom while keeping items in everyday use in easy reach? These are all important questions that our product developers have to consider. Two bloggers put this to the test and showed us their preferences for storing important utensils in the bathroom, such as care products, toothbrushes and more – and all in such a way that the space available is sufficient for the whole family while maintaining a sense of order and structure in the bathroom furniture.
Practical solutions are needed
In her blog Fräulein Ordnung", expert Denise Colquhoun shows us where she would put the most important items in the bathroom. Her mantra is that everything should be stored practically, but also look great as well. In other words, all items are stored in the mirror cabinet and bathroom furniture in an aesthetically pleasing way. As a result, her family has everything at their fingertips.
Drawing attention to beauty products
For beauty blogger Steffi Hidber, things not only have to be practical but also have a positive impact. Shower gels, for example, are very useful but not decorative, meaning they are stored in the cupboard. Meanwhile, cotton wool in a container looks chic and is left on show. Decoration is thus the name of the game for Steffi.
Added value to you Get inspiration for your new bathroom
Inspiration tool

Discover ideas and functions in the modern bathroom and choose what you like and what is important to you. In just a few steps, you can bring together the elements of your dream bathroom.
Contact us

If you have any questions, simply fill out the contact form.
Newsletter

Our newsletter will provide you with insights and tips on how your bathroom can simplify your day-to-day life.
Always staying up to date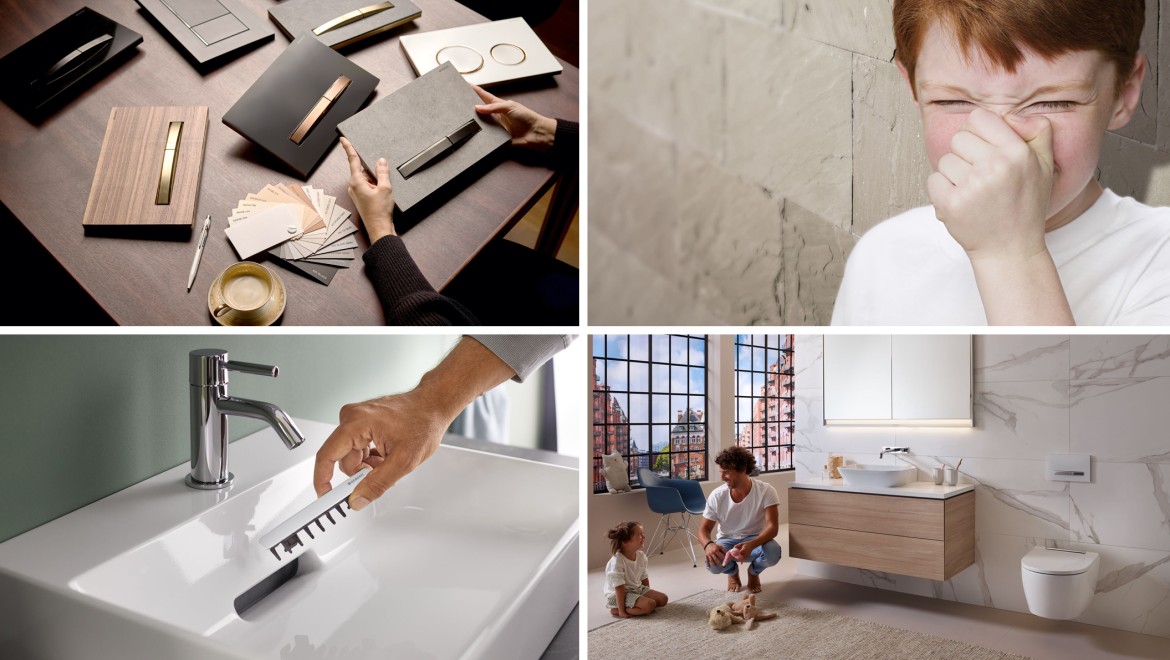 Subscribe to our newsletter and don't miss out on any news, events or tips for the bathroom. Stay up to date with the latest products, important dates for your calendar and more information on cleanliness, optimisation of space, comfort, design, user-friendliness and accessibility in the bathroom.
Which bathroom is the right one for you?