New bathroom experience for guest WCs
The size of a bathroom has absolutely nothing to do with how comfortable it makes you feel and what the room has to offer. This renovation of a guest bathroom shows exactly that.
Sometimes even small changes are enough to significantly increase the feel-good atmosphere. A Dutch family wanted their quiet little space to have a cosy ambience while still looking tidy. It was also important to them for everything to be easy to clean. The aim was to give the guest bathroom a fresh new look by making just a few changes, with a particular focus on high-quality equipment.
Equipment with style
The timeless grey stone tiles were allowed to stay. The ceramics, bathroom furniture and actuator plate were all renewed and now create a greater sense of comfort and flair in the small space. In concrete terms, this meant that a new washbasin was installed complete with a matching cabinet and integrated recess for the towel rail. The reason for this is that it makes it easier to keep things tidy and the towel does not attract attention as soon as you enter the room. The transformation towards creating more structure within the space was achieved by replacing the picture on the wall with a practical magnetic board, which offers flexible storage space for decorative items and accessories, for example.
The wall-hung WC has been replaced with an attractive compact version, which is also wall-hung. The small projection of the toilet saves space in the room and offers more legroom when sitting down. This suits the whole family, since they are all tall. But the real bonus of the new WC is that it is rimless, which makes it so much easier to clean and maintain.
A special extra for the guest WC
To complement the new ceramics, the family opted for a purist new flush plate in white and chrome. The classic design hides a practical additional function in the form of an odour extraction unit, which is installed in the concealed cistern to ensure there is always fresh air in the small space. This is particularly useful when there is no window. Unpleasant odours are extracted directly inside the ceramic pan where a ceramic honeycomb filter neutralises them effectively. The actuator plate adds to the fresh, new 'wow' effect in the small bathroom and is sure to be a hit with guests.
Added value to you Get inspiration for your new bathroom
Inspiration tool

Discover ideas and functions in the modern bathroom and choose what you like and what is important to you. In just a few steps, you can bring together the elements of your dream bathroom.
Contact us

If you have any questions, simply fill out the contact form.
Newsletter

Our newsletter will provide you with insights and tips on how your bathroom can simplify your day-to-day life.
Always staying up to date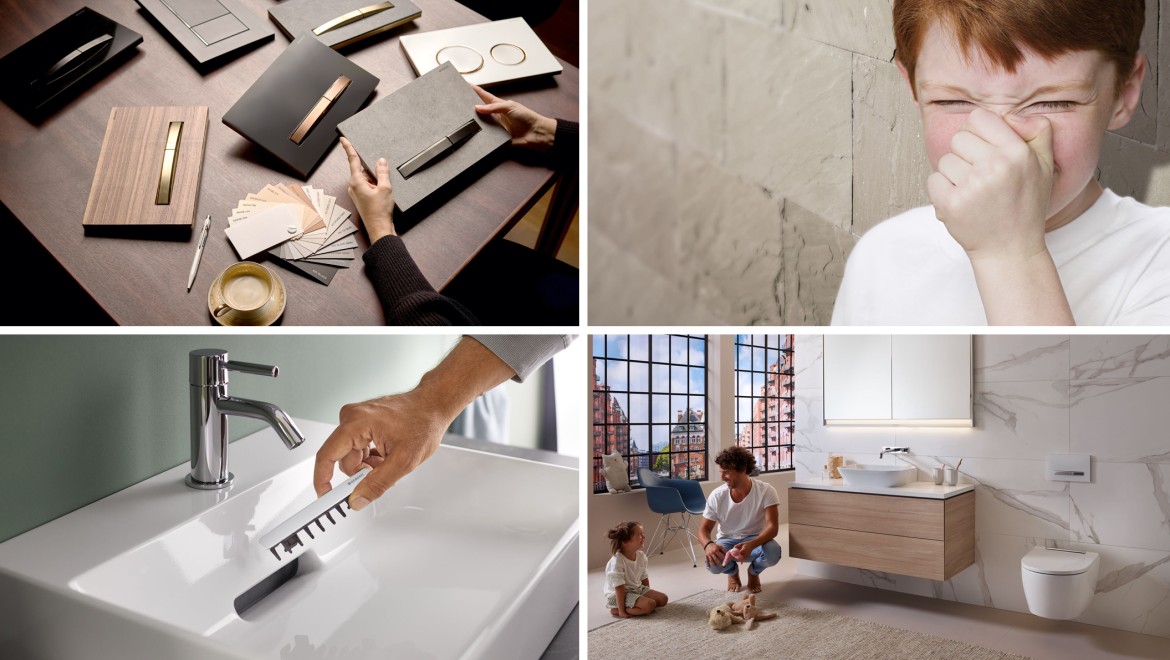 Subscribe to our newsletter and don't miss out on any news, events or tips for the bathroom. Stay up to date with the latest products, important dates for your calendar and more information on cleanliness, optimisation of space, comfort, design, user-friendliness and accessibility in the bathroom.
Which bathroom is the right one for you?