How small can a washbasin be?
In a narrow bathroom or a small guest WC, a handrinse basin should not take up too much space yet still be practical and attractive. So how do you go about it? These tips will help you:
1. A standard size washbasin has a projection (depth) of 55 centimetres. A handrinse basin normally has a depth of 45 centimetres. But in narrow or small bathrooms, there is often not that much space. This is where narrower washbasins come into play. There are now a number of mini washbasins with a projection of 20 to 25 centimetres. A good idea might be a space-saving washbasin from the Geberit bathroom series Xeno², iCon, Smyle or Selnova Compact.
2. The interaction between ceramic appliances and furniture makes a real difference in the bathroom. When it comes to small rooms, it is useful to look at the washbasin in combination with the other furnishings.
3. Clever design: Washbasins are not only available in different sizes, but also in a whole range of different, timeless designs. Whether angular, oval or round, with a vertical or horizontal drain: different variants make sense depending on the room. In confined spaces, the small handrinse basins with a space-saving washbasin drain are practical. They are designed so that they can be combined with a narrow washbasin cabinet or a washtop, resulting in as much storage space as possible.
4. Special corner solutions make the use of small washbasins in guest WCs with challenging floor plans possible. At Geberit, the iCon and Selnova Compact series in particular is ideally suited for installation in such cases.
5. The shape of the washbasin: a small washbasin always means a loss of space because there is less shelf surface on the ceramic appliance. Depending on the shape of the washbasin, however, it is possible to gain maximum space. If you choose an asymmetrical washbasin shape, with the tap attached at the side, there is still enough space on the ceramic appliance for everyday bathroom items.
6. Functionality is important. Even with small handrinse basins, there has to be enough space to hold your hands completely under water. This is why it is important not to underestimate the importance of the depth of the washbasin. You can easily test this in a dry run in a showroom.
7. You can also save space with taps, for example with wall-hung variants. It is always a good idea to look at the taps in conjunction with the handrinse basin. If you check the water jet's line of fire, you can prevent water splashes. Tap manufacturers often provide shorter models which are designed to be used for guest WC solutions in small bathrooms.
Added value to you Get inspiration for your new bathroom
Inspiration tool

Discover ideas and functions in the modern bathroom and choose what you like and what is important to you. In just a few steps, you can bring together the elements of your dream bathroom.
Contact us

If you have any questions, simply fill out the contact form.
3D bathroom planner

Plan your bathroom online using the 3D view and choose between various options. You can also request a quote to turn your dream into a reality.
Newsletter

Our newsletter will provide you with insights and tips on how your bathroom can simplify your day-to-day life.
Always staying up to date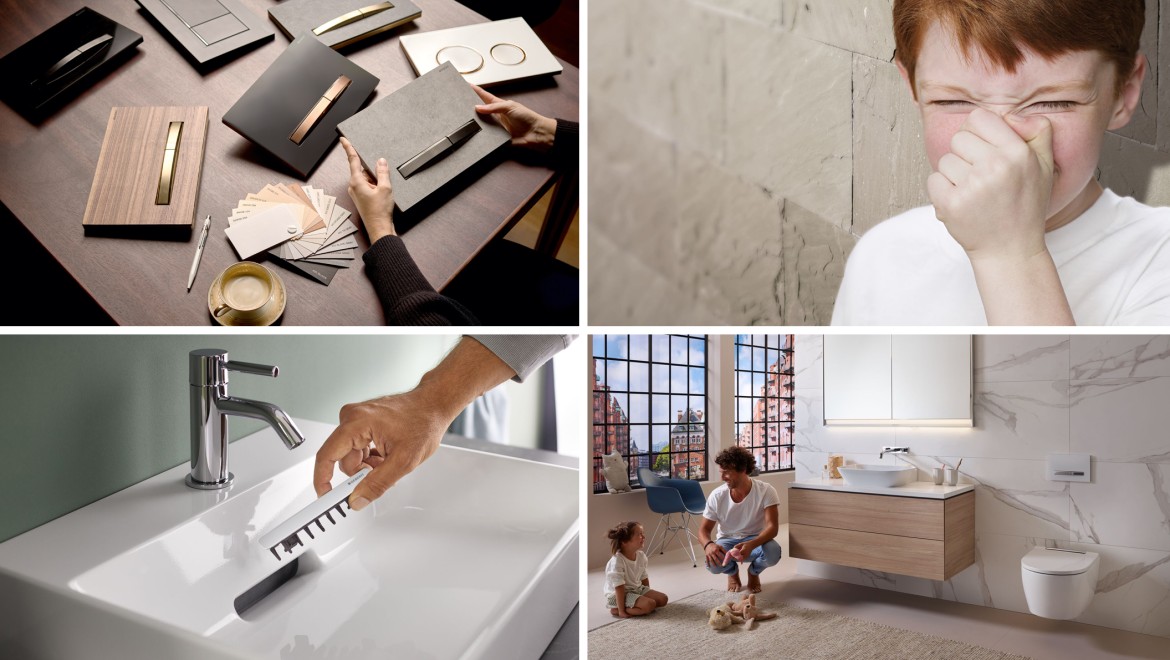 Subscribe to our newsletter and don't miss out on any news, events or tips for the bathroom. Stay up to date with the latest products, important dates for your calendar and more information on cleanliness, optimisation of space, comfort, design, user-friendliness and accessibility in the bathroom.
Which bathroom is the right one for you?