Waging war on germs in the bathroom
Public toilets are teeming with all sorts of germs. But surely it's possible to keep them under control in your own bathroom. And yet, bacteria can thrive in a bathroom at home, too. The reason for this is frequently that when you clean your bathroom, you tend to concentrate on the toilet bowl, the washbasin and the bathtub. But there's no need to panic. After all, a completely germ-free bathroom is neither possible nor necessary. In a private bathroom, simple hygiene can keep these unwanted co-inhabitants at bay.
Tips for reducing germs in your bathroom
Bacteria feel very much at home in damp hand and bath towels, so make sure your towels hang freely to dry. Give your towels a wash at least once a week on a cycle of at least 60 degrees.
Toothbrushes should not be underestimated as a bacteria hotspot. Make sure you change them every two to three months – and keep them where they can dry well.
Always close the toilet lid. Whenever you flush the toilet, bacteria are tossed into the air and can spread throughout the bathroom. A closed toilet lid is an important part of hygiene.
Bacteria like it damp. Always air the bathroom well – and make sure that the ventilation system is working properly.
Shower curtains have a tendency to get fungi and mould. Make sure that shower curtains dry completely after you have had a shower and that you put them through the washing machine every now and again. In the long run, a walk-in shower panel made of glass is more hygienic.
Don't forget to clean door handles, actuator plates and light switches.
After use, make sure you thoroughly rub dry the surfaces of showers and bathtubs to make life difficult for microorganisms. This also helps to reduce the build-up of limescale.
Lots of germs will settle on silicone joints over time even though they look clean at first glance. This is why you should clean joints regularly with a cleaning agent containing acetic acid and hot water.
Don't neglect shower heads. Germs collect quickly in shower heads. We therefore recommend you flush out the nozzles before you shower for the first time with hot water to clean them out. The water should ideally have a temperature of over 50 degrees.
Make sure you wash cloths often on the boil cycle of your washing machine and use separate cloths for the bathroom. To be on the safe side, you should really clean the toilet with a dedicated, differently coloured cloth.
Bathroom mats are a favourite place for hair and dirt to collect. Shake out the mats regularly and wash them on a hot cycle.
Bathroom sponges, that are used especially in the bathtub, are no better than kitchen sponges. Make sure you change them on a regular basis.
Cosmetic brushes and hair brushes also need a clean. Giving then an occasional clean with shampoo can make sense.
Added value to you Get inspiration for your new bathroom
Inspiration tool

Discover ideas and functions in the modern bathroom and choose what you like and what is important to you. In just a few steps, you can bring together the elements of your dream bathroom.
Contact us

If you have any questions, simply fill out the contact form.
3D bathroom planner

Plan your bathroom online using the 3D view and choose between various options. You can also request a quote to turn your dream into a reality.
Newsletter

Our newsletter will provide you with insights and tips on how your bathroom can simplify your day-to-day life.
Always staying up to date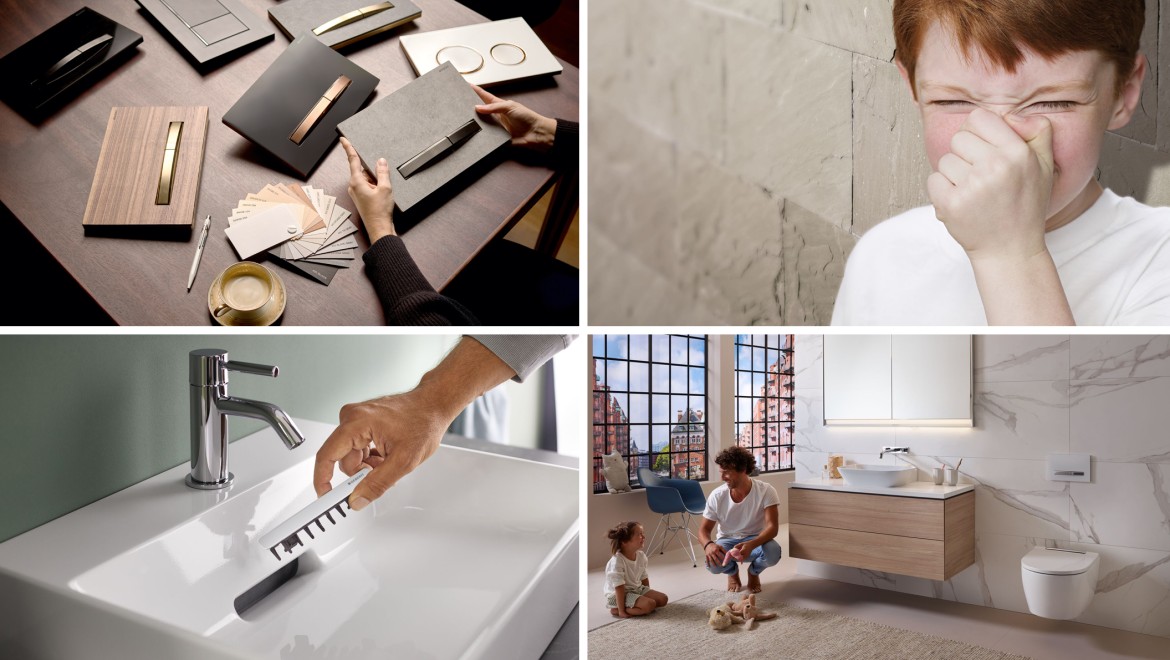 Subscribe to our newsletter and don't miss out on any news, events or tips for the bathroom. Stay up to date with the latest products, important dates for your calendar and more information on cleanliness, optimisation of space, comfort, design, user-friendliness and accessibility in the bathroom.
Which bathroom is the right one for you?