Geberit Innovation Days
Experience innovations in the House of Geberit
Get ready for a real treat. Experience innovative solutions at the Geberit Innovation Days in the House of Geberit – a hybrid booth that combines a real-life trade-fair experience with a flexible, digital information platform. Information, knowledge and interesting discussions with Geberit experts have been prepared in subject areas that can be selected individually, each lasting 20–25 minutes, which can be easily slotted into your schedule. They provide product information and practical knowledge in a compact form with moderation, video clips and animations.
360° Virtual Tour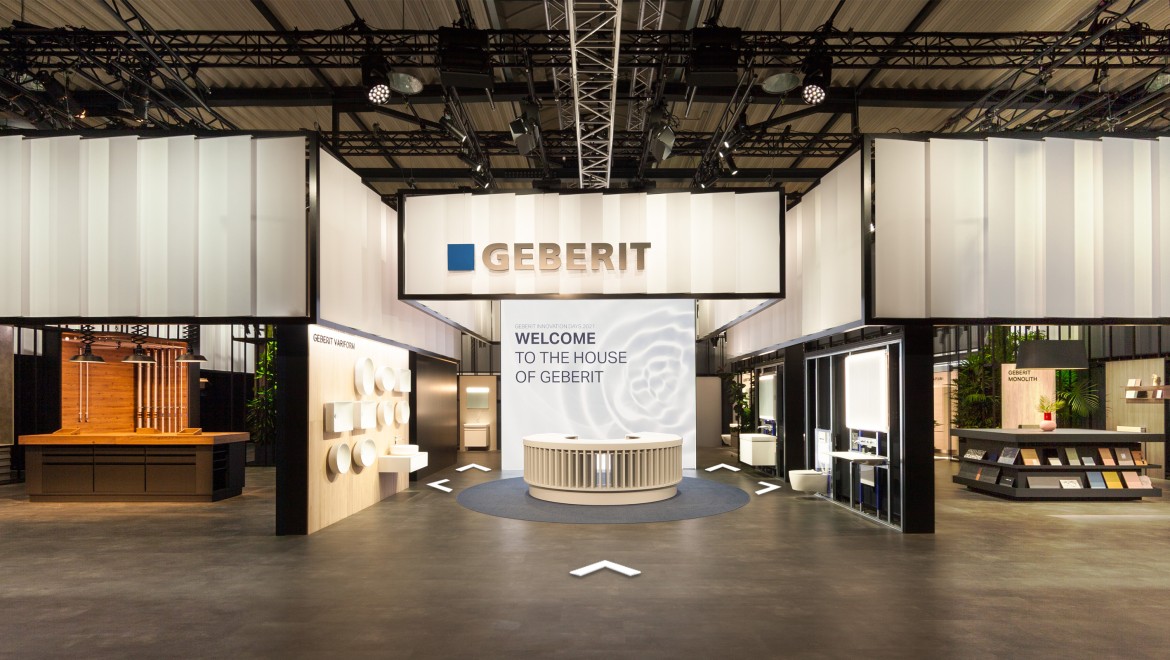 Did you miss the event? Or perhaps you'd like to experience the 'House of Geberit' all over again? That's not a problem: Our 360° virtual tour gives you the unique opportunity to virtually walk through the 'House of Geberit'.
Get ready to be inspired and watch the most important highlights for each subject area in our short videos.
Video Sessions
DATA PROTECTION AND DATA PROCESSING
We use the provider YouTube to embed videos. Like most websites, YouTube uses cookies to collect information about visitors to its website. When you launch the video, this could prompt data processing operations to begin. This is something we have no control over.
For additional information on data protection at YouTube, please check its privacy here.
Welcome And News
Get a quick and compact overview of all the new products, systems and services that Geberit will be bringing to market in 2021. Find out what will make your business even more successful in the future.
Water Flow
Geberit offers comprehensive solutions for optimum water flow – for supply, use and disposal. Learn about important innovations in the world of piping systems and cisterns. And explore with us the benefits of products for better drinking water hygiene, hydraulically optimised solutions and sound-insulating drainage systems.
Design Freedom
Design innovations from Geberit offer a high degree of design freedom for individual bathroom furnishings. Design updates bring Geberit's most important bathroom series up to date and selective extensions open up a wide range of furnishing options. Actuator plates can be combined in even more versatile ways. Learn more about the materials and colours that are setting the trends for 2021.
Solution For Your Needs
Individual comfort in the bathroom, more cleanliness and generous space: we present innovative design and furnishing ideas for the WC, washbasin area and bathroom furniture. Delight your customers with innovative functions and increase your margins by selling higher-value products.
Feel Fresh: AquaClean
The inimitable feeling of freshness from Geberit AquaClean fits into every bathroom. Learn more about the development of the Shower Toilet as well as the product range and its unique benefits. We shed light on the importance of personal hygiene and show which Shower Toilet fits which bathroom.
Time For Touchless
Hygiene and avoiding hand contact are becoming increasingly important – not only in public sanitary rooms. Get to know important touchless products from Geberit for the urinal, WC and washbasin area. And find out how to plan public sanitary areas perfectly.
Full System Thinking
The optimal interaction of systems behind and in front of the wall simplifies planning and installation processes. Experience for yourself the new functional and aesthetic possibilities opened up by the perfect interplay of installation technology and bathroom furnishings.
Planning Made Easy
Digital planning tools from Geberit take you to your goal easier and faster for planning sanitary installations in construction projects. Planners can access complete BIM content that is always up to date and is maintained on a country-specific basis for all common Geberit products.
Digital Services
Geberit offers a whole range of practical apps and digital tools to support professionals in product selection, consulting, installation and sales. We explain how you can optimally use the tools for your success in contact with professional and private customers.
Do you have questions? Let us know how we can help you